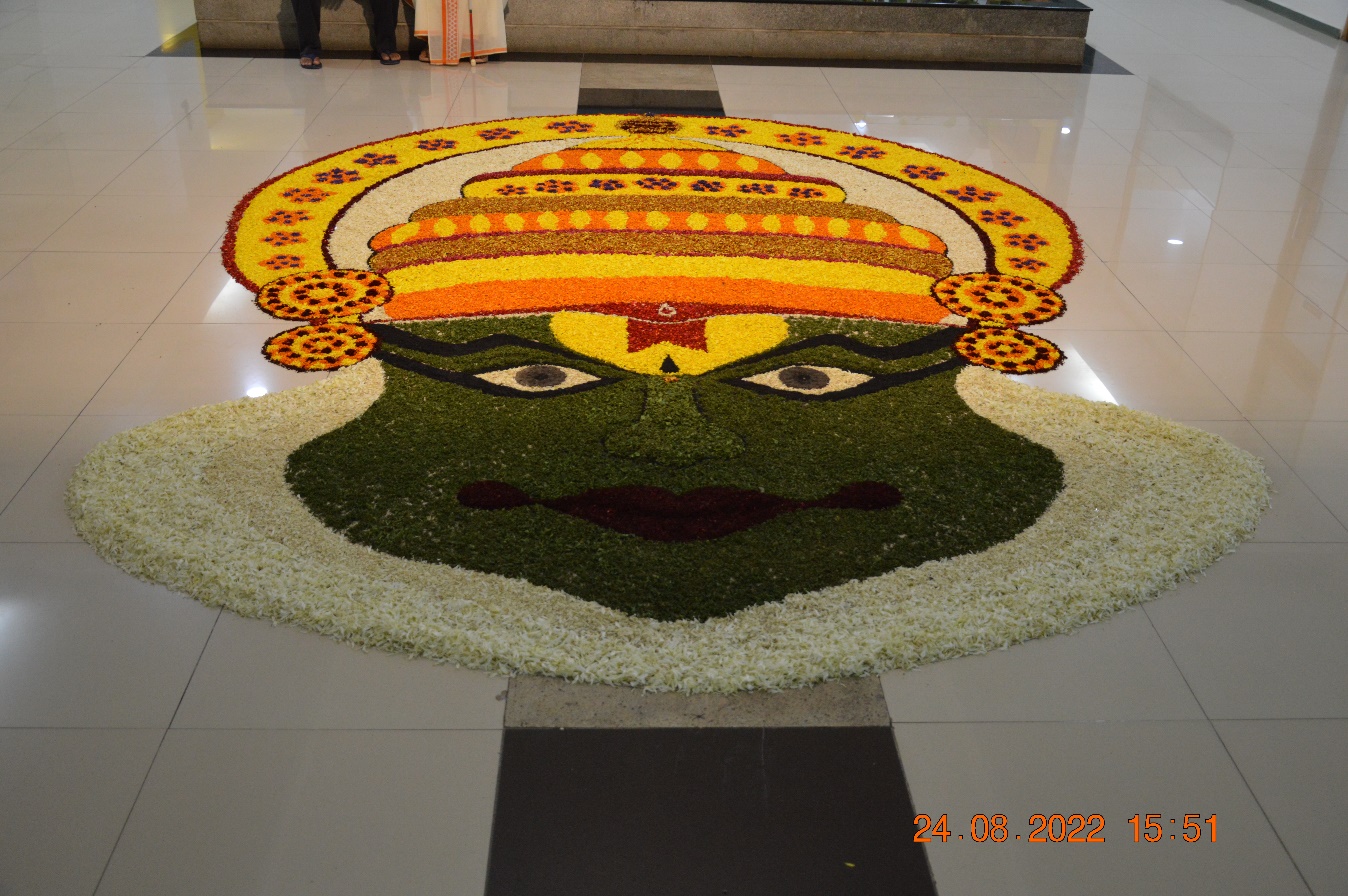 Onam festivities are incomplete without Pookkalam. The term Pookkalam means, 'Poo' (flowers) and 'Kkalam' (decorative pattern or rangoli), so Pookkalam is typically flowers or petals laid out in intricate and multiple circles one within the other to make colourful and beautiful designs. Pookkalams are designed ahead of Onam festivities at homes and at public places to welcome King Mahabali, who once ruled the region, Kerala. The fervour of making Pookkalam was set in at IIIT Bangalore on when a group of Malayalee students and staff members joined to create a beautiful Kathakali face. The design was one of the attractive elements of the entire Onam celebrations that took place on August 24. Ms. Abidha V P and Ms. Nikhila K N, PhD students eagerly share their experience in bringing about such amazing art! They went down their memory lane reminiscing what Pookkalam meant to them. "Pookkalam is laid out in front of the doorway to welcome Mahabali to our home.
Pookkalam mostly takes us back to our school and college days, where every student of every class chips in to buy flowers to put Pookkalam. It was an opportunity for every student to get creative and take a break from studies. Memories like visiting each class and comparing our Pookkalam with theirs, waiting with anticipation for the principal to announce the class for the best Pookkalam is something every Malayali has done. Remembering these times always brings a smile on my face," says Abidha.
Instead of the conventional design of Pookkalam they decided to do a 'Kathakali' face, which was much challenging to do. "We wanted this onam to be special as for many of us this was our first Onam at IIITB since pandemic. Since the Malayali community is also a minority on campus, we wanted to use this opportunity to also represent Kerala. 'Kathakali', is an important genre in the Indian classical dance form, native to Kerala, and is associated with storytelling. We felt using Kathakali's face for the Pookkalam would be an apt way to showcase our rich heritage to this campus," adds Nikhila.
In an atmosphere like IIITB campus it is fun to be a part of such creative activities. For the team it was a nice experience working together in laying the floral carpet. Yet it was challenging, says Abidha, "Drawing the design and plucking petals from flowers takes more time and labour than laying them out. As most of the students were busy with internships, placements. The students from first 2 years not being in campus for their holidays, made it difficult and hence we had to spend more time to complete it". To maintain the consistency in the depth of laying the petals or leaves is an important aspect to get a fine finish. The predominant colour of Pookkalam being green, bringing in the uniformity was a challenge. "We had to manually chop the leaves and it was the most difficult part of the activity. However, it was worth the effort!" chuckles Abidha.
Yellow and orange colour marigold, golden colour gerbera, Nerium oleander, African violet, Chrysanthemum white, Terminaliya Metallica leaf (green colour), Lantana Camera Red and Charcoal along with chalk powder were used to create this appealing Kathakali Pookkalam. Other team members behind this art were Ms. Varsha P Suresh, Mr. Mrinal M, Mr.Sougandh Krishna K S, Ms. Meghana P V, Ms. Anju S Alexander, Ms. Aiswarya O, Mr. Girish Govind and Mr. Vishnu Raj.