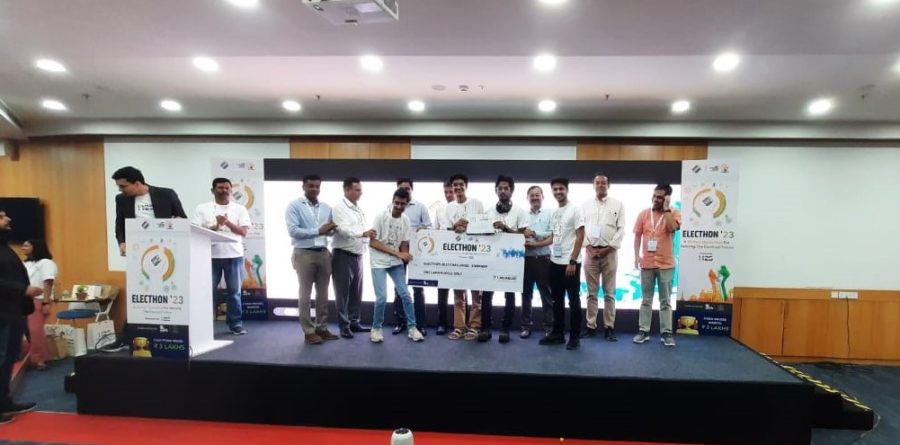 India, being the world's largest democracy, faces various electoral challenges. With a geographically diverse landscape and a massive population, conducting elections across India poses logistical challenges. Ensuring adequate infrastructure, personnel and resources in remote and inaccessible regions during elections could be a daunting task.  Addressing these challenges requires a multi-pronged approach, including strengthening institutional frameworks, leveraging technology, creating voter awareness programs, and ensuring the active participation of all stakeholders to uphold the integrity and effectiveness of India's electoral process.
Technology is playing a pivotal role in revolutionizing electoral systems, paving the way for a fair, transparent, and accessible democratic process. Through innovative advancements, such as electronic voting machines, biometric identification systems, and online voter registration platforms, technology aims at  eliminating many of the challenges associated with traditional voting methods. These technological solutions ensure greater accuracy in the vote counting process, reducing the likelihood of errors or discrepancies. Furthermore, they enhance transparency by providing real-time updates and data analysis, enabling voters and stakeholders to monitor the entire electoral process.
The Election Commission of India (ECI) in its determination to use the young minds to tackle electoral challenges faced by our country and decided to host Electhon'23 at IIIT Bangalore.  A 30-hour offline hackathon on April 15 & 16 designed to reinforce the electoral future was the first-of-its-kind hackathon organized by ECI in association with Chief Electoral Office, Karnataka, IIIT Bangalore and IISc to address critical issues in the electoral process.
Dr. Manjunath Daler, Deputy General Manager of the Karnataka State Election Commission, and Electhon'23 in charge, said, "In order to modernize the electoral process in Karnataka, we made the strategic choice to incorporate technological solutions. Our primary focus during the hackathon was to improve voter registration, encourage greater participation from urban and youth voters, and ultimately boost voter turnout on election day. The preliminary stages of the hackathon were initiated at IISc, commencing on March 10 and concluding on April 3. Throughout this period, we successfully managed all aspects of the event online, including registrations, idea submissions, team shortlisting, idea development, and brainstorming sessions."
About 40 teams across India were shortlisted for a 30-hour offline hackathon at IIITB. The participants  worked tirelessly overnight to develop creative and innovative solutions to challenges faced in the electoral process, leveraging technology. The teams worked on their ideas, creating pitch decks, receiving the live feedback from industry experts and demonstrating the functionality of their solutions.
The winners of the first challenge were Future Force, who received a cash prize of INR 1 lakh. The second challenge was won by Wasuli, who was awarded a cash prize of INR 1 lakh. Hackoverflow and Brainvoltzz were named runners-up and awarded INR 50,000 thousand. Noob Smacher received a special mention and a cash prize of INR 25,000 Thousand. Tech Millennials emerged as winners of the third challenge, receiving a cash prize of INR 1 lakh. We High Tea were declared runners-up, receiving a cash prize of INR 50,000. The Psephologists received a special mention and a cash prize of INR 25,000 thousand.
Our Director, Prof. Debabrata Das, who was a part of the jury, said, "It was a matter of immense pride for us to host a highly significant hackathon aimed at addressing the electoral challenges faced by our country. Bringing together talented minds and innovative solutions, the event showcased our commitment to finding effective resolutions for the betterment of our democratic system. The collective effort and enthusiasm exhibited by the participants were truly inspiring, and we are confident that the outcomes of this hackathon will contribute significantly towards enhancing the integrity and efficiency of our electoral processes."
Electhon'23 was a successful demonstration of the power of innovation and collaboration. "We chose IIITB to conduct the hackathon as the institute has a good technical infrastructure. Electhon'23 was a good experience where it showed us the power of technology-driven solutions for social issues and how collaboration can lead to transformative change," said, Dr. Manjunath.