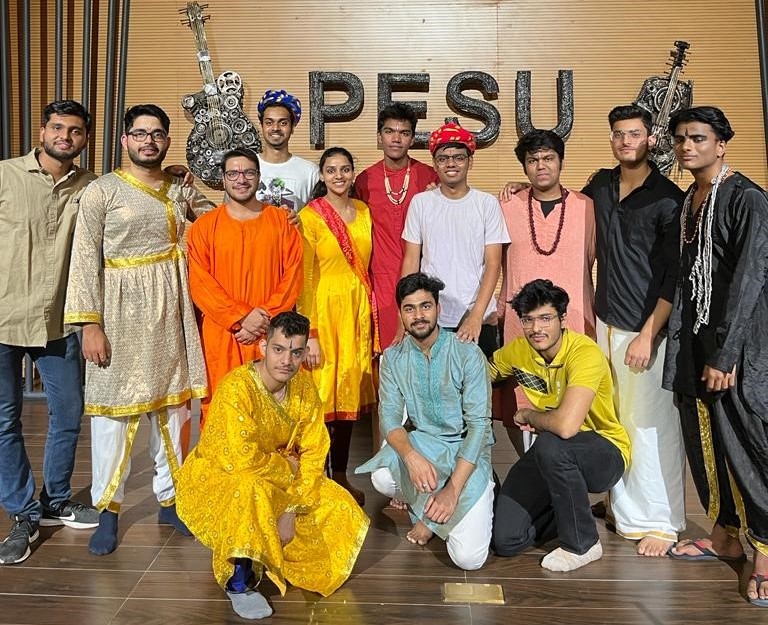 It came out as fantastic news when the 'Andher Nagri' drama won the first prize at Carnival Spotlight'23 a cultural fest of PES University on April 15. The cast and crew of the drama worked really hard at a given short time and persevered to achieve this accomplishment. Drama competitions can be challenging, requiring dedication, talent, and teamwork. It's a testament to their abilities and determination that they were able to overcome the obstacles and come out on top by giving a remarkable performance.
On behalf of the entire drama team, Divyansh Singhal shares their experience with Naviiina,  "Even though 'Andher Nagri' was played earlier, to participate in Carnival Spotlight' 23 needed a little tweaking based on the requirements of the competition. Due to the event registrations opening unexpectedly late, the Parvaaz club faced a significant time constraint in preparing for the competition. Doubts about their performance arose even before they could register, as coordinating the schedules of students from various years and courses proved to be a daunting task. However, by a stroke of luck, all students from first year iMtech to second year MTech students happened to be available during that particular weekend."
Even though the club decided to perform the well-received 'Andher Nagri' play, which had previously earned them the runners-up trophy at Symbiosis Institute of Business Management's cultural fest, they remained cautious and avoided overconfidence. They dedicated themselves to rigorous practice sessions that extended until 4 am. However, their efforts were almost in vain due to the organizers' struggle in managing the event, leading them to consider canceling it. Fortunately, the organizers were able to resolve their issues, and the competition was successfully put back on track.
With a sense of nervousness, the team departed from our campus in the morning, making their way to the competition venue. Little did they know that additional challenges awaited them upon arrival. They soon discovered that the stage dimensions and lighting setup were entirely different from what they were accustomed to. This unexpected situation forced them to think on the spot and adapt in real-time, all while being evaluated by a judge who happened to be a seasoned theater actor and writer. The pressure was on as they had to showcase their improvisation skills amidst these new circumstances.
Not only did teams from Bangalore participate, but also from distant places like Chennai, highlighting the competitive nature of the event. Even before the competition commenced, it was evident that the challenges ahead would be formidable. As the time for performances arrived, Parvaaz took the stage as the first team to showcase their talents.
Reminiscing the joyous moment when the 'Andher Nagri' team was announced as the winner, Divyansh, says, "Following the performances of half a dozen teams, the moment of truth arrived as the results were about to be announced. The anticipation in the air was palpable, with everyone on the edge of their seats. Finally, a collective sigh of relief filled the room as the winners were declared, and a burst of excitement erupted as our team emerged victorious. A wave of joy and relief washed over the entire team simultaneously. Our unwavering hard work had paid off once again, this time with the coveted winners' trophy in our hands, surpassing the previous second-place achievement. As an added bonus, we were also awarded a cash prize of Rs 5,000. After a brief moment of celebration, the team returned to campus, where our Director, Prof. Debabrata Das warmly congratulated us for bringing pride to the institute."