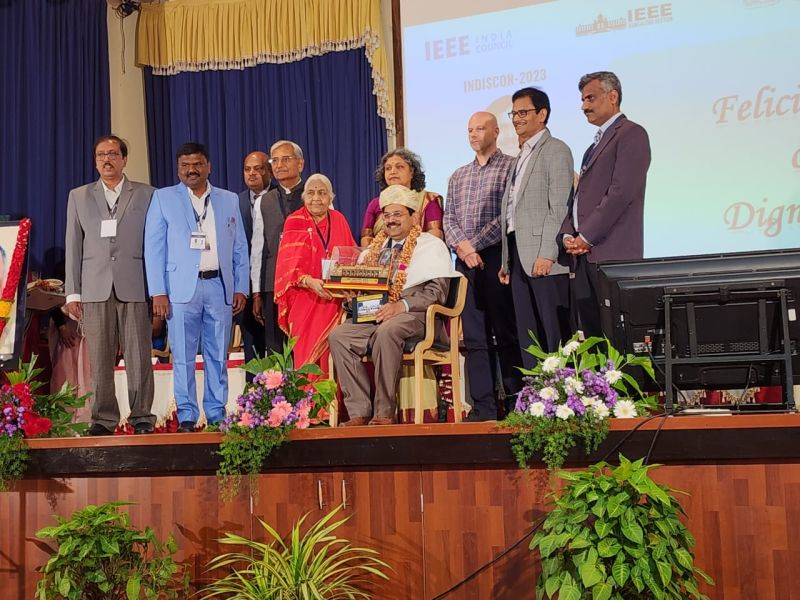 Prof. Debabrata Das, Director, IIIT-Bangalore, as the Chairman of IEEE India Council, was felicitated at the prestigious IEEE International Conference INDISCON 2023 event in Mysore. His invaluable contributions garnered well-deserved accolades.
---
August 9
Prof. V Sridhar completed the project on " Formulating a Regulatory Response to 5G" (Co PI: Prof Rohit Prasad, MDI) funded by the Vodafone Idea Centre for Telecom (InViCT). Presented the findings in a public forum as well as to the Secretary, Department of Telecommunications, Government of India.
---
iMTech Students won 1st and 2nd Prize in AFourathon 2023 Hackathon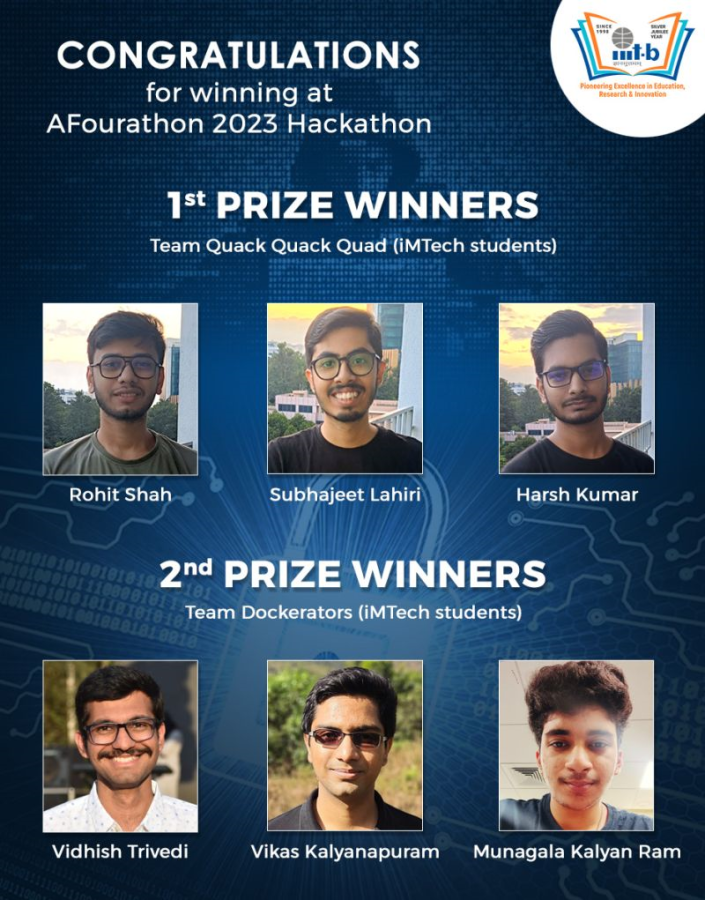 Two teams from iMTech won the first and second places in a month long AFourathon 2023 Hackathon. The competition was about following good DevOps practices and deploying a micro-service architecture on the cloud. 1st Prize winner was Team Quack Quack Quad – Rohit Shah, Subhajeet Lahiri & Harsh Kumar. They were awarded certificates and a cash prize of 50000/-. The team developed an app that empowers students to conveniently register for elective courses, while also providing administrators with the means to efficiently manage student electives. The team also employed machine learning by analyzing their previous course selections, the app suggests courses, enhancing the registration experience.
2nd Prize winner was Team Dockerators – Vidhish Trivedi, Vikas Kalyanapuram & Munagala Kalyan Ram. They were awarded certificates and a cash prize of 25000/-. The team developed an application which empowers librarians to easily lend books to students, in which admins can manage librarians on the platform. Both the team implemented end-to-end CI/CD pipeline with unit testing and automated deployment on the AWS infrastructure using technologies like Docker, Github Actions – implementing cloud concepts like scalability with Auto Scaling Groups, high availability by using a multi availability zone deployment strategy.