October 1
Garba Night
Students danced to the tunes of Garba! In garba, performers circle around the image of Goddess Durga or a symbolic representation of her creative energy. At IIIT Bangalore, the students performed to showcase the immense creative potential they possess. They were all dressed in traditional Garba ensembles.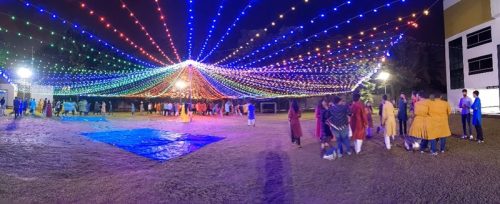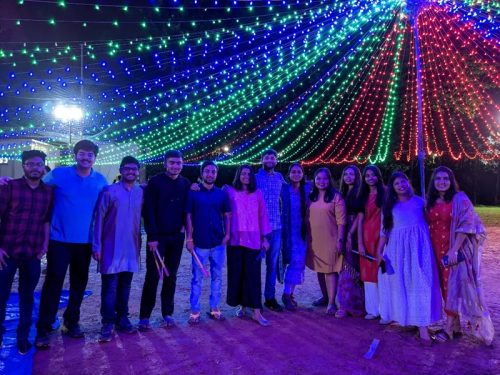 ---
October 11
Photography Workshop
On October 11, students had an interesting session on photography by our Alumnus, Mr. Bhargav Sridhar, a Gold Medalist in M.Tech from 2017 batch. He was a part of the Chhayachitra, IIITB's photography club right from its inception.
He made all the participants in the workshop familiarize the technical aspects of professional photography. His detailed explanation included hardware and lensed used in various DSLRs.  The intricate details such as usage of gears, value of lighting and background choice. Mr. Bhargav highlighted the importance of understanding the needs of clients.
The angle of his passion, while he was associated with Chhayachitra changed when he started his venture, Pickle, a startup that provides a marketplace for photographers to help them manage and grow their brands. He is a motorsport photography enthusiast and is associated with some of India's top racing teams.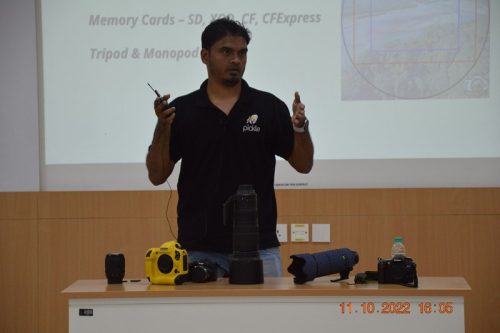 ---
October 14
iMTech 2022 Admission was Held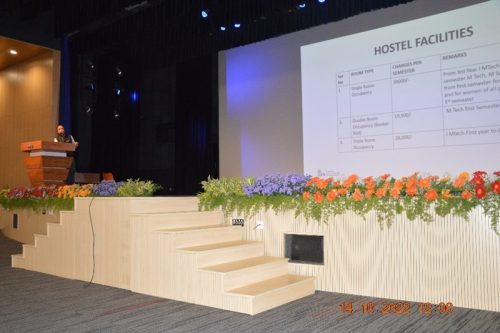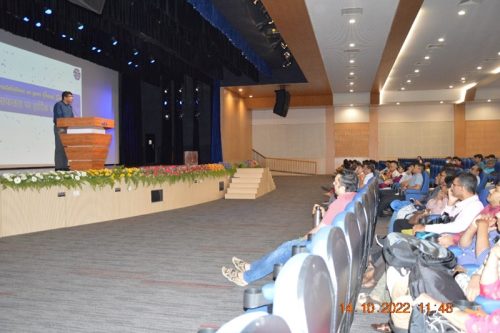 ---
October 18
IIITB signs MoU with S-VYASA Bangalore
A Memorandum of Understanding('MoU') was signed between the International Institute of Information Technology Bangalore (IIITB) and Swami Vivekananda Yoga Anusandhana Samsthana (S-VYASA) Bangalore, with an aim of doing impactful research in the areas of Yoga and similar practices scientifically with the AI intervention for community wellbeing and healthcare.
The scope of the agreement covers academic cooperation, sharing of resources/faculty, and joint conference/workshop. Engagement between IIITB and S-VYASA shall be there for faculty & researchers to understand each other's focus areas and identify research areas that are of mutual interest, to name a few Data Analytics, Image Processing and Natural Language Processing etc. The major objectives of academic engagement are:
Conduct outreach events on both campuses – in Yoga & allied areas and in AI / Data Science & allied areas – for the benefit of the institute fraternity and general citizens
Select IIITB Faculty to work with S-VYASA faculty and come up with short-term projects that could be worked upon by students – leveraging IIITB's CS strengths and SVYASA's domain expertise, and lab equipment, health data, etc.
IIITB Students work on S-VYASA projects, under the guidance of IIITB Faculty. IIITB Students work out of the S-VYASA Campus as part of the summer internship, under the guidance of S-VYASA faculty. Vocational Courses for Institute Fraternity (Yoga Instructor Course) and Research Project Proposals
IIITB and S-VYASA to submit collaboratively research proposals to various Indian/ International organizations on areas that have been mutually identified as areas of Interest. IIITB and S-VYASA work under the Indian Knowledge Systems stream
IIITB and S-VYASA, Bengaluru, shall share facilities such as computers, specialized equipment & instruments, etc., and library facilities according to the rules and regulations of each organization. Both the institutes shall be organizing conferences, Seminars, Symposia, workshops, and refresher courses for the students and staff as a collaborative effort at either IIITB or at S-VYASA, Bengaluru.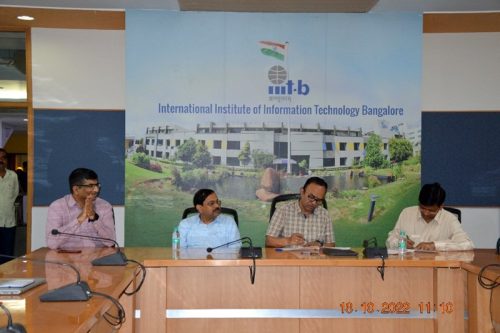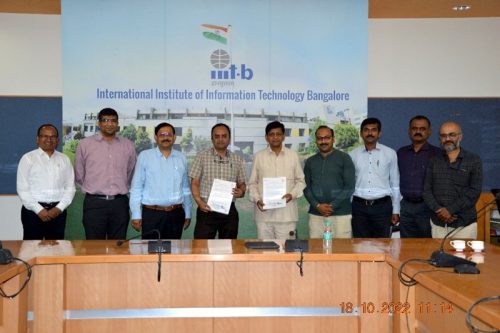 ---
October 20
CGI Team Met Girl Students to Inform them About Scholarships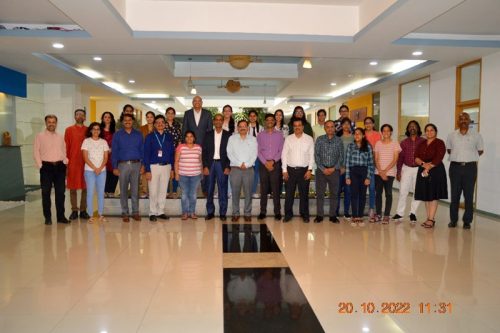 ---
October 22-24
Diwali Celebrations
The three-day Diwali programs and events were organized by Square One and SAC with help of student volunteers. Food Committee and Sports Committee also volunteered with their resources to make the event a success. The festive feel enhances only with ethnic wear and the campus atmosphere looked colourful with all the students in traditional ethnic dress.
Square One organized an open mic and dance night in which everyone enthusiastically participated and let loose their vocal cords and dance moves. The pièce de résistance was the performance from the music and dance club, captivating the audience and firing up everyone's enthusiasm to participate. Not to mention the amazing feast spread by the caterers and food committee that recharged our energies coming back from the dance floor.
And to match our gorgeous ethnic dress was the beautiful decorations and diya arrangements by the art club. They went above and beyond with their creativity and design to create an amazing atmosphere at the dining to complement the amazing meal.
The second was a supercharged screening of India versus Pakistan live cricket match in the auditorium. It was a nail-biting match that came down to the last ball, the students enjoyed it thoroughly on the big screen. The celebration erupting in the auditorium as India won would be comparable to crackers going off.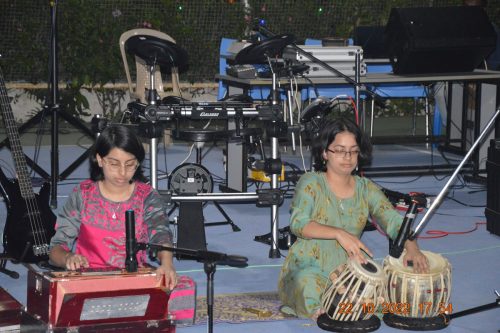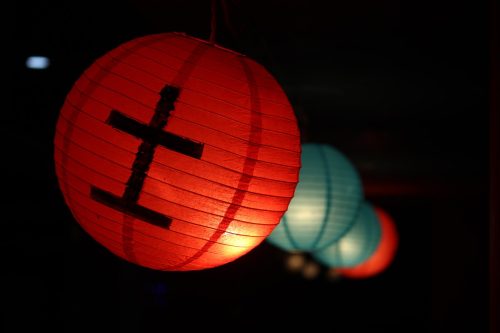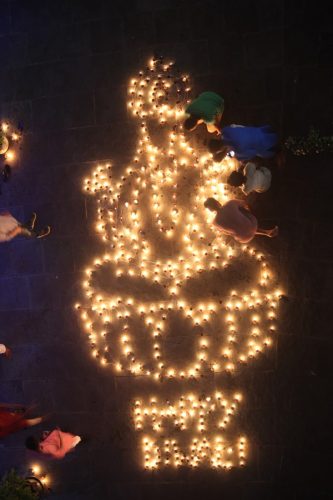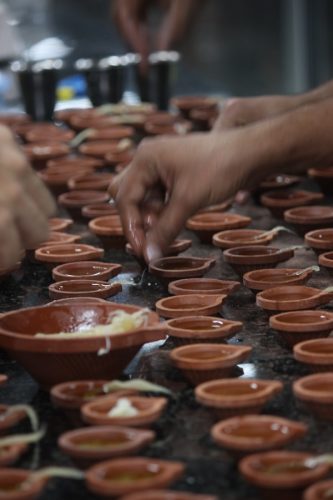 ---
October 28
Volunteering Event
As part of celebrating the giving month of October, employees from our partner organization Microsoft India celebrated 'Volunteering Day' at Vision Empower on 28th October 2022.
The volunteering event was conducted at IIIT Bangalore. About 12 Microsoft volunteers interacted with 10 children from Karnataka Welfare Association for the Blind (KWAB), a special school VE works with. Through the tactile diagrams and Computational Thinking games, the volunteers and students exchanged much knowledge and smiles.