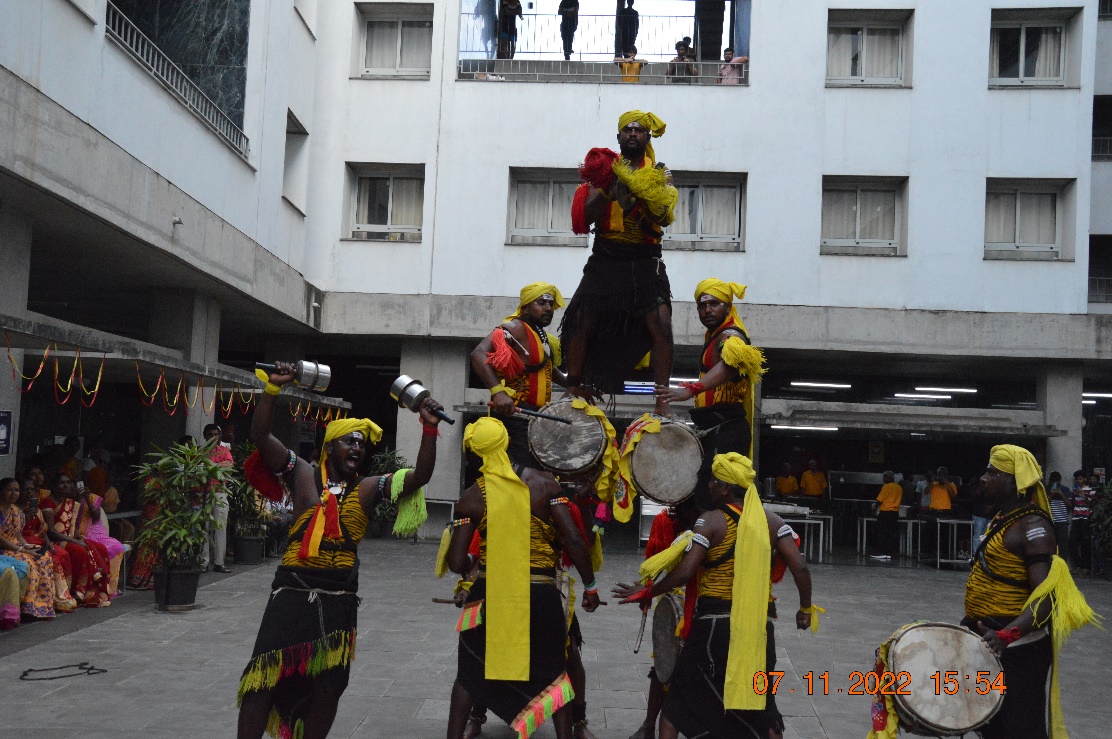 Kannada Rajyotsava (ಕನ್ನಡ ರಾಜ್ಯೋತ್ಸವ), the day observed as the formation of the Karnataka State was celebrated in the IIITB campus for the first time. The joint efforts of the Kannada speaking students and staff made the event enjoyable and memorable for all of us at the Campus.
The celebrations were kickstarted with Dollu Kunitha (ಡೊಳ್ಳು ಕುಣಿತ). Dollu Kunitha is a performance that never goes unnoticed, due to the high decibel, high-energy performances. It is a traditional dance form in Karnataka which is associated with the worship of Sree Beeralingeshwara who is considered as a form of Lord Shiva, originated in the rituals of the Kuruba community of North Karnataka. The performance started with the procession of Dollu Kunitha from the Campus Entrance gate to the Food Court where the entire celebrations were held.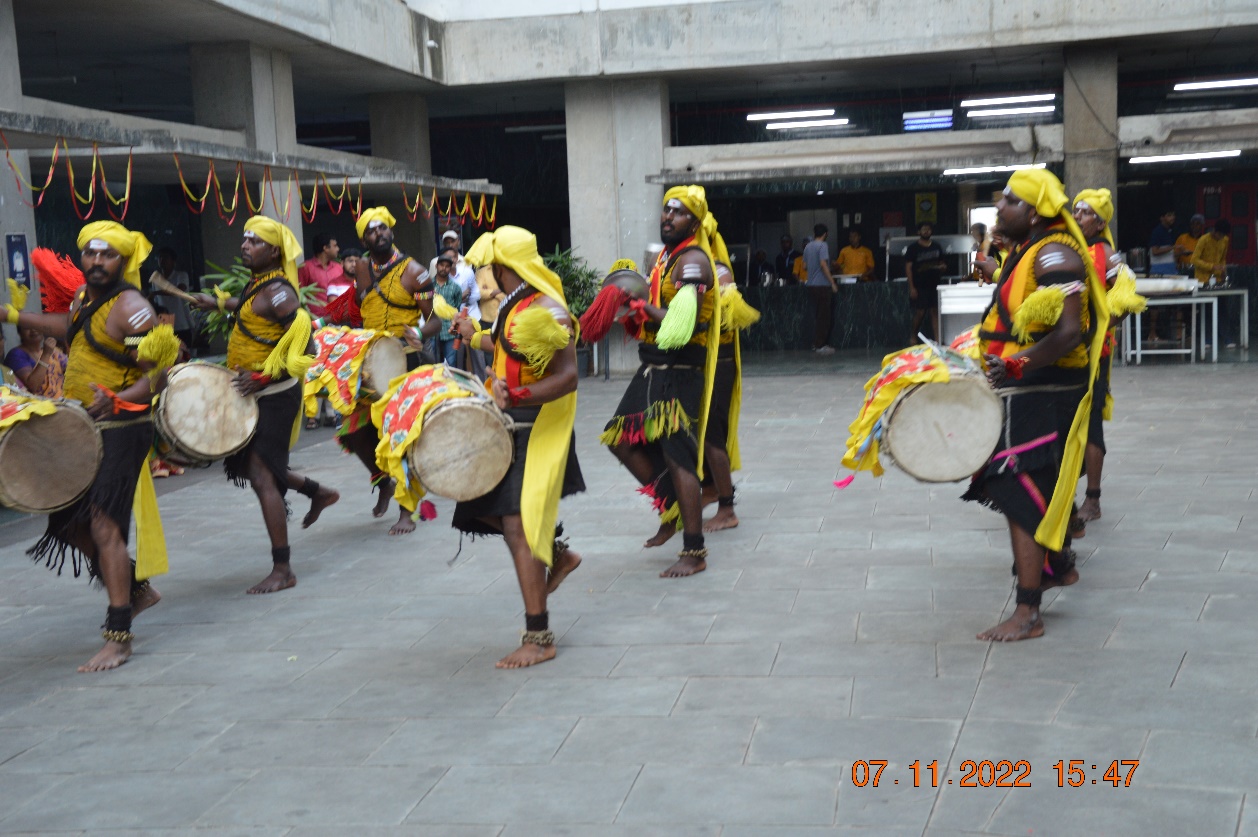 Our Director, Prof. Debabrata Das addressed the gathering, followed by Registrar, Commodore SR Sridhar (Retd.) and Dean (Academics), Prof. Chandrashekar Ramanathan.
There was another round of stunning performance by the Dollu Kunitha troupe. The atmosphere was filled with a lot of energy and rhythm. Some of the staff members sang few famous Kannada numbers.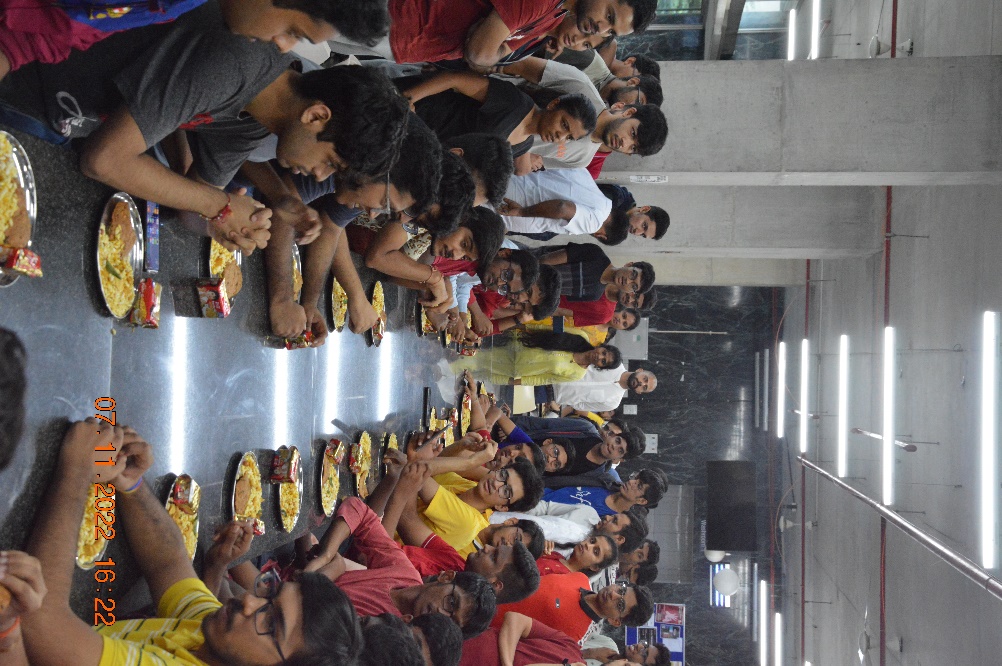 Competitive eating event for students was organized as a part of celebrations, in which the participants were given Karnataka special snacks such as Churmuri (ಚುರುಮುರಿ), Mysore Bonda (ಮೈಸೂರು ಬೋಂಡ), Badam milk (ಬಾದಾಮಿ ಹಾಲು), Karjikai (ಕರ್ಜಿಕಾಯಿ), Nippatu (ನಿಪ್ಪಟ್ಟು), Madduru Vade (ಮದ್ದೂರು ವಡೆ), Chiroti (ಚಿರೋಟಿ) and Mensinakayi Bajji (ಮೆಣಸಿನಕಾಯಿ ಬಜ್ಜಿ). In a three-round competition, Adithya Nangarath (IMT2022024) emerged as the winner. The Food Court was adorned with décor in yellow and red, the colours of the Karnataka Flag. The entire IIITB community followed the colour code of yellow and red.