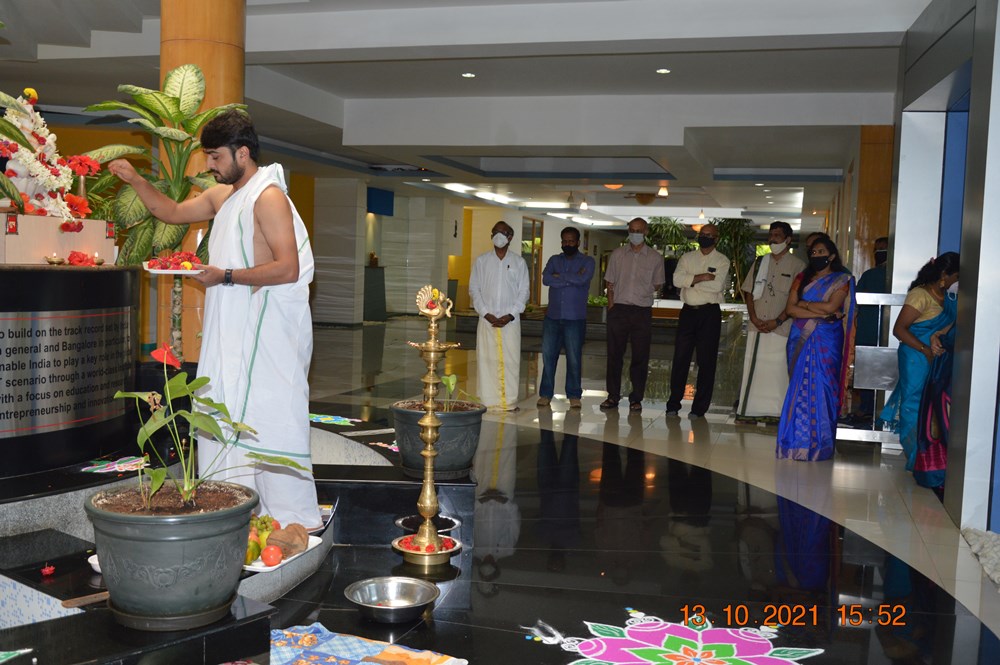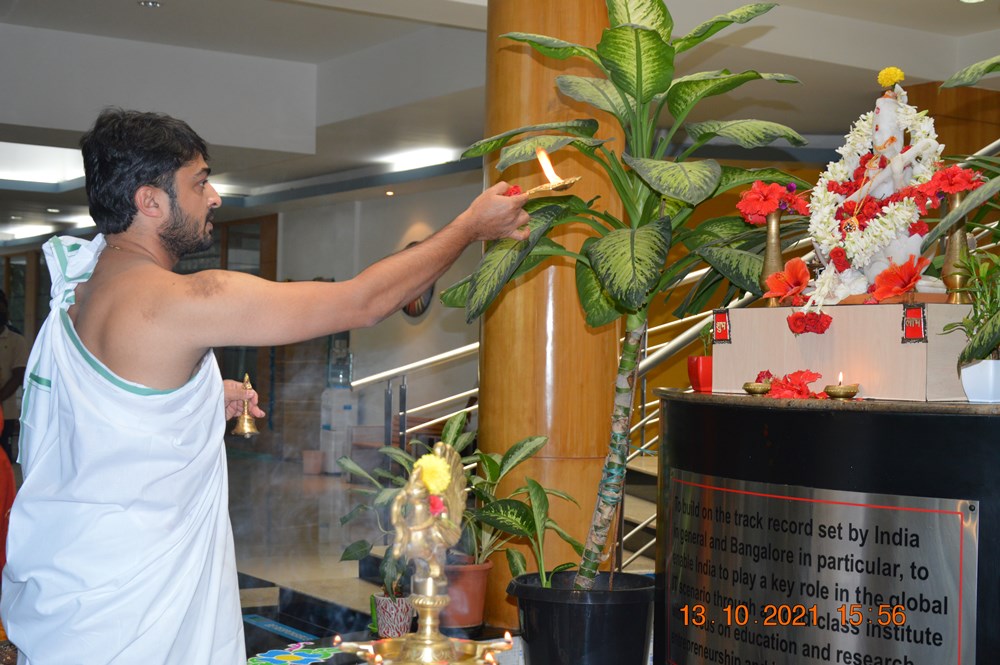 October 13
Ayudha Pooja
IIIT Bangalore celebrated Ayudha Puja in the Aryabhata Foyer (near Saraswathi Idol). The students, faculty, staff and housekeeping staff members had a divine mood set on the pooja occasion. There was a bright and colourful look with amazing festive decoration with beautiful rangolis around.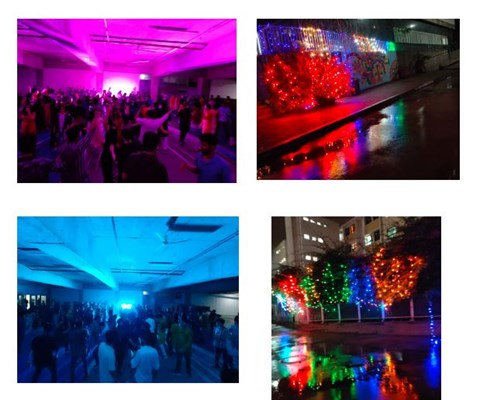 October 15
Garba Night
As part of Navratri celebrations, the students of IIIT Bangalore had close-knit Garba Night while maintaining COVID-19 safety protocols.  This event was organized at Multi-Purpose Hall by SAC 2021. The event was followed by dinner with special menu.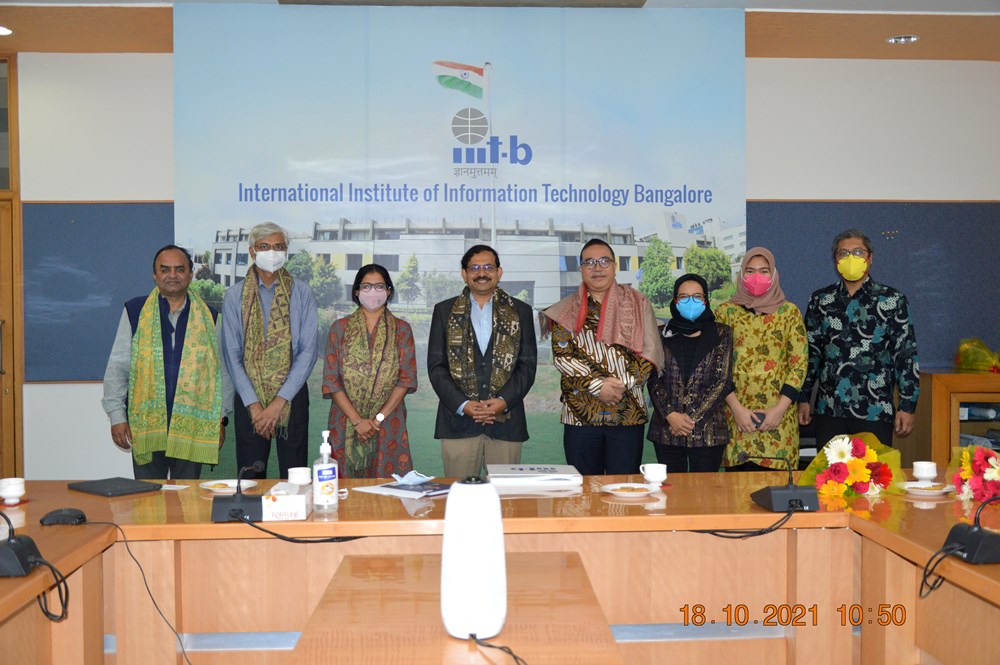 October 18
Indonesian Consulate visited IIIT Bangalore  
Mr. Agus P. Saptono, Hon. Consul General of the Republic of Indonesia in India  visited IIIT Bangalore. The Consul General had a meeting with Prof. Debabrata Das, our Director and faculty members along with other Institute officers and discussed the ongoing partnership between the Republic of Indonesia and IIIT Bangalore. Mr. Saptono and Prof. Das also talked about ways to strengthen the India-Indonesia collaboration in the education sector with a specific focus on the potential role of IIIT Bangalore and premier Indonesian Universities.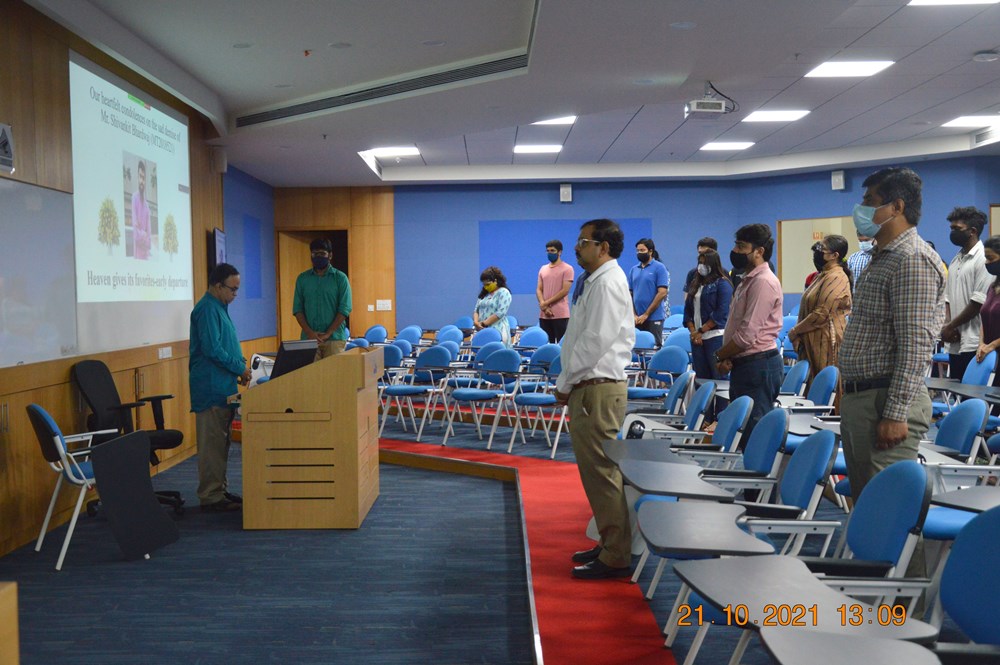 October 21
Tribute to Mr. Shivankit Bharadwaj
IIIT Bangalore was bereaved by the sudden death of Mr. Shivankit Bhardwaj (MT2018521), Alumnus on October 19. The students, faculty and staff members gathered at R103 to observe a two-minute silence. Some of the faculty members and junior students remembered him as a bright, friendly and helpful personality. He was well known for his stage performance, delivering speeches and poetry.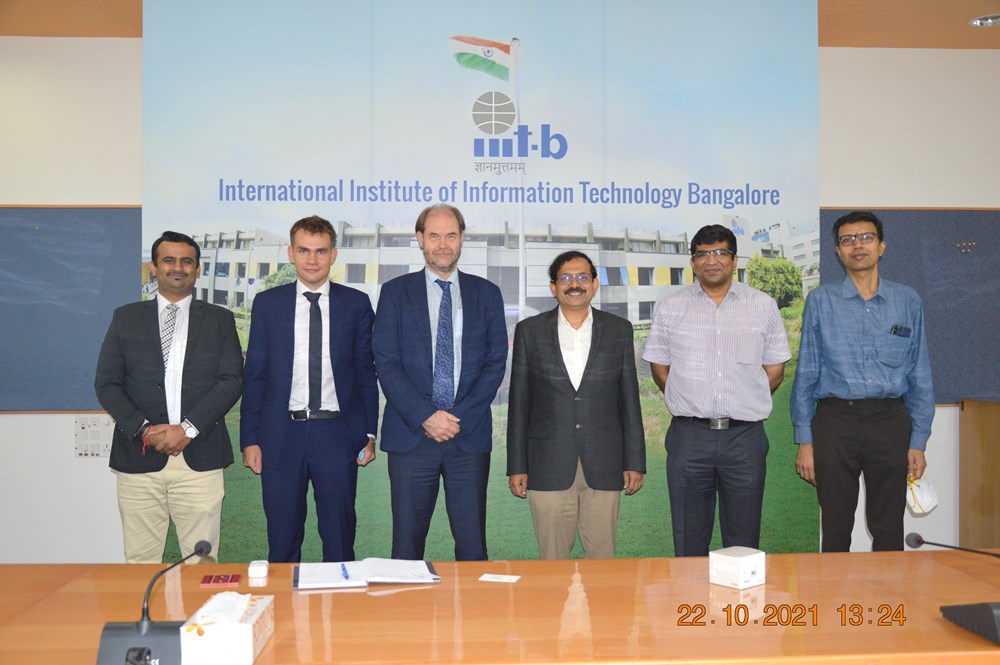 October 22
Finland Business visited IIIT Bangalore  
Finland-Karnataka Innovation corridor is a collaborative scheme between the embassy of Finland and the government of Karnataka, aiming to promote R&D collaboration between our country and Karnataka. Finland Business signed an MoU with Government of Karnataka to collaborate in the areas of science, research, innovation and skill development. In this backdrop, Finland Business visited IIIT Bangalore for an association.
Prof. Debabrata Das, our Director discussed with Dr. Mika Tirronen, Knowledge Specialist-Embassy of Finland on the benefits of mutual collaboration. In this partnership, IIIT Bangalore's students, faculty members and researchers can engage with Finnish Universities for collaborative research, higher education in  areas of Next Gen Networks and Quantum Computing. Mr. Santeri Ojala and Mr. Aasheesh Chudasama from Finland Business were also part of the delegation.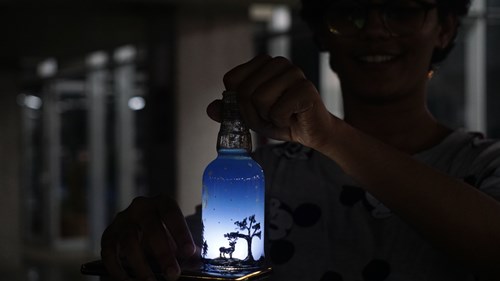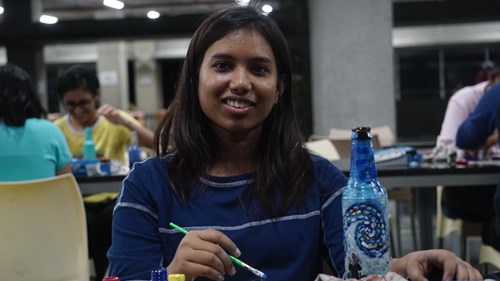 October 24
Glass Painting Event
Creativity is best expressed in a group. The Art Club of IIIT Bangalore organized a Glass Painting event for students, providing painting essentials for participants and they could choose any theme of their choice allowing their imagination blossom into beautiful art pieces. The art pieces were displayed in the lounge near the canteen.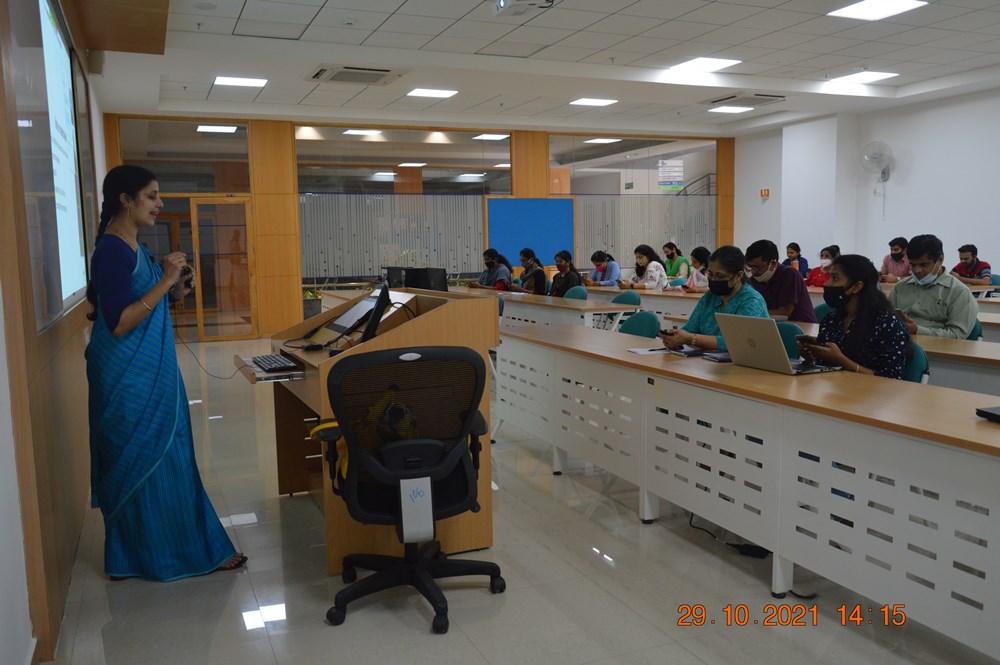 October 29
Session on Prevention of Sexual Harassment
A session to better understand, prevent and report sexual harassment was held for all administrative, project and start-up staff at IIIT Bangalore. The session was conducted by Ms. Kanti Joshi of SASHA India in hybrid mode. It was organised by IIIT Bangalore's Internal Complaints Committee (ICC).
October 29
Inauguration of Sports Arena
A new indoor sports court, "Sports Arena" was inaugurated on October 29 by our Director, Prof. Debabrata Das in the presence of key officials from the Administration department, faculty members, staff and students. This sports facility is a huge area that accommodates a badminton court, yoga room and a play area for table tennis.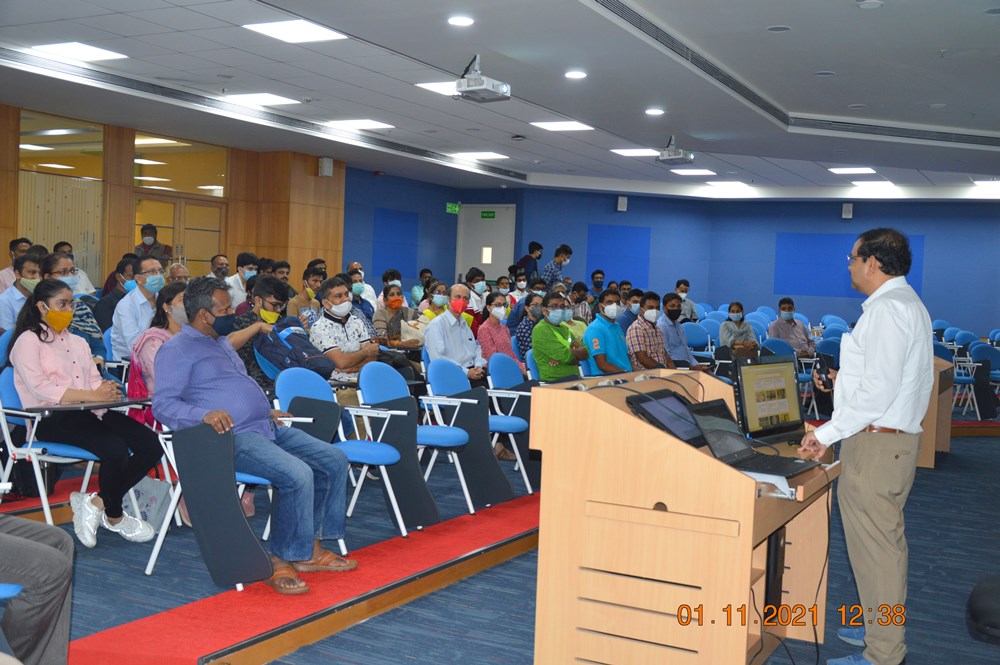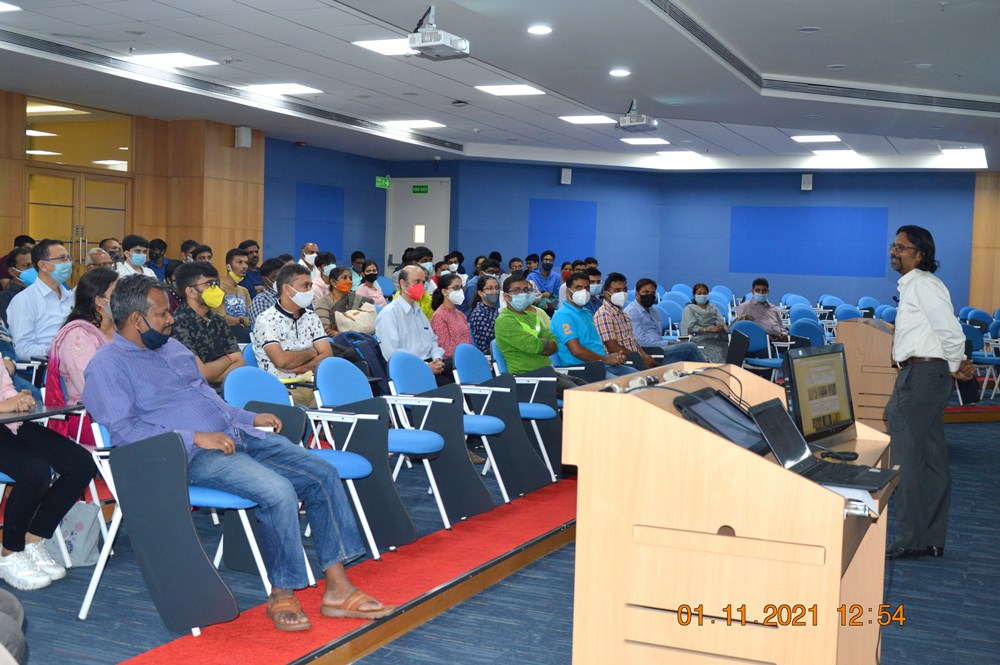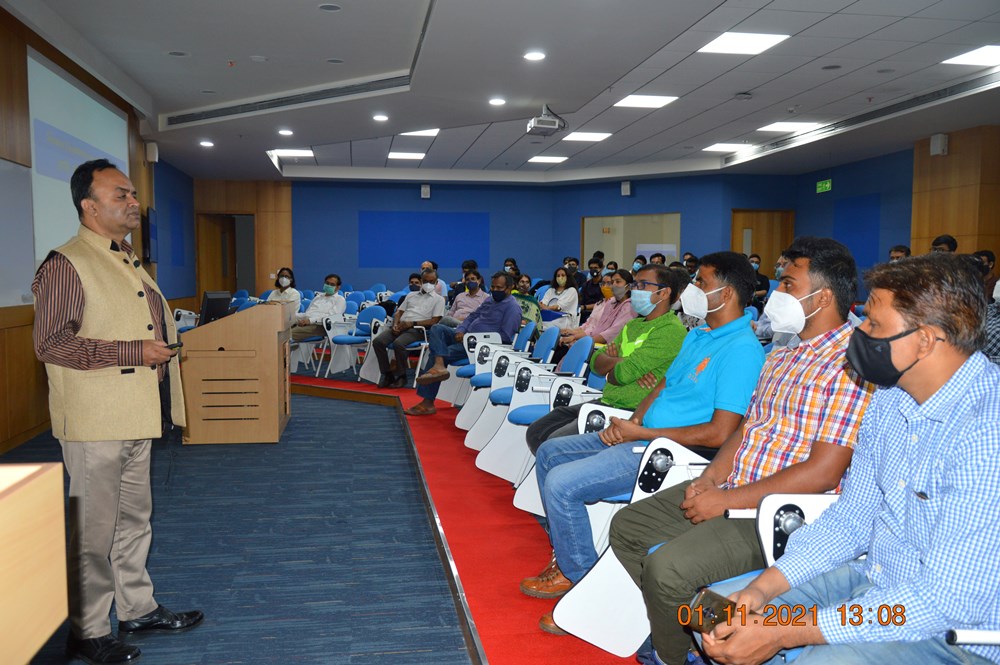 November 1
On-boarding 1st Batch of iMTech students
The first lot of students arrived in the campus along with their parents and guardians. The verification of the documents for the admission was successfully carried out at R109 with the support of all the staff members. Our Registrar, SR Sridhar, Commodore (Retd) and Dean (Academics), Prof. Chandrasekhar Ramanathan welcomed and addressed the parents and students at a gathering.
October 29 to November 1

IIITB Premier League 2.0
IIIT Bangalore conducted a sports event for the students, IIITB Premier League 2.0, with events of football, carrom, tennis, chess and cricket. The sports event spanned over four days from October 29 to November 1, 2021 in the campus. Over 230 students enthusiastically participated in the events. Following is the list of games along with names of the winners.
Football

Winners:

·    Pratyush Nandi – IMT2017518

·    Ankit Sahoo – IMT2018502

·    Nayan Chaturvedi – MT2020114

·    Aditya Kaka – IMT2019002

·    Subrat – MT2020077

·    Anubhav Mohanty – MT2021020

·    Balaji Babasaheb Sankapal – IMT2020090

·    Nitin Raj – IMT2017511

·    Yerra Ram – IMT2020558

·    Ishan Shanware – IMT2019037

 

Golden Boot

Winner:

Soham Joshi – IMT2018072

 

Tennis

Winner: S Rahul – MT2021135

Runner Up: Aakash Khot – IMT2020512

 

Chess

Winners:

·    Chinmay Parekh – IMT2020069

·    Rakshit Bang – IMT2020105

·    Mrinal M – IMT2018044

·    Hasanabbas Momin – IMT2020066

·    Anish B. – IMT2019018

Runners Up:

·    Sai Anvith – IMT2018528

·    Agastya Thoppur – IMT2020528

·    Kedar Deshpande – IMT2020523

·    Monika Sidde – IMT2016119

·    Manas Gupta – IMT2019050

 

Carrom

Winners:

·    Anuj Rautela – MT2021021

·    Harshit Agrawal – MT2021051

Runners Up:

·    Yash Kaushik – IMT2020033

·    Yerra Ram – IMT2020558
Cricket: (4 Teams were declared winners as rain interrupted the tournament)
Team 1 Winners:

·    B Sathiya Narayan – IMT2020534

·    Prabal Mahajan – IMT2020514

·    Sougandh Krishna KS – IMT2020120

·    M Siva Jagadesh – IMT2019055

·    Gandikota Sriram – IMT2017018

·    Naitiksinh Solanki – IMT2020051

·    Pavan Peruru – IMT2018517

·    Chinmay Parekh – IMT2020069

·    Pushkar Sandip Pawar – IMT2020015

·    Osuri Himesh Krishna – IMT2017021

Team 2 Winners:

·    Utkarsh Samadhiya – MT2021534

·    Sai Dhanush – IMT2017047

·    Subrat – MT2020077

·    Prashanth S – IMT2017525

·    Sailesh – IMT2017524

·    Nitish Reddy – IMT2017515

·    Srinivas Reddy- MT2020062

·    Ajith RVS – IMT2017520

·    Ishan – DT2020011

Team 3 Winners:

·    Akshat Garg -IMT2019007

·    S Rahul – MT2021135

·    Pranay Tirumala – MT2020005

·    Harshvardhan – MT2020084

·    Sooraj A – MS2019022

·    Darshak J- IMT2020119

·    Nayan Chaturvedi – MT2020114

·    Vivek – MT2020074

·    Vignaneshwar – MT2020107

Team 4 Winners

·    Ghazi Shazan Ahmad – IMT2019034

·    Anuj Rautela – MT2021021

·    Jurair Bhat – IMT2017509

·    Meet Patel – MT2021076

·    Vyom Sharma – IMT2020026

·    Chanadan Teja – MT2020015

·    Prathik – IMT2017032

·    Prashanth – MT2021102

·    Shabaz – MT2020160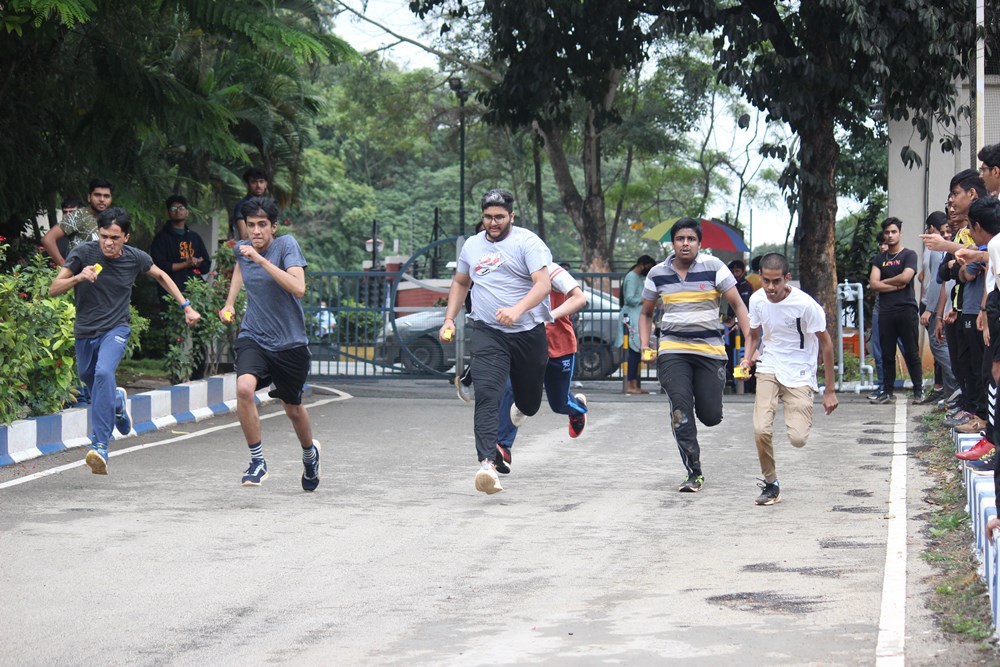 November 1 to December 1
Induction of 2021 iMTech batch by SquareOne
Every year, the Students Activity Council (SAC) ensures that all newly admitted iMTech students feel comfortable in the campus. In a month long period, several activities were held and encouraged new students to participate in those activities.
SquareOne Introduction and Ice Breaker Dumb Charades: This event was targeted to introduce SquareOne, the official induction committee of the college. In this first event of the series, 'Ice breaker dumb charades' was played to familiarize the juniors among themselves as well as their seniors.
Karaoke Night: It was an impromptu Karaoke Session
League of Fanatics: To express their knowledge by taking part in the quiz activity.
Club Sessions: A series of events by various clubs at IIIT Bangalore were held that were intended for the freshers to get acquainted to the societies present in the campus. As part of this, 'Dual Boot' session was hosted to help students to switch to Linux platform used extensively in college.
Squid Games: A set of 10 squid games were played by the new students.
A Talk on Ethics and Ethical Decision making by Prof. Chetan Parikh: In this seminar, Prof. Chetan spoke on various challenges and scenarios that students might foresee during their academics and provided insight on the ways to overcome those challenges.
Treasure Hunt: In order to acquaint students with the infrastructure of the campus, a simple sequence of 9 levels of clues per team hidden around the campus where the teams must find the clues sequentially leading to the end point of the hunt.
November 4
Diwali Celebrations
Aikyam of IIIT Bangalore celebrated Diwali with staff of security, housekeeping staff and canteen along with their family members. Entertaining events such as dance, music along with fun games (balloon piercing and musical chair) were organized for their family members. They were given bountiful goodies and sweet boxes. The kids were excited to receive chocolates, drawing set and crackers too. Alongside, Aikyam also organized event for students-Tambola.
November 7
Dance Workshop
Impulse, the dance club, held a dance workshop for the students and it was titled 'Move it or Lose It' on 'Haaye Oye' dance form.
November 8
On-boarding 2nd Batch of iMTech Students
The second round of on-boarding iMTech students was also carried out on the similar lines as for the first batch. Our Director, Prof. Debabrata Das welcomed and addressed the parents and students in the Auditorium at Ramanujan Block.
November 9
RMIT conference
As part of the 12th edition of the Ramanujan, Math and IT (RMIT) Conference, two eminent speakers gave talks on interesting topics. Prof. Debdeep Mukhopadhyay (IIT Kharagpur & Shanti Swarup Bhatnagar Awardee) spoke on "Every Contact Leaves a Trace": Side-channel and Micro-Architectural Attacks on Modern Cryptosystems". The second speaker, Prof. George Andrews (Pennsylvania State University & Fellow of the American Mathematical Society) spoke on "4-Shadows in q-Series, the Kimberling Index, and Garden of Eden Partitions — A Tribute to Hansraj Gupta".
https://www.youtube.com/watch?v=YgBsofHaXU8
November 14
Children's Day Celebrations
Fostering a sense of belongingness is a gratifying feeling for us all. Aikyam club of IIIT Bangalore marked Children's Day by visiting children of Surabhi Orphanage in Electronic City. The members of Aikyam along with student volunteers spent time with kids and engaging them in fun games. The Sports Committee too joined hands in this initiative-donating a bunch of sports equipment including badminton rackets, volleyballs, cricket kits, carrom boards, Board Games-Chess, Ludo.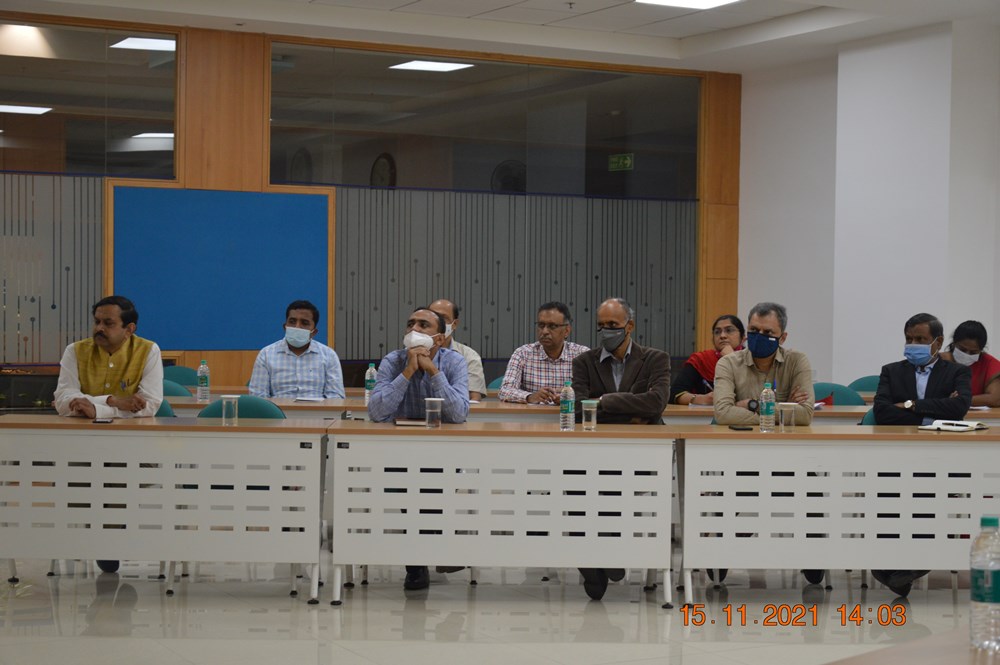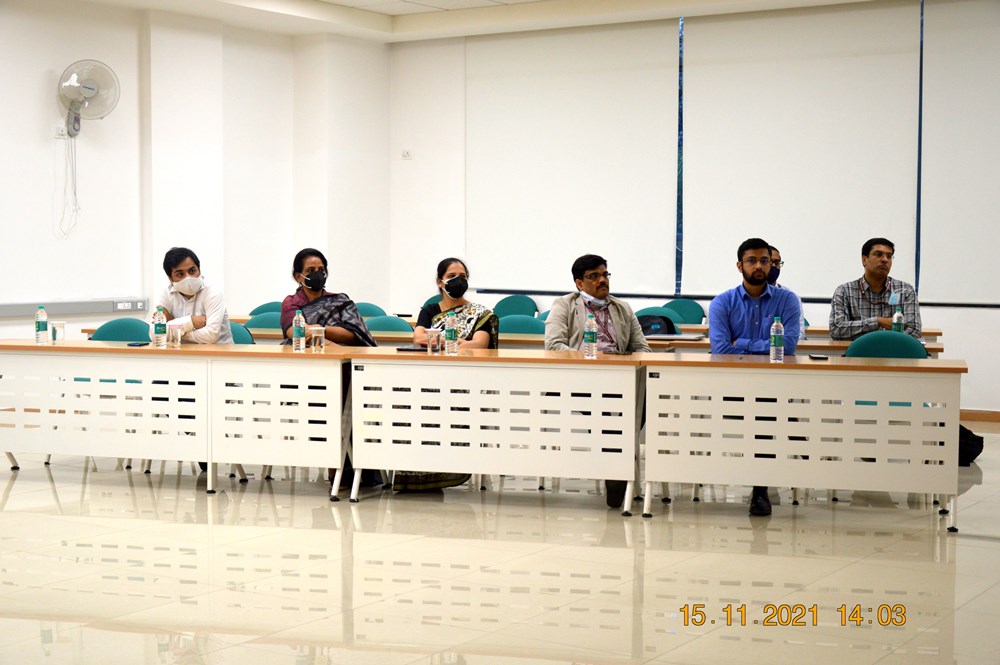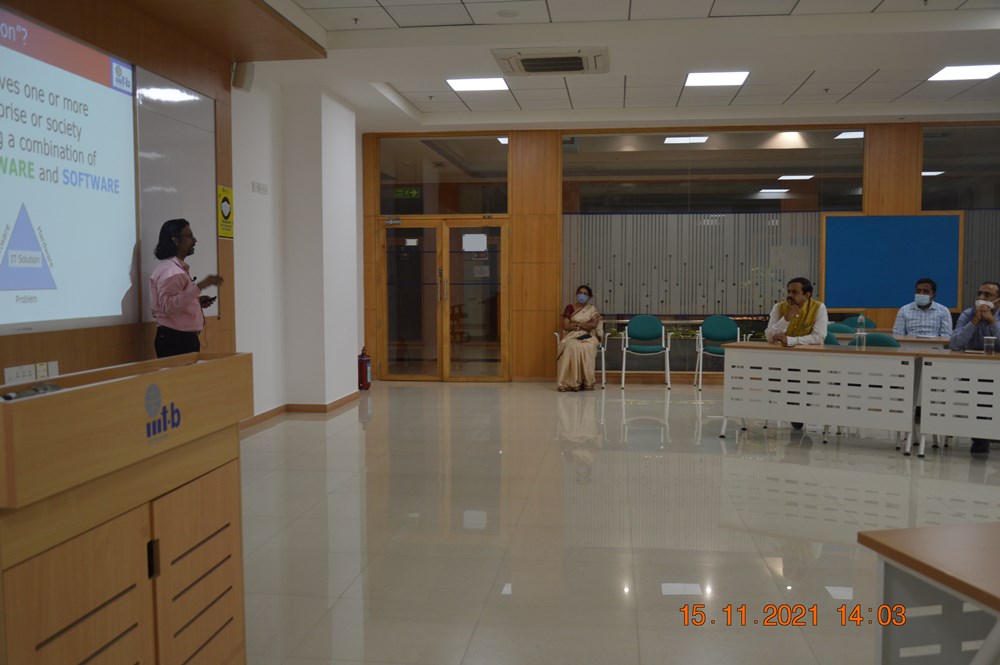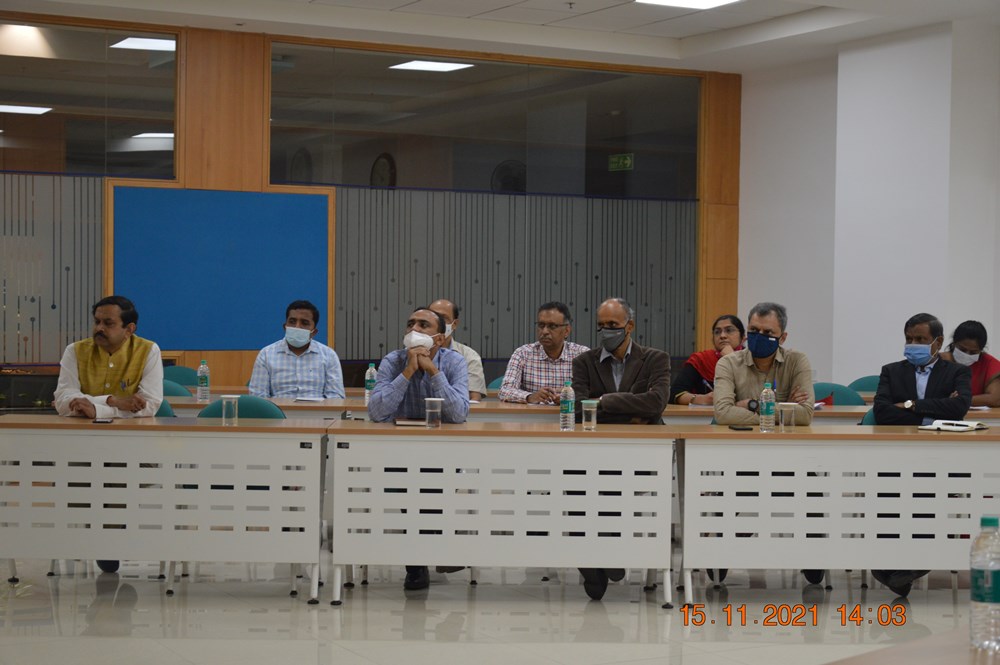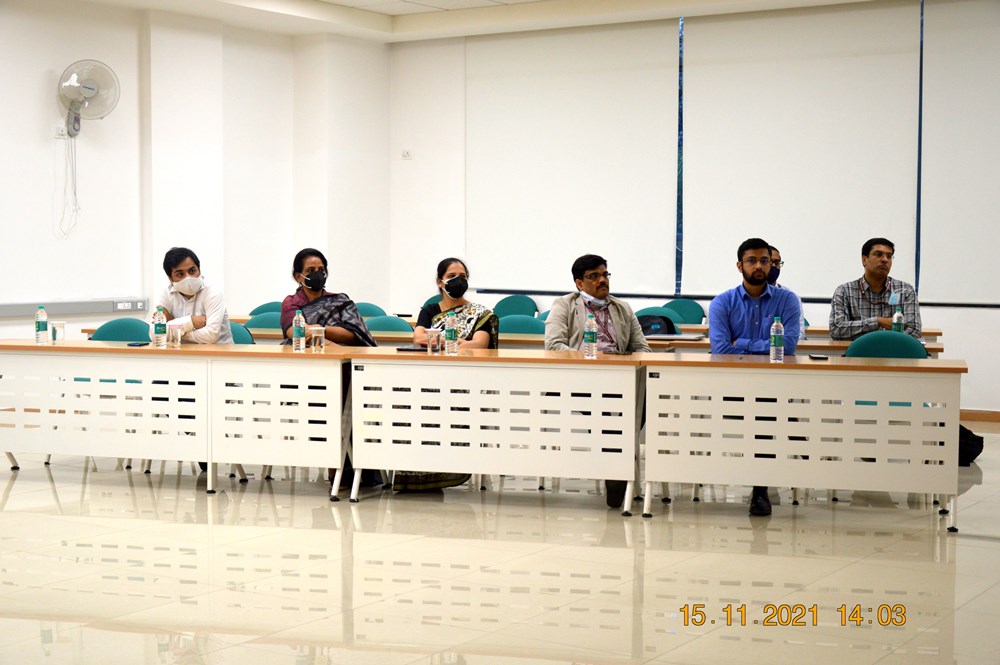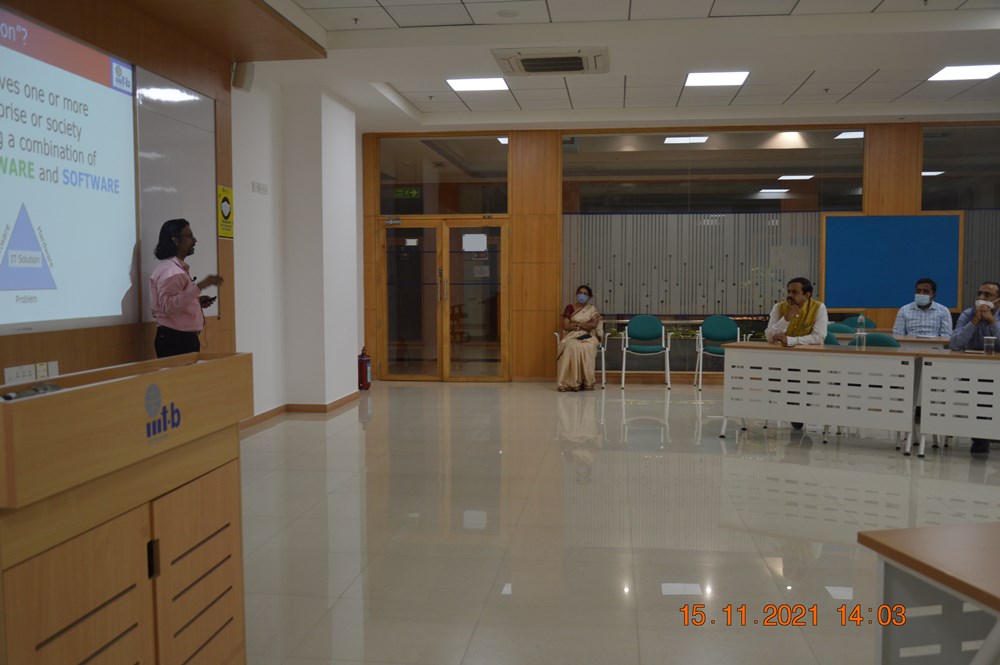 November 15
Training for Karnataka Government Officials
The IT training and development practices help in enhancing the performances in an organization. IIIT Bangalore held a training session for Government of Karnataka officials. Our Director, Prof. Debabrata Das and Dean (Academics), Prof. Chandrasekhar Ramanathan spoke on 'Strategies for Application Modernization', 'Efficient Management of Network Infrastructure' and 'Software Architecture Best Practices.'
November 17-19
Bengaluru Tech Summit 2021
IIIT Bangalore participated in India's flagship technology event and Asia's largest tech summit, Bengaluru Tech Summit 2021 that was held from November 17 to November 19 in hybrid mode. On the first day, Prof. Neelam Sinha gave a talk on "Fundal Image Analysis for screening Diabetic Retinopathy", Prof. Dinesh Babu Jayagopi spoke on "Margadarshi – Interview Assistance Platform", Mr. Amudheesan Nakkeeran, System Engineer spoke on "5G Research @IIIT BANGALORE" and Mr. Arun Gurumurthy, Consultant – Head, Strategy and Resourcing, MOSIP spoke on Modular Open-Source Identity Platform".
There were three sessions on the second day of the Summit. Prof. Dinesh Babu Jayagopi spoke on "AI based Multi specialized assistant for Micro Hospitals", Mr. Divya Raj, Principal Technology Strategist, EHRC, spoke on "e-JIDHAN (Jharkhand Integrated Development for Health and Nutrition)" followed by a talk by Prof. Bidisha Chaudhuri on "Humanising Automation". On the third day, Student Innovators from the Innovation Centre spoke about their start-ups. Mr. Ruturaj Mohite (IMT2019518) spoke on 'CircuitVerse, a free, open-source platform which allows users to construct digital logic circuits online. Mr. Goli Akshay (IMT2017507) introduced his venture- 'Canvasboard'. This is an interactive platform with plugins focusing on replacing the need of multiple platforms for teaching, presenting, managing, or explaining ideas. Mr. Shrey Tripathi (IMT2019084) presented his venture, CryptoWill, a completely decentralized smart contract-based solution backed by the Tezos Network. Mr. Sriram G (IMT2018526) showcased his start-up, 'GoLearn App', an automatic question generation system used to test the learning gap of learners from e-reading documents. Mr. Parithimalan A (IMT2018055) spoke on his innovation, 'Sahasraaksha' an intelligent camera and proactive security system based on AI.
November 18
Inauguration of MOSIP
Our Director, Prof. Debabrata Das inaugurated IIIT Bangalore's MOSIP Experience Center (MEC) in the gracious presence of key officials of IIIT Bangalore and other dignitaries. The MEC enables one to experience the ID issuance and identity verification process based on MOSIP, promote use cases, enable collaborations between governments and experts. It iteratively works on expanding the experience in scope to include a wide network of collaborators and envision regional centers in different geographies and it will also help in capacity building for the countries looking to adopt MOSIP.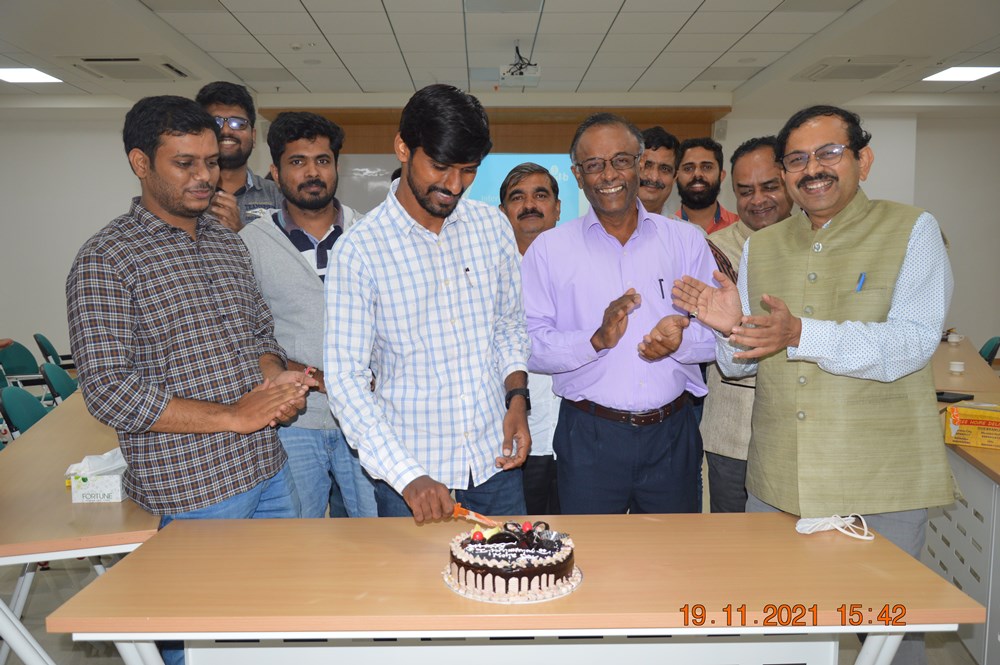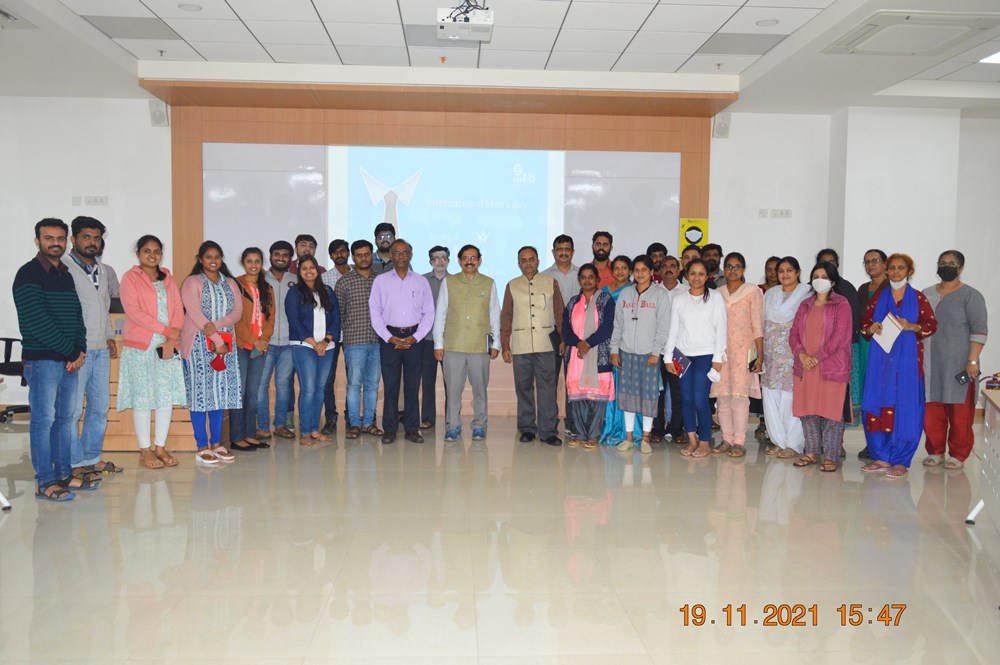 November 19
International Men's Day
Healthy gender relations are critical towards creating a better society. In order to sensitize the issues of men's wellbeing and health, International Men's Day is observed worldwide. This year, IIIT Bangalore marked the celebrating the contribution of men towards the nation, society and community at large by hosting an event. The event was celebrated by cutting a cake following sharing of thoughtful messages by insightful people.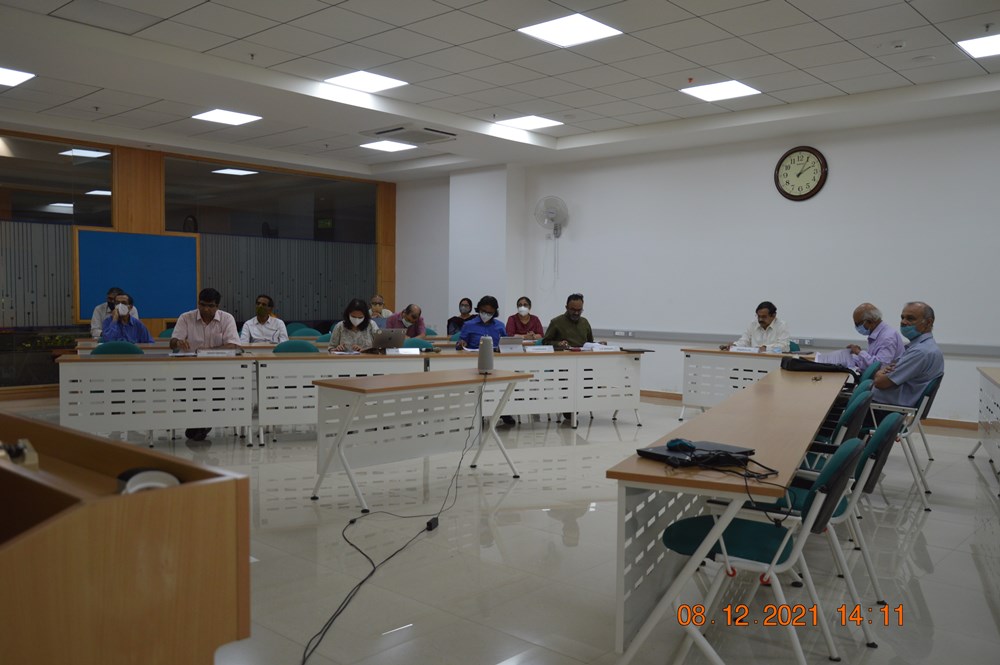 December 8
82nd Senate Meeting  
The Senate Meeting was held in R109 at the campus.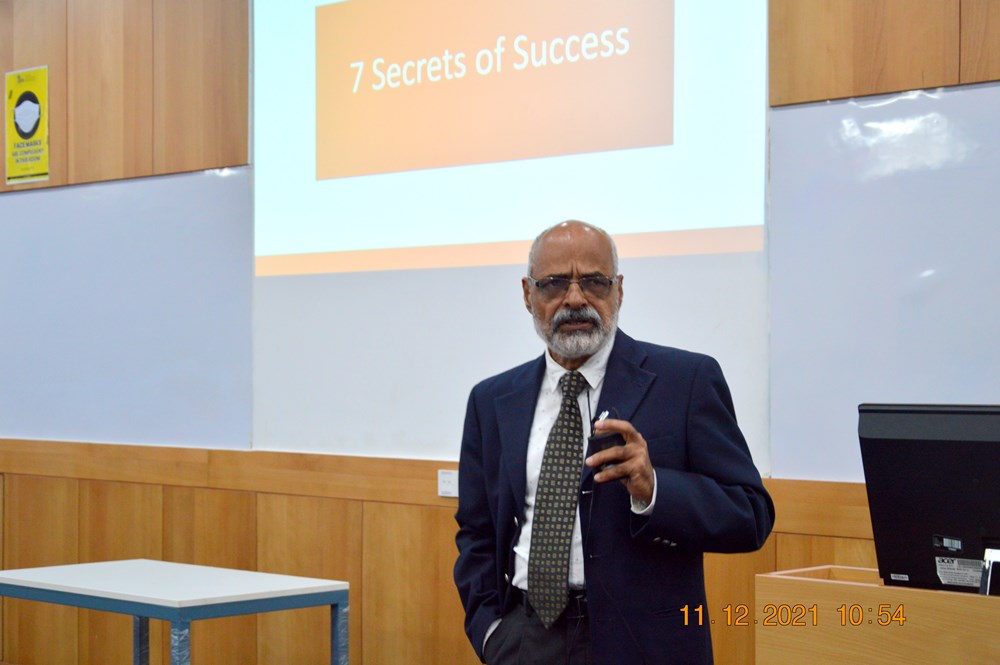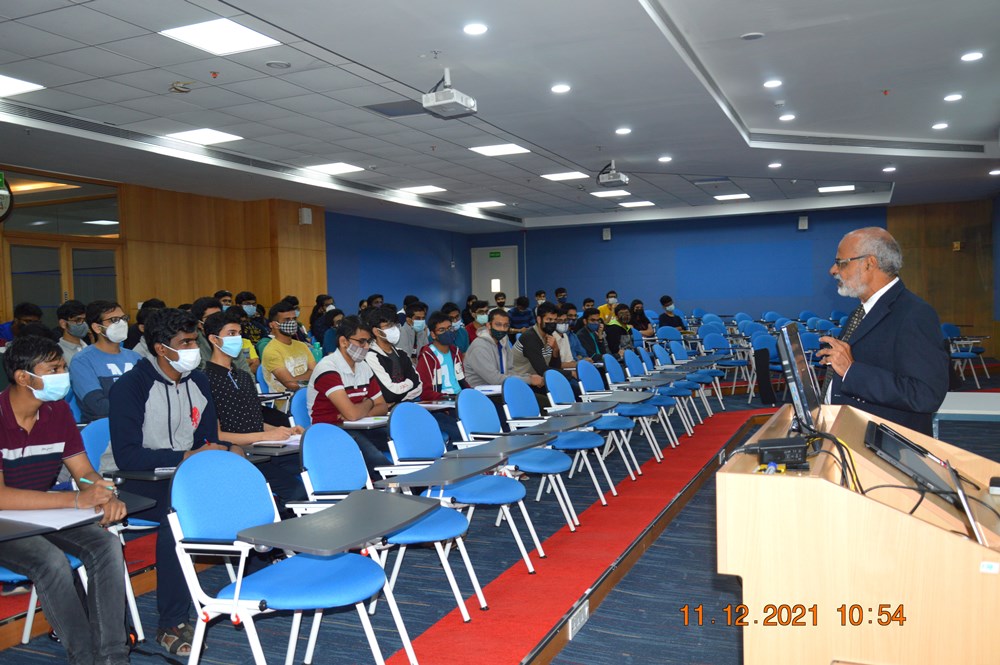 December 11
Value Added Course – 7 Secrets of Success
IIIT Bangalore held a motivational talk, "7 Secrets of Success" for 2021 iMTech batch of students by Cdr. K Vijay Kumar. His talk was based on the book, "7 Habits of Highly Effective People" by Stephen R Covey. He was a Principal Consultant with Franklin Covey India, the only authorized entity to run this and allied training in India. Cdr. K Vijay Kumar has spent 23 years from 1975 to 1998 in the Indian Navy where he was specialized in training Naval personnel and in operational roles in weather and oceanographic forecasting. He has also co-authored a book "Rise and Shine" where he has contributed a chapter on "Building character in children and youth – the Yogic way".
December 20
Farewell to Prof. Chetan Parikh
Prof. Chetan Parikh, who served as a faculty member since 2015 at IIIT Bangalore opted to retire. IIIT Bangalore hosted a farewell party for him. In a heartfelt gathering, his fellow faculty members and students spoke about his good-willed nature and unique teaching abilities. Mrs. Radha Parikh, wife of Prof. Chetan was also present at the farewell function.
December 23
Christmas Celebration
Christmas vibes came early to our campus and it was celebrated on December 23 for faculty, staff and students. The Christmas tree planted in front of Aryabhata Block was decorated. The celebrations included fun games, greetings from Santa (Ms. Padma Joseph, staff member), cake cutting by our Director. This was followed by refreshments for everyone.