External Talk: 
September 10: "Understanding Disability and Access in the Global South: Some post-Humanist Questions" by Prof Anita Ghai, School of Human Studies, Ambedkar University, New Delhi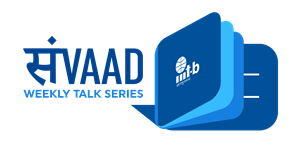 August 05:
"The rise of the platform economy and the antinomies of "gig" work in India"
by Prof Balaji Parthasarathy, IIIT Bangalore
August 28: MINRO-Samvaad-
Panellists: Prof Ramasubramanian V; Prof G. Srinivasaraghavan; Prof Preeti Mudliar; Raksha PS; (Late) Tridib Roy Chowdhury (Moderator)
August 31: CITAPP-Samvaad Talk on "Developing Country Health Systems as Complex Adaptive Systems" by Dr Nachiket Mor, CITAPP
September 14: "Frequency Allocation and Graph Coloring" by Prof Pradeesha Ashok, IIIT Bangalore

September 21: "Caches: Design space exploration and security on hardware" by Prof Nanditha Rao, IIIT Bangalore
Theme: VLSI Technologies
September 28: EHRC-Samvaad Talk on "Out of Distribution Detection in Microscopic Urinalysis" by Tarun Dutt (Alumnus) and Indu Ilanchezian (Alumna)
September 30: MINRO-Samvaad Webinar on "AI in Healthcare".
Panellist: Prof G Srinivasaraghavan, Prof Amit Prakash, Prof T K Srikanth, Kalpana Subbaramappa (moderator)
October 5: EHRC – "Technology in Brain Surgery" by Dr Satish Rudrappa, [M. Ch (Neuro), FSS (USA, FRCS (Glasgow)], Director of Neurosciences, Sakra World Hospital, Bangalore
October 12: VLSI – Samvaad Talk on "Ultrasound-image Guided Surgical Tool For Treating Hydrocephalus: Physics & Implementation" by K.N. Aheesh, Open Silicon Inc., and IIIT Bangalore alumnus and Prof Subhajit Sen, IIIT Bangalore
October 29: "New Approaches to Architecting Hardware for Machine Learning" by Prof Subir Roy, Shaik Mohammed Waseem, Manpreet Kaur Jaswal
Book Reading sessions:
September 2: Book Reading Session by Prof. Shiva Kumar Malapaka, IIIT Bangalore
Book: MahaPrasthanam; Author: Srirangam Srinivasarao.
October 28: Book reading session by Dr. Meenakshi D'Souza, Associate Professor, IIIT Bangalore
Title: A selection of Bharathiyar's poems