August 31-September 2
Ganesha Chaturthi
The students of IIIT Bangalore celebrated Ganesha Chaturthi at the campus. In a three-day long event, the students along with the campus community took part in the festivities and sought the blessings of Lord Ganesha; remover of obstacles, new beginnings, wisdom and intelligence.
---
September 5
Teachers' Day
India celebrates Teachers' Day as a mark of respect to the contribution made by teachers to the society. September 5th is the birthday of a great teacher Dr. Sarvepalli Radhakrishnan, who was a staunch believer of education and was a well-known philosopher, diplomat, scholar, the President of India. The students of IIIT Bangalore too celebrated Teachers' Day by expressing their gratitude and appreciation for their beloved professors.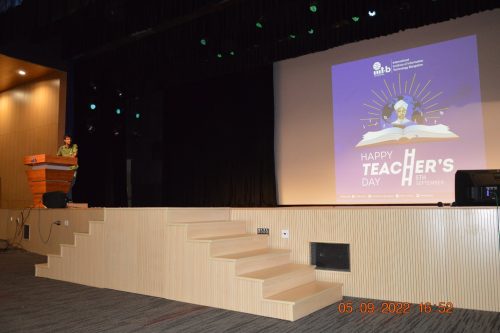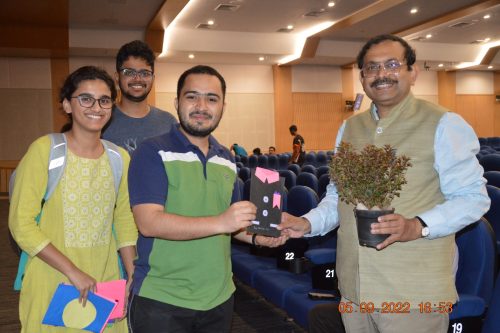 ---
Blood Donation Camp
Aikyam, the social volunteering club of IIIT Bangalore in collaboration with Bangalore Medical Services Trust (BMST) organized a Blood Donation Camp at the campus. A team of doctors, nurses and technicians coordinated in collecting blood from the enthusiastic donors after checking their health condition. Regular blood donation by healthy people not only ensures availability of the blood to the needy during the hour of need, but also helps the donors in maintaining their health. BMST distributed refreshments and certificate of appreciation to all the donors.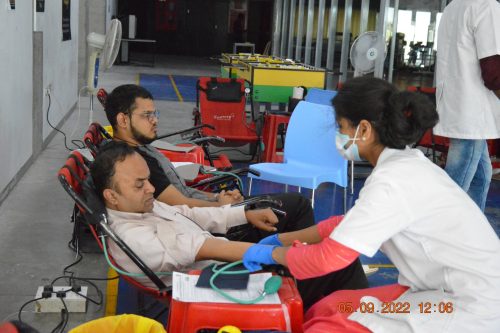 ---
September 6-21
FDP for Faculty of Myanmar Institute of Information Technology (MIIT)
MIIT Mandalay, Myanmar with the support of Ministry of External Affairs (MEA), Govt. of India, coordinated with IIIT Bangalore and conducted a two week online Faculty Development Programs (FDPs) to its Faculty on Analog, Digital and Wireless Communications. Prof. Jyotsna Bapat, Dean (Faculty), IIIT Bangalore took lead in organizing and coordinating the FDP during September 6-21, 2022.
Prof. Debabrata Das, Director IIITB inaugurated the program with his opening remarks and inaugural speech.  Prof. Chandrashekar Ramanathan, Dean (Academics) pointed out his views on importance of the FDP and assessment of teaching-learning. Prof. Jyotsna Bapat expressed her thoughts on outline and structure of the FDP. Dr. Daw Win Aye, Rector of MIIT also shared her views and expressed her sincere gratitude to IIITB for all the support, guidance and mentoring.
Following technical sessions were conducted during the 2 week program:
Prof. Priyanka Das delivered sessions on Modulation, Demodulation and Frequency Conversation for 3 days: September. 6th, 8th, and 15th.
Technical session on Multiplexing was handled by Prof. G. R. Sinha on September 12, 2022.
Prof. Prem Singh conducted a 3 day lecture sessions on Cellular Communication, CDMA, and Spread Spectrum Analysis on 9th, 13th, and 17th September.
Prof. Jyotsna Bapat guided the participants with her lecture sessions on Software Defined Radio (SDR) and Smart Antenna during 19th and 20th September.
The main focus of the all the technical sessions conducted during the FDP was on conceptual knowledge and its understanding with real-time applications, with practical examples and MATLAB based programmes and other simulation-based experiences.
The concluding session managed by Prof. G. R. Sinha elicited feedback, comments and remarks from the participants on FDP.
The participants expressed their happiness and efficacy of having gained a conceptual approach of understanding the topics and associating them with real world applications.
This was a two-week FDP conducted in online mode covering the complete Communication systems, as requested by MIIT faculty.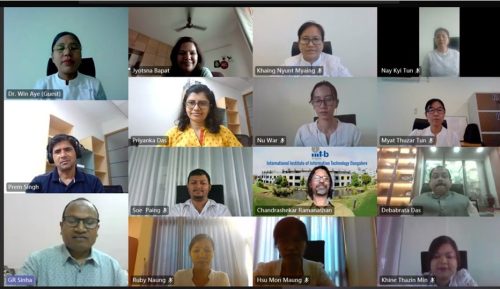 ---
September 7
Lecture by Dr. Nitu Tiwary
IIITB organized an invited lecture by Dr. Nitu Tiwary, Clinical Psychologist, Manipal Hospital. She discussed about the Building Blocks of Human Cognition, its memory processes, attention, cognitive heuristics, emotion and models of sense of self. The session was open to students, faculty and staff.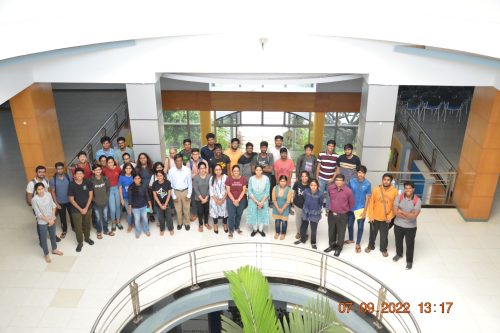 ---
September 8
SIG Automotive Workshop
SIG Automotive, a special interest group in IIIT Bangalore hosted a workshop on 'Automotive Software and Sustainability', bringing together leading players from academia and industry. The workshop was co-convened by Prof. Roland Erik Haas and Prof. Sujit Kumar Chakrabarti. The workshop was attended by more than 90 participants from several organisations, including Daimler, Ashok Leyland and Mathworks.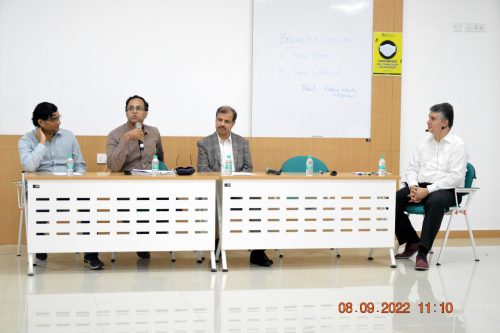 ---
September 9-11
IIITB Premier League
IIITB Premier League was held in five Sports disciplines – Basketball, Football, Volleyball, Table Tennis and Chess during September 9-11, 2022.  The teams were formed by conducting auctions.
Basketball:
Winner: Oh Yeah!, Team owner-Vamsi Peddu
Runner-up: BoB, Team owner-Vyom Sharma
Football:
Winner: Steamers FC, Team owner-Keshav Goyal
Runner-up: MCD United, Team owner-Karthik Sama
Volleyball:
Winner: Spartans, Team owner-Mohith Sathyanarayanan
Runner-up: Pandago, Team owner-Gousepeer Arella
Chess:
Winner: Team e4e5, Team owner-Goutham U R
Runner-up: Kingslayers. Team owner-Yash Mogal
Table Tennis:
Winner: BTT, Team owner-Archit Singhal
Runner-up: GYB, Team owner-Jahnavi Agrawal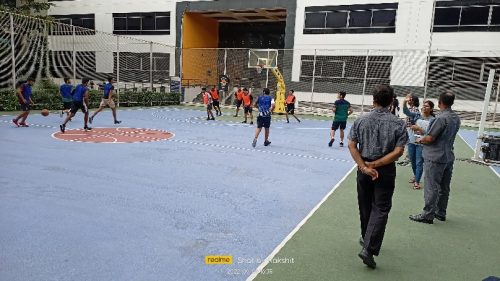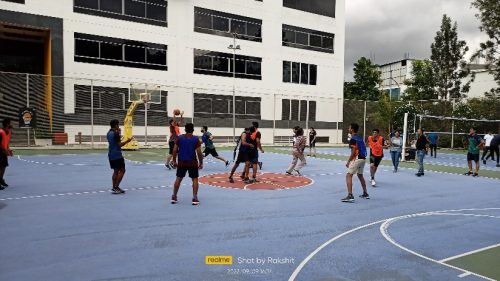 ---
September 10
TEDxIIITBangalore
IIIT Bangalore organised the 5th iteration of TEDxIIITBangalore at IIITB campus. This year's theme was "Winds of Change".  The event was successful with interesting talks by the following eminent speakers:
Tulsi Tanti, Founder, Chairman and Managing Director of Suzlon Group

GV Ramanjaneyulu, Executive Director at Centre for SUSTAINABLE AGRICULTURE

Tapesh Kumar, Pilot/YouTuber

Zoya Agarwal, Pilot/Spokesperson at UN Women

Jaishree Sharad, Celebrity Dermatologist, Head of several international Dermatology associations

Gaurav Juyal, Host, Art attack India

Neelakantha Bhanu Prakash, Fastest Human Calculator

Nidhi Nigam, Founder of Nutrify with Nidhi Nigam
UpGrad for Business and ICICI Bank were the sponsors for this event.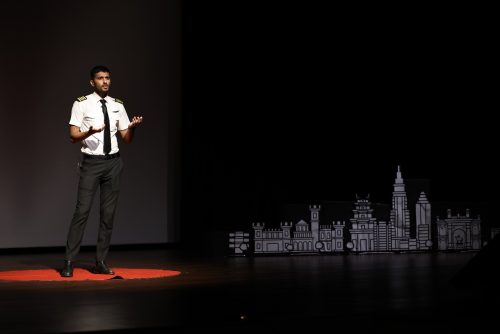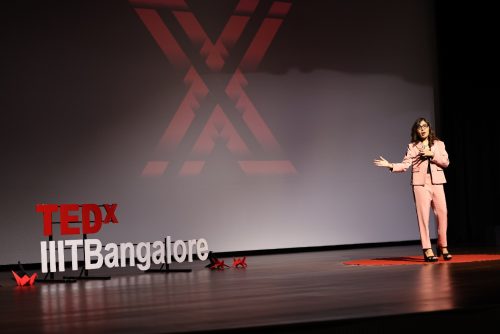 ---
September 16-17
Powerlifting Event
Students enthusiastically participated in 'Powerlifting Event' wherein each competitor was allowed three attempts on each weight lift exercise such as squat, bench press and deadlift. The lifter's best valid attempt on each lift accounted for the competition total.
The event was inaugurated by Registrar, Cmde SR Sridhar (Retd) who squatted with heavy weights for multiple repetitions and led by example. The weight categories were <59 kg, <66 kg, <74 kg, <83 kg, >83 kg.
Participant List.
| | | |
| --- | --- | --- |
| Names | Weight Category | Total Weight |
| Heet Vasani (IMT2020088) | <59 kg | 222.5 kg |
| Dhruv Karkwal (Tie-up) (MT2022158) | <66 kg | 280 kg |
| Tushar Tanaji Guware (Tied-up) (MT2022160) | <66 kg | 280 kg |
| Prabal Mahajan (IMT2020514) | <74 kg | 387.5 kg |
| Sami Ulah Naikool (MT2022099) | <83 kg | 390 kg |
| Nitin Pandey (MT2022141) | >83 kg | 355 kg |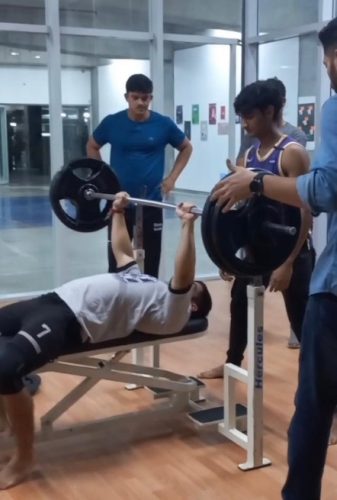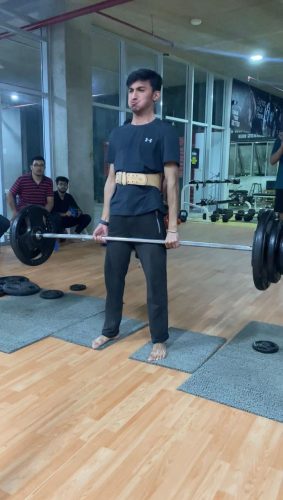 ---
September 16-18
Badminton Premier League (BPL)
The Badminton Premier League (BPL) was conducted by selecting players through an auction where six teams bid on players to form their respective teams. Two groups of Three teams each played the matches in the "Round Robin" format. The top two teams from each group qualified for the playoffs where teams played each other in the IPL format. Between the two teams, "Last Dance" and "Karasuno", the latter emerged victorious.
The winners (Team Karasuno):
Vamsi Peddu

Aarthi Sree

Risshi

Saketh Gajawada

Sheikh Muteeb

Pradhyuman Joshi

Udith

Maniram, Security Officer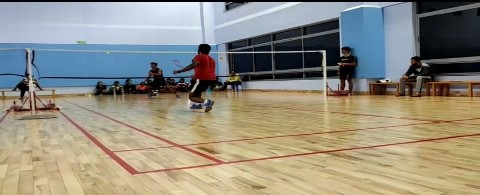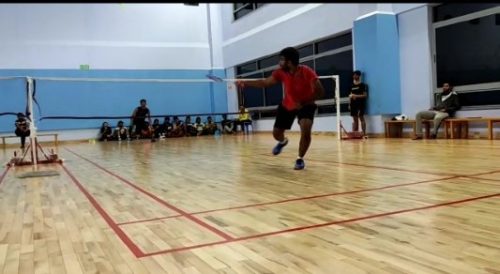 ---
September 18
Felicitation Ceremony for Classes of 2020, 2021, 2022
Felicitation ceremony was held on September 18, 2022 for Class of 2020 and Class of 2021 as the graduates of these two batches missed graduation ceremonies due to the pandemic. Those Class 2022 graduates who could not attend 22nd Convocation were also felicitated during the occasion. All the graduates were felicitated by Prof. Debabrata Das, Director, IIIT Bangalore.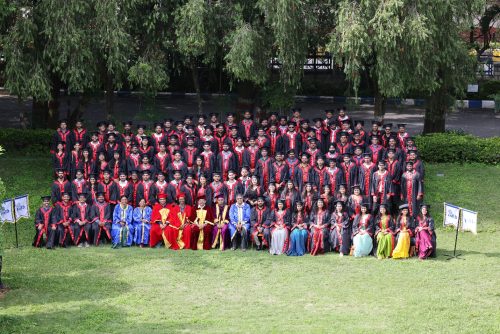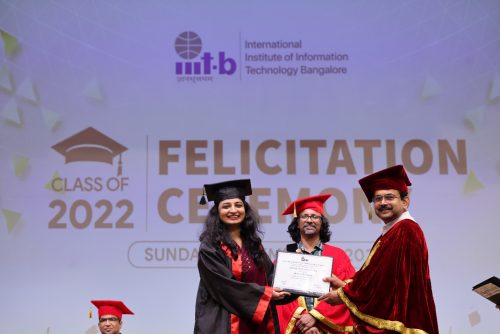 ---
September 22
Open Day Event for Prospective iMTech Students
IIIT Bangalore organised an Open Day Event for all the prospective iMTech Students and their parents. Our Registrar, Cmde. SR Sridhar, Dean (Academics), Prof. Chandrashekar Ramanathan and iMTech Coordinator, Prof. Madhav Rao interacted with parents.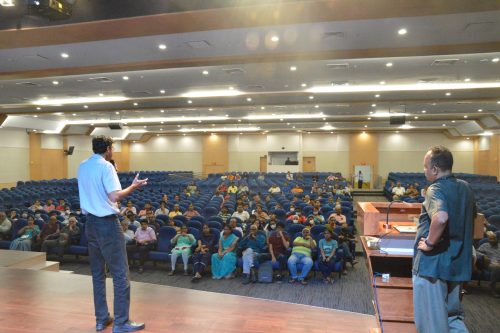 ---
September 28
Presentation to Siemens Team
Researchers from the Technology R&D teams of Siemens visited IIITB for a joint workshop to identify and work on mutually interesting research problems.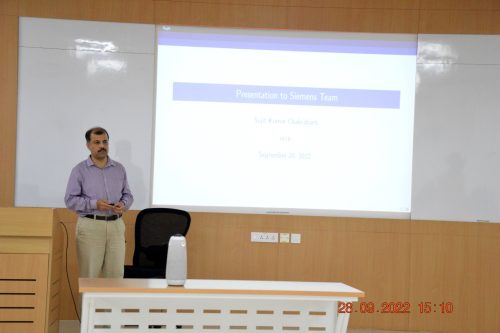 ---
September 29
Ayudha Pooja
Ayudha Pooja was observed and celebrated at IIIT Bangalore. Pooja was offered to Goddess Saraswathi in the Aryabhata Foyer. Our Director, Prof. Debabrata Das, Registrar, Cmde SR Sridhar (Retd.), Dean Academics, Prof. Chandrashekar Ramanathan, Chief Administration Officer, Mr. Jagadish Patil, faculty members, staff and students were present during the auspicious pooja.