March 8
Governing Body Meeting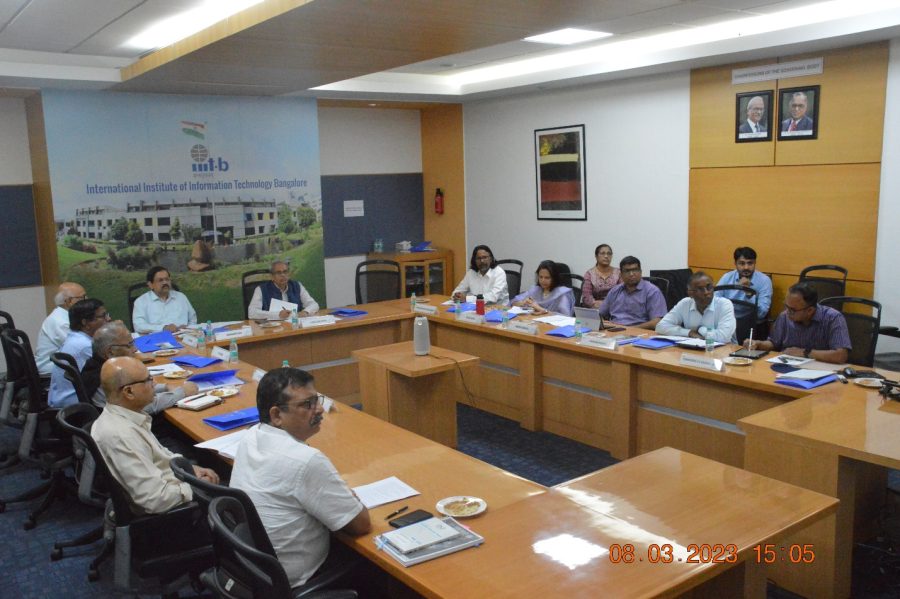 89th Governing Body Meeting was held.
---
March 8
Happy Healthy Hour as a part of International Women's Day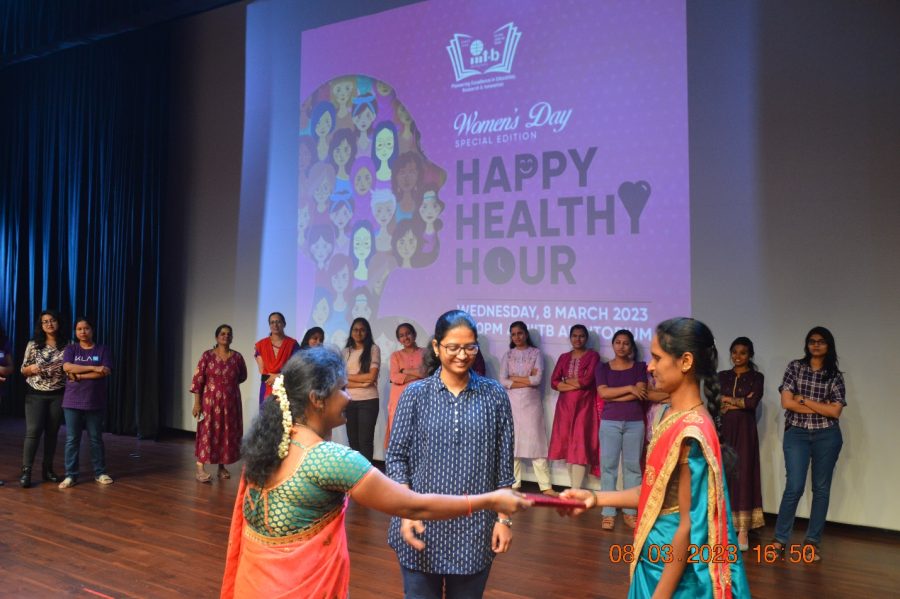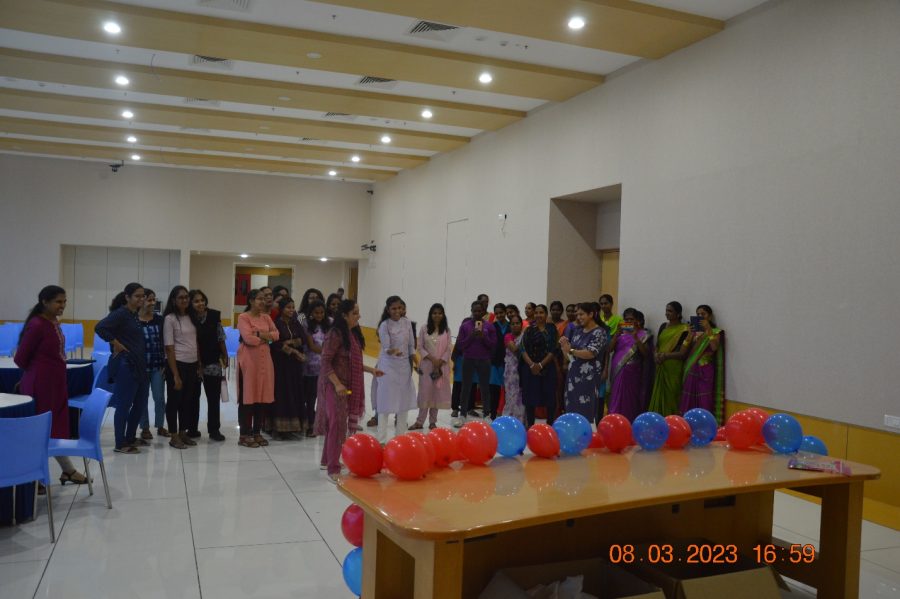 International Women's Day is celebrated to celebrate womanhood and also to pay tribute to the indomitable spirit of women across the globe. At IIIT Bangalore, women folks including faculty, staff, students and housekeeping came together to celebrate being women. All dressed in various shades of purple, rejoiced the moments by participating in fun games and other recreational activities including screening of short movies. It was a moment to rejoice to be loved and admired. On that was a special edition of Happy Healthy Hour too.
---
March 9-10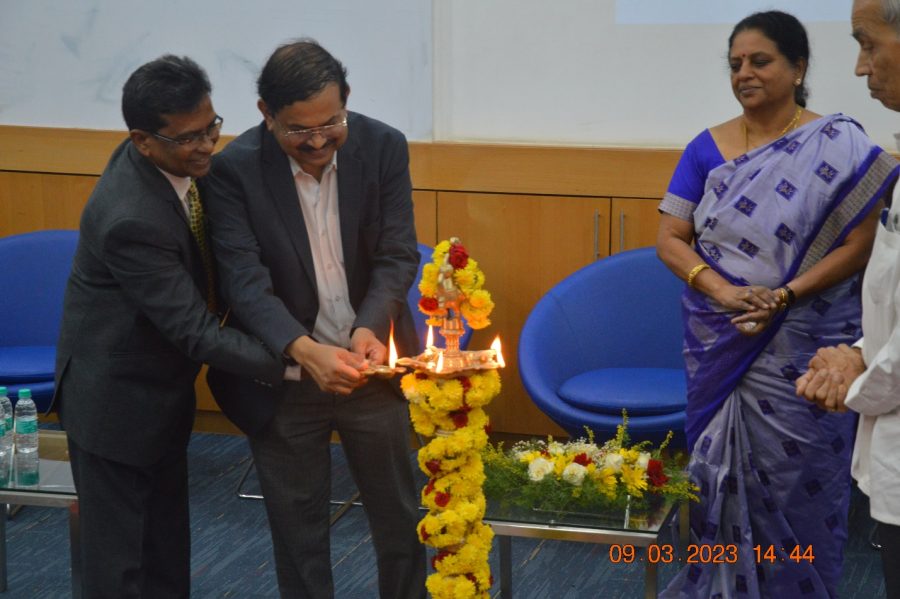 ACCS ADCOM Conference 2023 was held from March 9 to 11.
---
March 24
Blood Donation Drive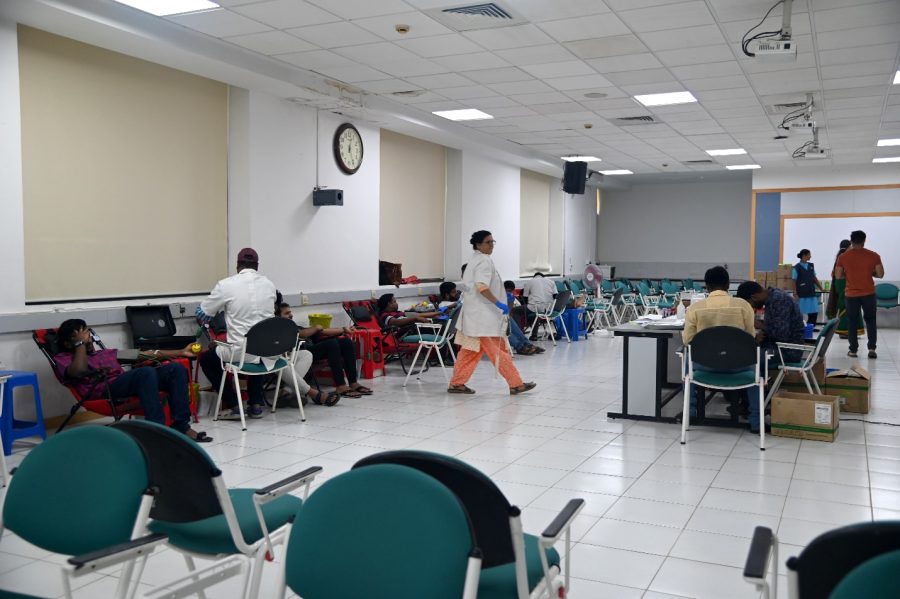 Aikyam, the social volunteering club of our institute in association with NSS, IIITB and Bangalore Medical Services Trust (BMST) organized a Blood Donation Camp. A total of 91 donors came forward for the cause. The camp, set up by Bangalore Medical Services Trust (BMST), a not-for-profit organization working in the field of blood banking and transfusion organized with the aim to encourage the youth to donate blood, and to spread awareness. After the camp, the team distributed Blood Donor Cards, Information material and certificate of appreciation to all the donors. Some healthy refreshments were distributed to the donors.
---
March 24
One Minute Meditation Technique
A session on 'just-a- minute' meditation technique was conducted by Mr. Divyesh Bhandary for students, faculty and staff members.  He explained participants how meditation for just a minute can help us to restore our innate creative capacity, cope during stressful times, regain a deep state of inner peace, renew our perspectives, enhance inner stability, tap into an unlimited power flow and nurture feelings of security and safety.
---
March 25
CITAPP Reunion 2023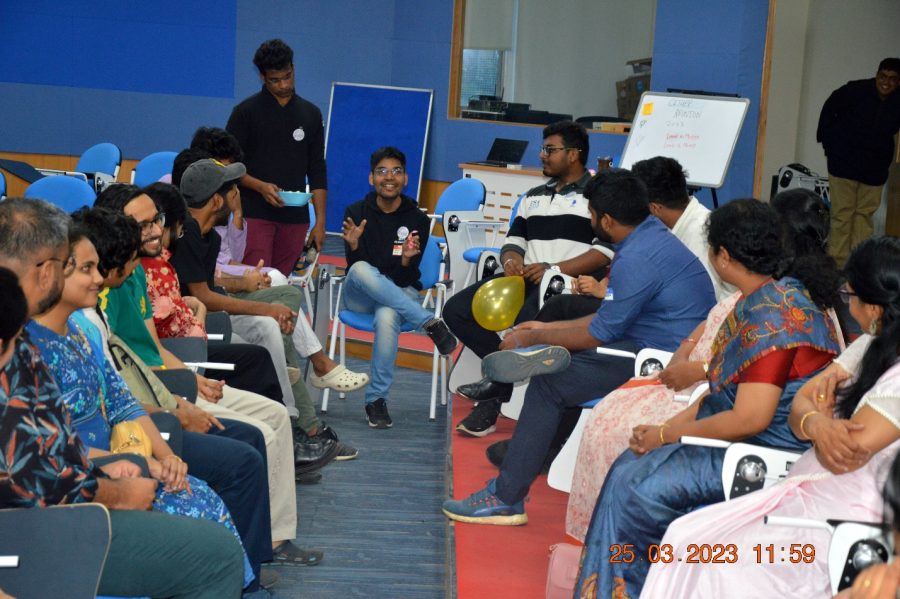 CITAPP Reunion-Reliving the past, reimagining the future was an ode to CITAPP's students, researchers (past and present) and faculty who have contributed to the journey of CITAPP for a decade now. Those in attendance reflected on their time here and discussed possibilities for new pathways in the future.
---
March 27: Wikipedia Edit-a-thon by Lean In Club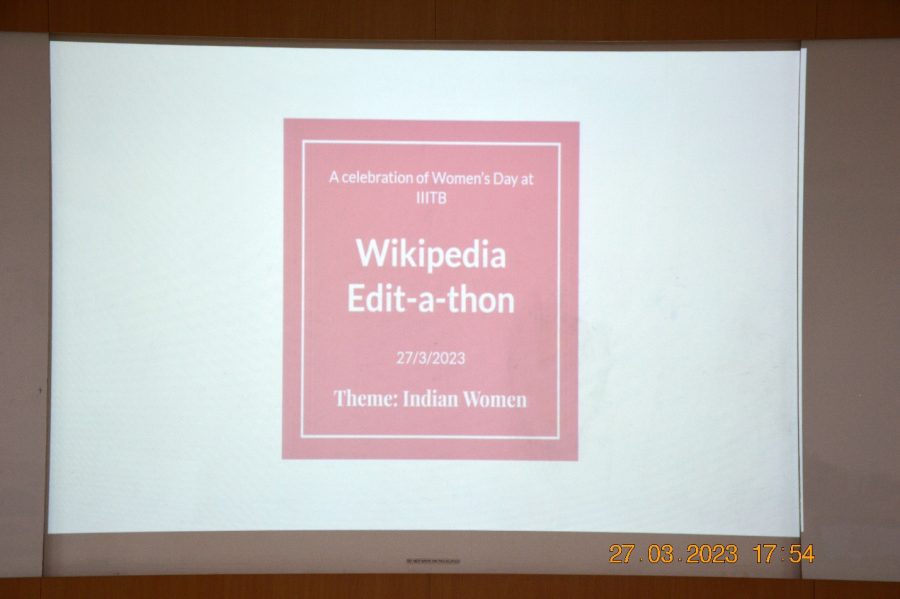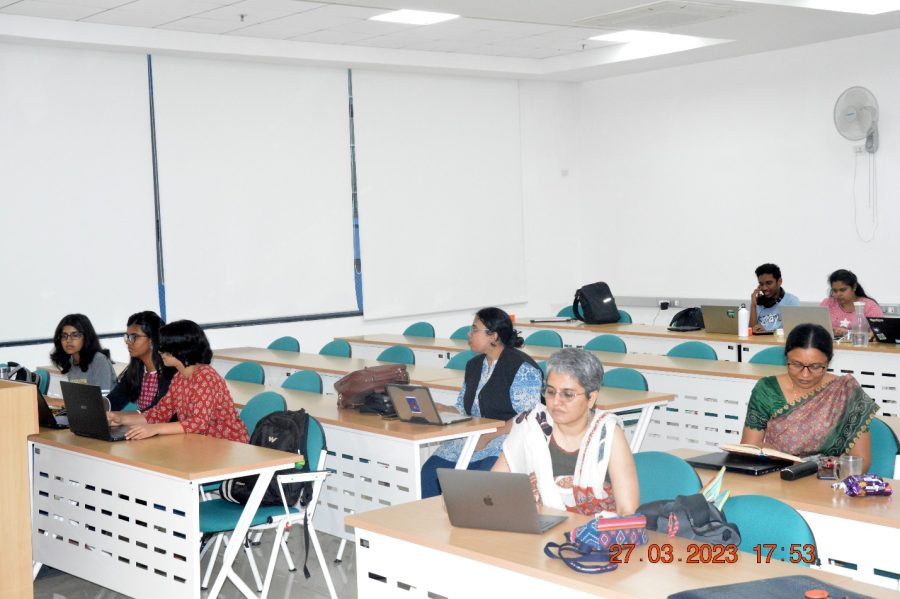 On account of Women's Day, the Lean-In Club along with the support of Prof. Janaki Srinivasan, Prof. Meenakshi D'Souza and Prof. Bidisha Choudhuri conducted an 'Edit-a-thon' event.
An edit-a-thon is an event where some editors of online communities such as Wikipedia, edit and improve a specific topic or type of content. The aim of this edit-a-thon was to edit or create pages on 'Indian Women' on Wikipedia. Wikipedia is a very visible site, but there is an obvious gender gap on its pages. This was an attempt to reduce that gap.
The session started with a small briefing along with a few slides of the event and guidelines that needed to be followed while contributing to Wikipedia. Followed by a small tutorial video that was played and everyone hopped right in.
About 15 people including students and faculty come in to contribute to pages on various Indian Women. Some found images and some even started writing a Wikipedia page on those women for whom it did not exist.
Edit attempts were made to the following pages:
1) Ghazal Alagh (Corporate trainer, Co-founder of MamaEarth)
2) Prof. Priti Shankar (Professor)
3) Upasana Taku (Co-founder of MobiKwik)
4) Richa Kar (Co-founder of Zivame)
5) Sreedevi Unni (Indian Mohiniyattam dancer)
6) Namita Thapar (Head and executive director of Emcure Pharmaceuticals)
7) Leena Mohanty (Odissi dancer)
8) Dwaram Mangathayaru (Violinist)
Successful edits 🙂
1) Leena Mohanty ( https://en.m.wikipedia.org/wiki/Special:MobileDiff/1146875284 )
2) Sreedevi Unni
(https://en.m.wikipedia.org/wiki/Special:MobileDiff/1146870546?diffmode=visual)
The event was organized by Lean-In core members Yukta, Ketaki and Asmita.
---
March 29
Psychological First Aid Session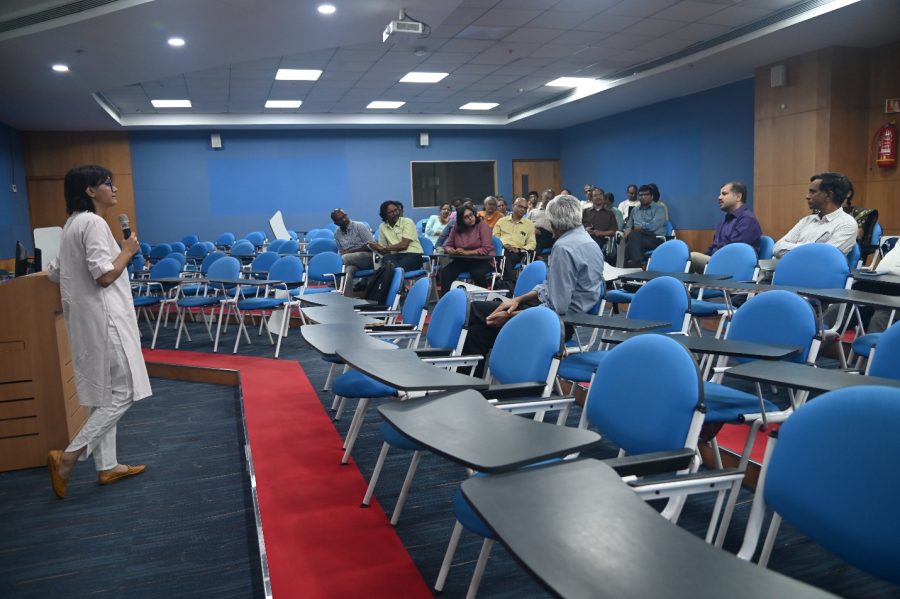 A workshop was conducted to equip participants on how to identify, approach, understand, and administer to others who may need emotional support while practicing self-care. The workshop oriented the participants on common psychological concerns and equip them with the necessary skills in handling psychological problems at the primary level such as empathy, active listening, looking for the right cues, referring to a professional when needed, etc. The workshop was conducted by Ms. Blenita and Mr. Puneet Manuja, Co-Founder & COO, YourDost.