IIIT Bangalore hosts its first ever e-convocation to confer degrees to the class of 2020
Over 250 students celebrate over a virtual ceremony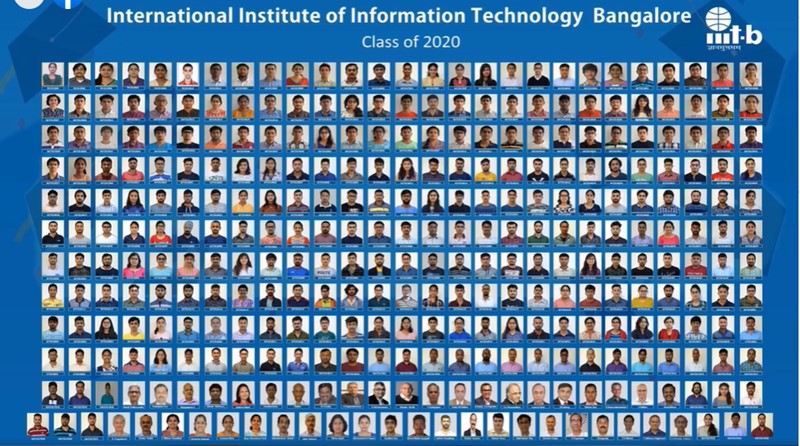 The International Institute of Information Technology Bangalore (IIITB), held its 20th Convocation on 7th July 2020, amidst the current situation brought by the coronavirus pandemic. Prof Jitendra Malik, Arthur J Chick Professor of EECS, University of California at Berkeley was the Chief Guest and Mr N Krishnakumar, Founder & Former Chairman, Mindtree and Managing Partner, Mela Ventures was the Guest of Honour. The Ceremony was presided over by the Chairman of the IIITB Governing Body Mr Kris Gopalakrishnan and Director of IIIT-B Prof S Sadagopan.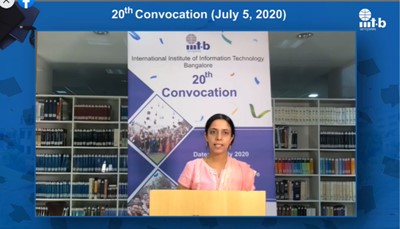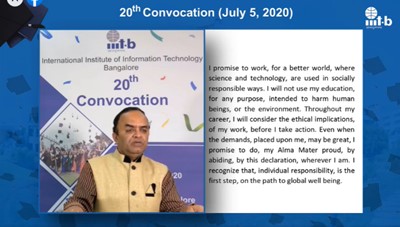 In all, the Institute awarded degrees to 282 graduating students. This consisted of 7 PhD degrees, 13 Master of Science by Research degrees, 159 M.Tech degrees, 11 M.Sc. degrees, 63 dual degrees, and 29 students with sponsored M.Tech degrees, on the special occasion. Exceptional students in academics and extra-curricular activities were also awarded medals and recognitions. 
"The annual convocation holds a special place in the hearts of the graduating students and the faculty members of the Institute. This has been a very challenging, yet special year for us as we have had to find innovative ways to complete our curriculum, and ensure the safety of our students, staff and faculty", said Professor S. Sadagopan, Director, IIIT Bangalore when addressing the graduates.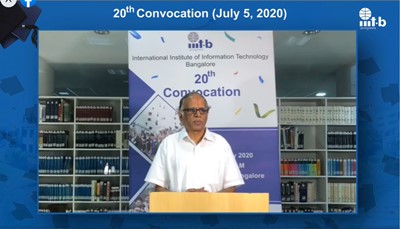 "As educational institutions, it is our responsibility to pave the way for the future generations by using technology to re-imagine academics, research and entrepreneurship. The future of higher education is inter-disciplinary studies, and we are delighted to give our students exposure to such opportunities that help them to serve industry and society in an impactful manner," he added.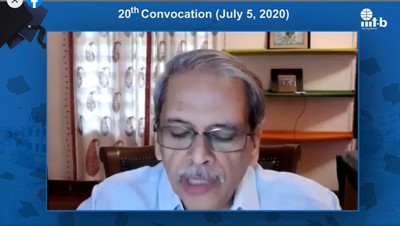 Mr Kris Gopalakrishnan, the Chairman of the IIITB Governing Body reiterated the importance of adjusting and adapting oneself to the changing environment in order to survive and flourish. In his address to the students, he said "There are three suggestions that I want you to consider: Create the future – as there are tremendous opportunities in India, have future goals – strive for excellence and act with integrity, and defining success – it's all about making people around you successful".
Prof Jitendra Malik Arthur J Chick Professor of EECS, University of California at Berkeley, in his address to the students traced the history of computer science in India right from the days of Indian Independence. He said "There is a lot of talk about Asia's rise to power in the world of technology in the 21st century. Artificial Intelligence (AI), Machine Learning and Natural Language Processing are all significant areas for India to grow. Big data and big computing techniques such as deep learning have come together to cause major advances in AI in the last 5-10 years. Look at problems in front of you and see how you can use technology to solve them; good things will happen!".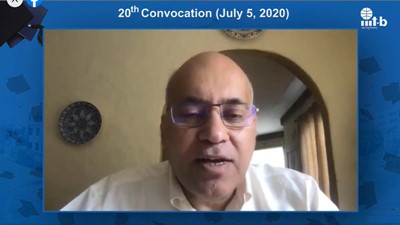 Prof Malik also encouraged the students to follow a few basic principles like being a lifelong learner, aiming for excellence not just for oneself, but also supporting and recognizing excellence in others, and being confident.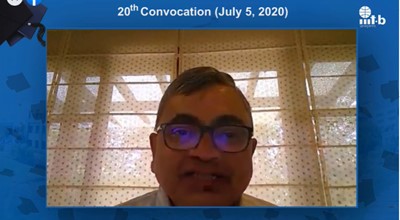 Striking a note of optimism and hope despite the currently prevailing challenging environment, Mr N Krishnakumar Founder & Former Chairman, Mindtree and Managing Partner, Mela Ventures, cited some interesting examples of the triumph of human spirit over adversity. He said "As you graduate from this institute, you must have big audacious goals. You may not have the ability to know how you will reach there, but those big audacious goals are important to keep you focused and persevering even when you face many bottlenecks and emerge successful. The solid grounding you have received in IIITB will help you manage the complexities of the new world much better".
Hailing from Bagalkot, Karnataka, K Vinay Chandrasekhar, an Integrated M.Tech student graduating this year, has won three awards – The Student of the Year, Institute Gold Medal and Sitaram Jindal Gold Medal. He will be pursuing his PhD in Pennsylvania State University, USA.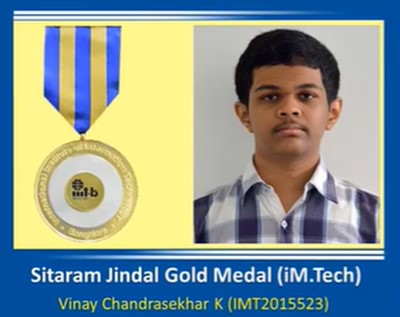 Tushar Vrind, an MS by Research student in his thesis addressed three novel research problems related to 6G wireless communication. These include drone cell's positioning, trajectory optimization, operator-sharing, and seamless replacement by aerial cell cloning. An elated Tushar said "I learned multiple concepts from the course works and research discussions in IIIT-B. The freedom to think in new areas of research and encouragement helped me to venture in these challenging problems".
Other students with noteworthy accomplishments are Oindrila Matilal, who won the Best Paper Award at the European Conference; Rajavelsamy, who was elected as Vice Chairman of the 3rd Generation Partnership Project (3GPP), the highest standards body in the world of LTE and 5G; and, Pragyan Mohapatra, who received the Intel India Research Fellowship for 2019.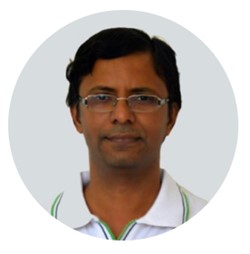 The faculty of IIITB have also had exceptional achievements this year. Associate Professor Jaya Sreevalsan Nair received the Mathematical Research Impact Centric Support (2019-MATRICS) grant from Science and Engineering Research Board (SERB), in February 2020, and Professor Chandrashekar Ramanathan, Dean – Academics, was adjudged among the "Top 10 Data Science Academicians" for the second consecutive time by Analytics India Magazine