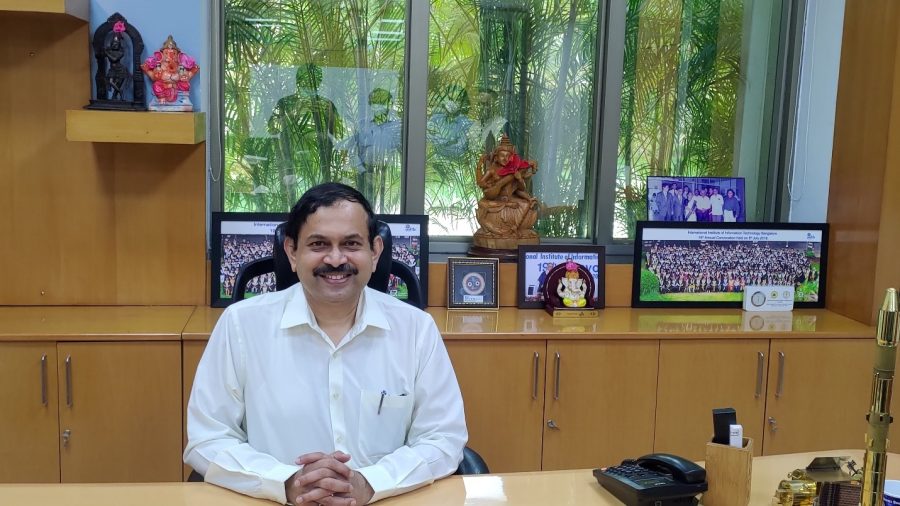 All he had was a sheer passion for teaching and research as well as a commitment to the roles and responsibilities that were assigned to him all along the way. In two decades of his tenure, Prof Debabrata Das rose from an Assistant Professor to the Director's role for an esteemed institute like IIIT Bangalore. His journey is truly inspirational!
Always donned with a placid smile, Prof Das comes across as humble and grateful to people around him. Be it an award or any recognition, he never forgets to attribute the success to the people in his life and that includes all his colleagues, students, family members, and internal and external stakeholders such as board members, industry leaders and government officials.
In an interaction with Naviiina, Prof Das takes us through his memory down the lane only to tell us that his journey in IIITB has always been joyful and exciting. He never shied away from hard work and dedication. When Prof Debabrata Das joined as an Assistant Professor on December 9, 2002, his expertise was optical networks but he was required to teach computer networks (Internet) to MTech students as there were no faculty to teach that subject. He had only 15 days for preparation! His approach of not saying 'no' to any given responsibility began then. Recalling those days, he remembers arriving to ITPL campus (where IIITB was in 2002) as early as 4:30am. Perseverance never failed him, successfully he taught the subject and realizing his potential, senior faculty members of IIITB assigned him another core course to teach, i.e., Telecom Infrastructure. Before completing one year, Prof. Das was teaching two main courses, soon followed by electives like Advanced Networks.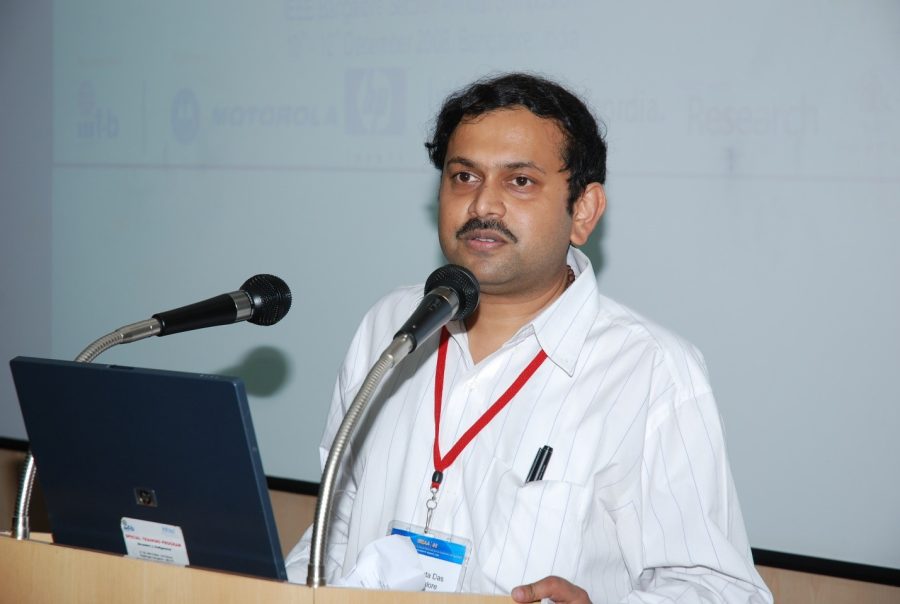 Research is his other forte, he never stopped himself from indulging in it even if it is a new area of a subject. In IIITB, he began research in Wireless Networks when a MTech student showed interest in it. He plunged into that and learned alongside that student, together they published three papers as well, it was just the beginning. In the last two decades, he has published 195+ papers and has 5 US/Indian patents and 10 more are under review. He and his wireless network team had contributed ideas to IEEE Wireless Broadband Standard. He has received 18 awards, Prof. K. Sreenivasan Memorial Award 2017 for excellent teaching and Prof. S V C Aiya Memorial Award 2022 for Research Guidance in the areas of Telecommunication and Electronics from IETE to name a few among them. Prof. Das the is a recipient of IEEE Region-10 Outstanding Volunteer Award 2020, Global IEEE MGA Achievement Award 2012 and Outstanding Volunteer Award IEEE Bangalore Section 2008. He is Fellow-IETE, Fellow-IE and SM-IEEE. He is the Chairman 2023 IEEE India Council. He was Chairman of IEEE Bangalore Section during 2017. Prof. Das a member of Steering, Empower and Technical committees of multiple Departments of Government of India and Government of Karnataka.
It is not easy to organize international conferences, but his active role in conferences helped the institute to host the first-ever international conference at IIITB. In 2007, the first IEEE International Conference on Internet Multimedia Sub-Systems Architecture and Applications (IMSAA) was hosted. He was the first faculty member to be promoted from Associate Professor to Professor in 2012. Besides being Dean of both academics and R&D, Prof Das managed around 17 different roles in various disciplines-placement, internships, hostel warden and IT infrastructure to name a few. He has been associated with the multiple Multi-National Companies and Government of India for 15 research projects.
There was a search at the National level to select the right candidate for the Directorship after the superannuation of the First Director of IIITB in 2021. Out of several key officials/academicians from IITs, IIITs and Central Universities, the selection committee decided on Prof. Das's candidature, who has also applied for the post through the normal process. 
The selection committee comprised eminent people from the country that interviewed Prof. Das in December 2020. According to him, the interview was very interesting and was a brainstorming session. There were deep and conceptual questions on teaching methodologies, research, academics and administration. "My hands-on in many areas gave me holistic learning," he adds.
On July 4, 2021, Prof. Das took charge as Director of IIITB from Former Director, Prof. S. Sadagopan. Sporting various roles from being a professor to Dean, Prof. Das has amassed an enriching knowledge throughout. "If I look back, my ambition to do the best in every endeavor worked in my favour. Making my colleagues, students and staff part of my journey added to my success. Finally, all my work and contributions are aimed towards building an economically and intellectually strong nation. Our students are the main pillars of this great cause. I urge all my fellow faculty members, staff and management to be a part of this journey and take our students to acquire good knowledge, the right value system, team spirit and orient them towards R&D career in a company or as an entrepreneur," he says.   
Despite donning various roles in his illustrious career from teaching to administration, he feels his core intention is to be known as a teacher. His burning passion for teaching emanated when he realized that, he was good at explaining concepts in a logical and analytical manner. He feels that good teaching leads to good research and vice versa. He had role models in his own family where his father was a professor at a medical college and his uncle was a professor at an IIT.
Kudos to his family members – his wife, Dr. Mohua Das, children and parents who stood by him all along so that IIITB could get a committed, humble and cheerful Director, Prof. Debabrata Das.
On December 9, our Chairman, Mr. S Gopalakrishnan honored Prof. Das on completing twenty years at IIITB.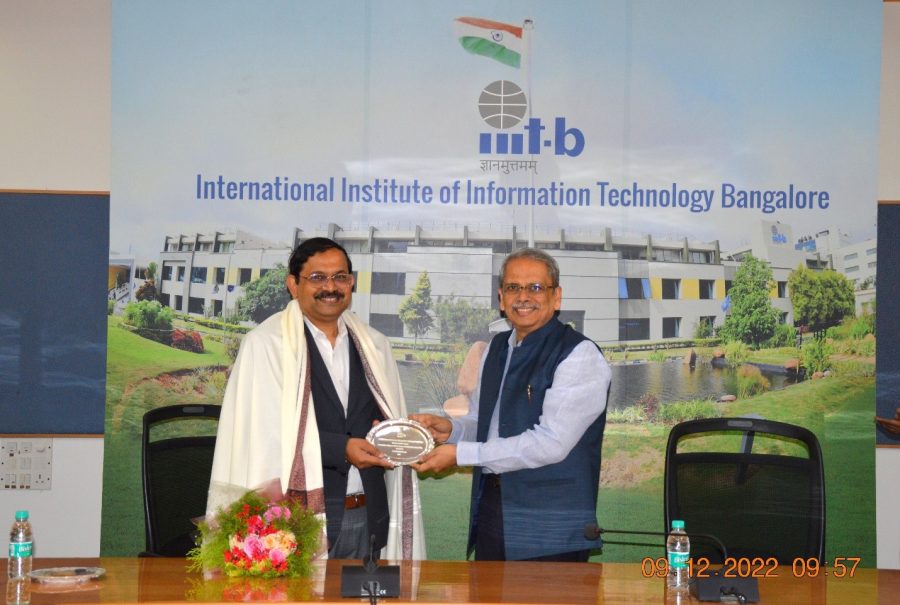 Hearty congratulations to Prof. Das for successfully completing two decades! We also request him to be the guiding light to all of us in the coming years as well!