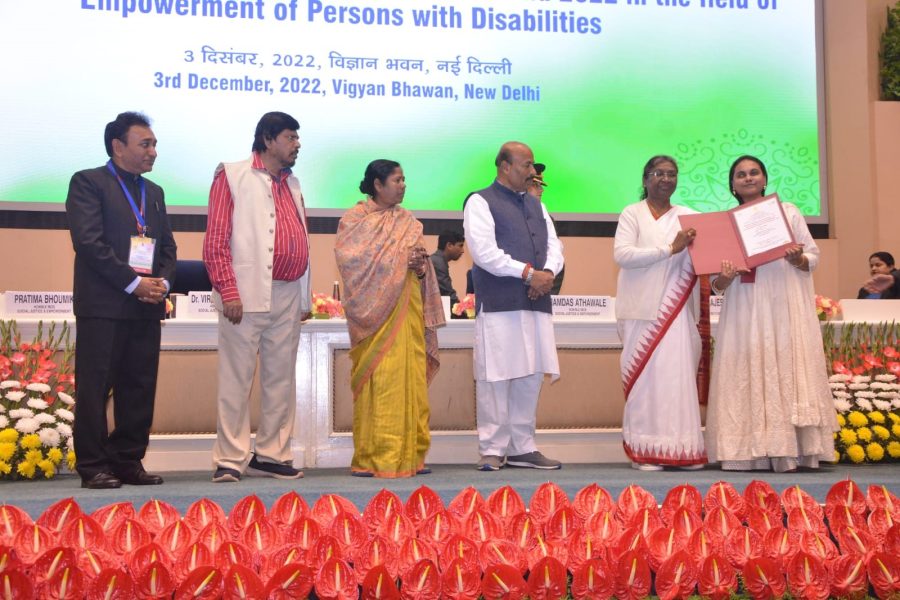 IIITB's Alumna, Vidhya Y was honoured with the National Award for Empowerment of Persons with Disabilities under the category Sarvshresth Divyangjan ' by the President of India.
Henry Ford quotes, 'Obstacles are those frightful things you see when you take your eyes off your goal'.  once we let obstacles rule us we will never succeed, instead if we focus on our goals with determination, we are unstoppable.  Our Alumna, Ms. Vidhya Y, crossed all the hurdles to reach her goals and went beyond her physical limitation, her blindness. Her aim of helping visually impaired students to study STEM subjects was recognized by the President of India.
On December 3rd, 2022, she was honored with 'Sarvshresth Divyangjan', a National award for the empowerment of persons with disabilities by the Honourable President of India, Smt. Droupadi Murmu on the occasion of International Day of Persons with Disabilities. She was chosen for this award for her inspiring journey and her efforts in making education accessible to visually impaired students and for working as an evangelist in developing affordable assistive technologies including "the world's most affordable" electronic Braille book, a reading solution for visually impaired children. Conveying her heartfelt gratitude to the Government of India, Vidhya unplugs herself with Naviiina and shares her journey.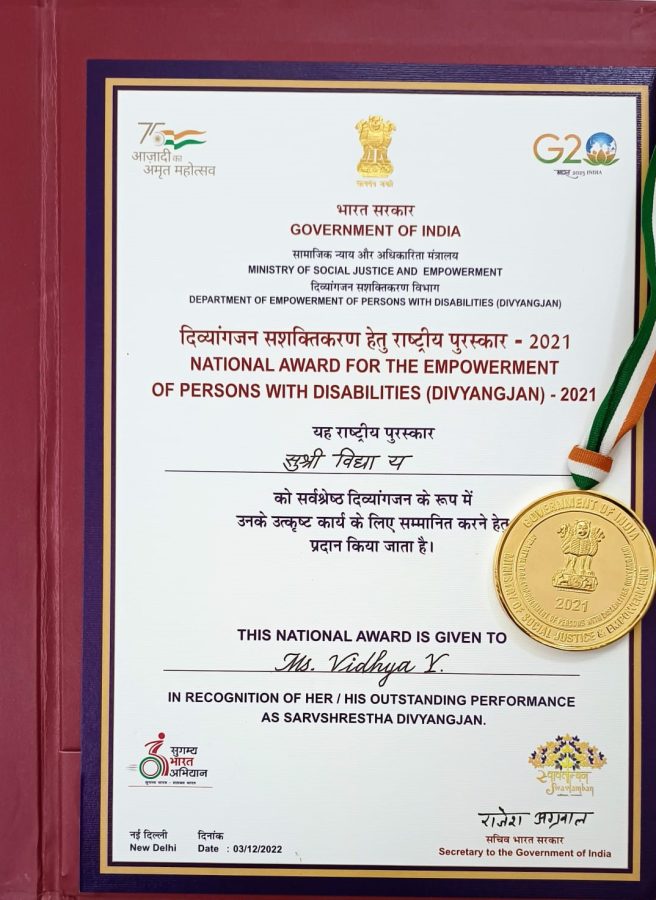 Students with visual impairments and blindness are significantly under-represented in the Science, Technology, Engineering, and Mathematics (STEM) areas due to the visual nature of these areas. Vidhya, a gold medalist in MSc Digital Society from IIITB, who has been blind since birth, studied these subjects by herself with lot of struggles due to her disability and the inaccessible education system. Once discouraged for showing interest in Math and Science, Vidhya is now a guiding light to thousands of blind students to pursue STEM education. She co-founded Vision Empower, a not-for-profit enterprise incubated at IIIT Bangalore in 2017.
From her own experiences and conducting research, she realized that children with blindness are not encouraged to pursue math and science beyond primary school, because visual content such as diagrams are not available in accessible formats, and there are not enough special educators to teach these subjects to the visually impaired, there are no affordable assistive technologies and finally, there is a myth that visually impaired students cannot study these subjects. "However, I did not heed any advice and my disability never doused the fire within me. I continued studying Math till my post-graduation," says Vidhya.
Right from its inception in 2018, Vision Empower focused on developing solutions for blind students to understand math and science concepts. Tactile diagrams and 3D models are proven to be very effective in teaching blind students, so Vision Empower worked on these as priority.  Most of the teachers who teach blind children are blind themselves; hence, the next step was to train the teachers regularly.  They then worked on a breakthrough solution when they decided to make computational thinking (CT) accessible to children with visual impairments with the help of Microsoft.  CT skills are taught using well-researched games and play tools which they have designed along with Microsoft. Play is at the core of this initiative and learning happens as a side effect.

Vision Empower has Helped:
More than 5000 blind students
More than 500 teachers
More than 90 schools across 11 states
"We had only a handful of people to work for STEM education in a small way but now we are overwhelmed by the interest of people to join and work with us. Some of them were inspired to start their own organizations. It is a rewarding experience to see our company grow. We have been getting inquiries from different states and we have signed MoUs with several State Governments. We have earned goodwill and trust from funders such as Microsoft, Cognizant Foundation, Wipro foundation and so on".
Passion to expand her career as a Motivational Speaker
All along her journey, Vidhya had intense emotional breakdowns and suffered from depression for many years due to the overwhelming struggles that she had to face. "But I did not give in to my negative emotions. My determination and perseverance helped me. My inclination to spirituality comforted me in all aspects. I drew inner strength from my regular practice of meditation. My inability to see became my uniqueness and I am no longer the victim of circumstances. Now, I go on embracing everything that comes on my way. It's time to realize there is a big purpose to life. What worked for me was, I didn't aim for anything, instead, I gave my best at every moment." she adds.
Vidhya is now planning on expanding her career as a professional motivational speaker. She has been told by people who have heard her speak that, sharing her journey, struggles, and determination to overcome challenges can help others.
One of the most effective ways to inspire people is to set a good example. If sharing my life's journey inspires someone, nothing could be more rewarding than that. "My next goal is to expand my career as a professional motivational speaker. Sharing the wisdom that I gathered throughout my life's journey can benefit others. It can give them hope that they too can find happiness and success in life despite their hurdles. She also wants to speak on creating awareness of accessibility and diversity. I am a part of the World Summit on Information Society, an International Forum where a lot of UN agencies come together to discuss various issues and I want to speak at such forums and influence policymakers, educators, and governments so that all the stakeholders come together to make STEM education accessible to visually impaired children", she remarks. She has already been invited to various speaking events in schools, colleges and corporates.
She concludes by saying, "My life has been full of explorations. It gives me immense joy to know that my journey and my work is helping STEM education available to millions of visually impaired students.  Our solutions can help them to study anything of their choice without any difficulties and pursue a career of their choice. I feel very happy and blessed to be part of something like this".