As the student strength keeps increasing every year, there is a need to upgrade the campus infrastructure, especially green infrastructure to sustain the demand. The power consumption increased by 21.88 % between 2017 & 2022 (from 3,680 units to 4,711 units per day).
IIIT Bangalore always emphasizes on reducing the carbon footprint. In-line with this IIITB has upgraded its infrastructure to tap the green energy by installing the solar power panels rather than going the conventional way.  The solar power system offers 498.43 KWP capacity which is nearly 40% of the power requirement of the institute.  
Solar energy is a renewable energy source, which can be meaning you don't ever use it up. Solar energy is clean. It creates no carbon emissions or other heat-trapping "greenhouse" gases. It avoids the environmental damage associated with mining or drilling for fossil fuels.
On December 9, IIIT Bangalore installed a huge 500 KVA rooftop solar system that comprises 393 solar panels. It was inaugurated by our Chairman, Mr. S. Gopalakrishnan in the presence of our Director, Prof. Debabrata Das, Registrar, Commodore SR Sridhar, Dean (Acadamics), Prof. Chandrashekar Ramanathan, Dean (R&D), Prof. Srinath Srinivasa, Dean (Faculty), Prof. Jyotsna Bapat, Chief Administration Officer, Mr. Jagadish P Patil and Chief Financial Officer, Mr. S. Piramanayagam.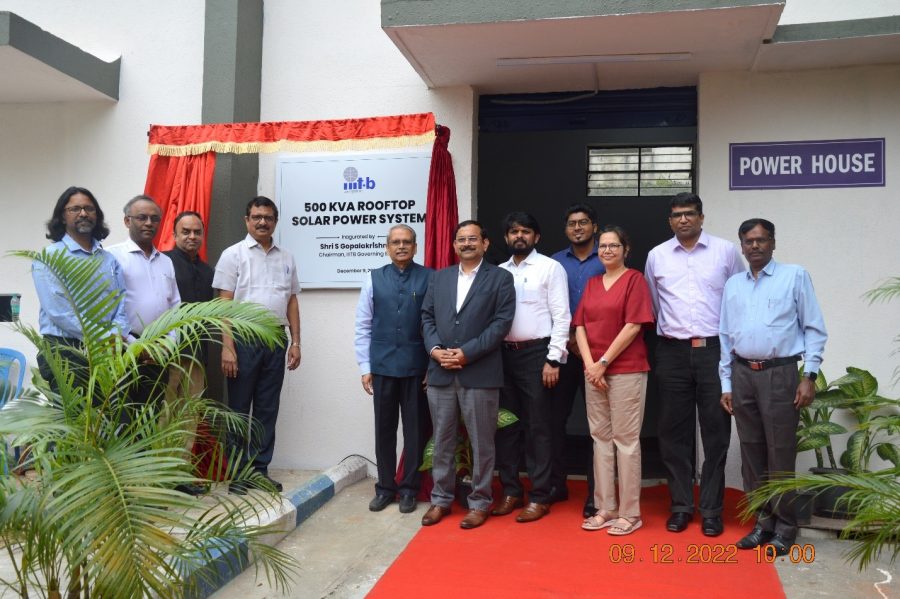 Our Chief Administration Officer, Mr. Jagadish P Patil says "We decided it was a prudent way to install a solar power system, as our power requirement has shot up due to an increase in student strength  and the newly constructed 1000 seater capacity auditorium and new labs which are operational. With this new solar power system, we can reduce 40% on the overall power bill. We have a net metering system also in this new solar power system".
Our Director, Prof. Debabrata Das, says, "The campus of IIIT Bangalore has vast green spaces, a blend of modern and natural infrastructure, perfectly embodying the Institute's focus on a symbiotic relationship of cutting edge technological research and education grounded in Indian ethos and value systems. The campus has everything that an academic community would want: state-of-the-art infrastructure, facilities to stay physically fit and opportunities to get outside and change the world. In keeping with this ethos, we have installed 500 KVA solar power system".