Like previous years, this year's Bengaluru Tech Summit (BTS) was a fulfilling, enriching, and inspiring event. The event was organised by the Government of Karnataka, Karnataka Innovation and Technology Society (KITS), Software Technology Parks of India (STPI), Vision Group on Information Technology, Biotechnology & StartUp and MM Activ Sci-Tech Communications. With a theme around, 'Tech4NexGen' BTS 2022 had participants from IT, bio_1tech, Deeptech and other future unravelling technologies. The 25th edition of BTS, India's biggest technology conclave coincided with the Silver Jubilee year of IIIT Bangalore. It was an appropriate opportunity for IIITB to showcase its several key areas of research in ICoEs and Research Centers. The showcase at BTS2022 included Tele Mental Health Assistance and Networking Across States (Tele-MANAS), COMET Foundation Technology Innovation Hub(NM-ICPS) in Advanced Communications, Center for Internet of Ethical Things (CIET), Machine Intelligence and Robotics (MINRO)CoE, Modular Open-Source Identity Platform (MOSIP), Center for Open Data Research (CODR) and Student Innovations.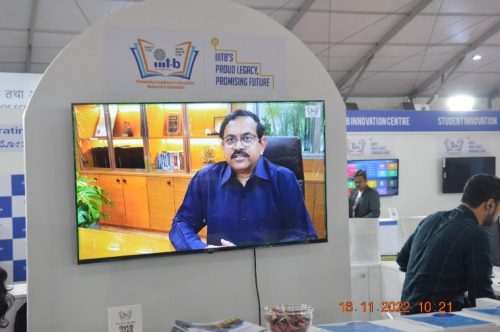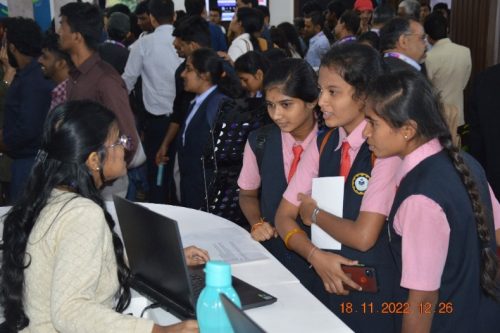 Out of the total footfall of 4.52 lakh visitors in person and another 4.99 crore people virtually for BTS, IIITB's stall, N40 located close to the Government of Karnataka pavilion had good traction of visitors. Some of the key research works and projects were showcased from IIITB's research centers, including, Center for Internet of Ethical Things (CIET), Center for Open Data Research (CODR), Machine Intelligence & Robotics (MINRO), IIITB Innovation Center (IIITB IC), E-Health Research Center (EHRC) and Communications Enterprise Technologies (COMET) Foundation.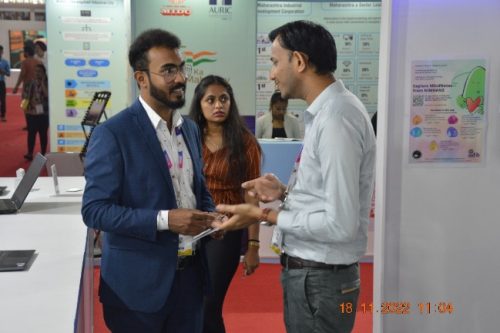 Smart Irrigation System
The goal of Smart Irrigation System is to develop a smart irrigation system and its digital twin. Developing a digital twin has significant advantages; it allows experimentation without disturbing the actual system. Various proprietary as well as open-source stacks have been investigated for building the digital twin (DT). The DT will have capabilities of simulating attacks, which will help build the detection mechanisms. In the actual system we have developed the sensor hub, actuator hub and are in the process of enabling edge processing.
IoT enabled XORehab
IoT enabled XORehab system is meant for the physiotherapy during treatment of spinal cord injuries, paralysis, spinal stenosis, deep vein thrombosis, stroke etc. XORehab is activated in patient's home and is controlled by the local care-taker/nurse/therapist. Edge device receives data from the XORehab and sends it to the server system. The doctors access the server to remotely monitor the treatment progress. XORehab is built on wheelchair, and thus it is portable and easy to use.
Synthesis of Telemetry Data for XGBoost Classifier
This technology can replicate all important statistical properties of real data without exposing real data. In other words, synthetic data is artificial data generated to preserve privacy, test systems, or create training and testing data for machine learning algorithms. Synthetic data contains no personally identifiable information. We synthesized the fridge dataset by observing the histograms of TON_IoT dataset, and used an ML classifier algorithm (XGBoost) to find the accuracy of the intrusion detection system.
Tele-MANAS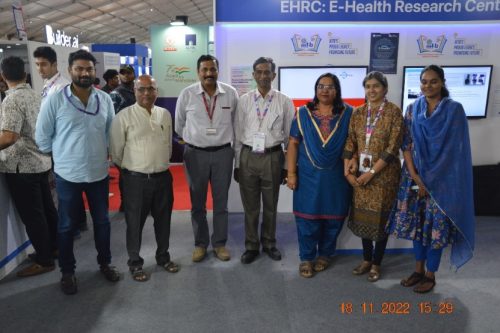 Tele Mental Health Assistance and Networking Across States (Tele-MANAS) is a part of National Tele-Mental Health Programme which will include 23 tele-mental health Centers of Excellence with NIMHANS, Bangalore being its nodal center and IIITB providing the necessary technological support.
As Tele-MANAS was recently launched there were a lot of queries pertaining to the programmes. Tele-MANAS aims to provide free tele-mental health services all over the country round the clock, particularly catering to people in remote or under-served areas were answered at the venue. This will not only help in providing immediate mental healthcare services, but also facilitate continuum of care. Specialised care is being envisioned through the programme by linking Tele-MANAS with other services like National tele-consultation service, e-Sanjeevani, Ayushman Bharat Digital Mission, mental health professionals, Ayushman Bharat health and wellness centres and emergency psychiatric facilities.
IoT-based Data Sensing System for AutoGrow, an Autonomous Greenhouse System for Precision Agriculture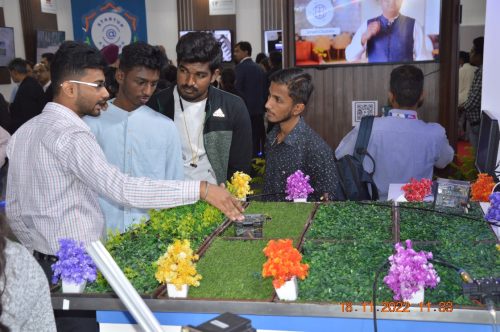 Given the fact that agriculture generates 19%-29% of total greenhouse gases, India being the third largest greenhouse gas emitter following china and the US and India is a highly vulnerable country to climate change, there is a need for climate-resilient agriculture. In this direction, Auto Grow has been developed by IIITB. It is a novel IoT/AI-based Autonomous Greenhouse System for precision agriculture, which was also showcased at BTS event.
Autogrow is a project that deals with the automated smart farming system. In this system, the plants are grown inside the polyhouse where the climate parameters are controlled. It has a wick irrigation system in our farming which is more efficient compared to a drip irrigation system. by using this system, the water is not wasted unnecessarily. Since it is an automated system it will provide water and fertilizer such as nitrogen, phosphorus, and potassium according to plant requirements by analyzing the climate condition of polyhouse. Autogrow uses data sensing and logging system for Auto-Grow. In the next phase of this project, this system will be integrated into the biological greenhouse system to acquire data from the food growing system. In this work, hard thresholds were used for the control parameters. In the next phase of the work we propose a novel approach to learning an automatic control policy using the Reinforcement learning approach. The work will be extended for micro-nutrient management.
The student innovation -a Sahasraaksha, developed by Sriram G (IMT2018526)
Sahasraksha enables all cameras not only just captures but also inform the stakeholders, so that they could potentially solve and prevent crimes, find missing people, improve security, and provide analytics. This is because even though CCTV cameras are ubiquitous, very few are used for surveillance in real-time, primarily due to it being an arduous task for humans whose average attention span is around 20 minutes which is much less than 8 hours. The data from the cameras' feeds, in most cases, are put to use only in case of an untoward event.
Sahasraksha is an advanced AI-based solution making use of state-of-the-art deep learning approaches to detect and find persons, faces, vehicles, and even objects of interest as defined by the user. It provides various features to help in better understanding and managing information one receives from the surveillance feeds thus qualitatively enhancing security.
Startup –  Quantonaut, Founded by Abhishek BR
A startup, Quantonaut incubated at IIITB aroused lot of interest by the visitors. Quantonaut is a cloud based cross-platform that enables retail investors to build structured portfolios that improve risk-reward by 6x on average. Retail investors who buy stocks on their own often end up with very haphazard portfolios with high risk levels, they also tend to lack visibility in terms of tracking the performance in terms of risks, rewards, frequency of reinvestment and many other such factors during such situations,  Quantonaut comes to the rescue. Institution-grade capital allocation mechanisms ensure optimal investments across stocks. It also helps investors stay on top of their investments with state-of-the-art analytics. Any investor can maintain these portfolios long-term and be their own fund manager!