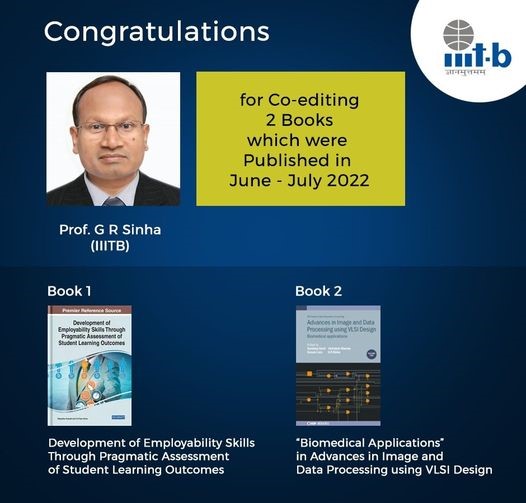 Prof. G R Sinha's work on books speaks about his passion for writing and editing. He has more than 250 research papers, edited books, and books to his credit. He is Associate Editor and Editorial member of 5 SCI/Scopus-indexed journals and in his research areas.
He ardently speaks to Naviiina about his fascination for writing, especially editing books. "It is a unique ability, indeed. There are two different ways in which one can engage with book publication, one by writing/authoring and the other by editing. In the authored book, you have to thoroughly write by your own which is only possible if you have a complete understanding of the title. Whereas, in an edited book you shall invite different contributors on various chapters of the book, of course, a few of your own chapters can be included. The biggest advantage is to get global connectivity with researchers in the field across the world and thus the visibility also gets enhanced. The most important takeaway is LEARNING by writing and editing and getting exposed to the title intensely." Currently, he is working on various applications of EEG/brain/medical signals in the field of Cognitive Science, brain disease/disorder studies; Assessment of Student Learning Outcomes (SLOs).
His recent works were: he co-edited a book on "Development of Employability Skills Through Pragmatic Assessment of Student Learning Outcomes", published by IGI Global USA, June 2022. This book discusses the best practices in the assessment of student learning objectives (SLOs), the mapping of SLOs, and the ways of developing employability skills in young minds so that SDGs may be achieved.  He also co-edited another book on "Biomedical Applications" in Advances in Image and Data Processing using VLSI Design-Volume 2, published by IOP Publishing UK, July 2022. This book focuses on biomedical applications where image processing-based hardware design is used for applications such as cancer detection, ECG, EEG measurements, medical imaging-based healthcare systems, and smart homes for elderly and disabled people.  
His interest in writing goes beyond technical-oriented books, he also authored authored a poetry book on "Chhattisgarh Mahtaari-Tor Maati He Fulwaari", published by Prachi Digital Publications, July 2022.  The small book is a collection of 24 poems in written in Chhattisgarhi. All the two dozen poems convey real meaning and convey a message for young minds.  
Currently, four edited books are in progress (yet to be published) on Cognitive Sensing Technologies and applications; Statistical Modelling in Machine Learning; Cognitive Sensors and applications and Intelligent Medical Image Analysis with IET, Elsevier, I,OP and Elsevier publishers respectively. Prof. Sinha is a staunch believer of Swami Vivekananda's principles which encouraged him to translate the most popular book, "Swami Vivekanand: Life and Teachings" into Chhattisgarhi that shall be published by Ramkrishna Math Narainpur associated with Belur Math Kolkata.
Prof. G R Sinha, as an Adjunct Professor at IIITB teaches Digital/Electronic Circuit, Signal Processing and Communication. His research interests include Medical/biomedical image processing and its Cognitive science applications, Computer Vision, Outcome-based education (OBE), and Assessment tools for Student Learning Outcomes and Employability skills.