February 15-17
IIITB Students in Vignan Mahotsav National level Youth Festival
IIIT Bangalore students accompanied by Dr. Neha Arora, Sports Officer, participated in Vignan Mahotsav (National level Youth Festival) held during February 15-17 in Guntur, Andhra Pradesh and participated in the following sports:
Chess

Basketball

Football

Table Tennis

Chess
Sarvesh Kumar (IMT2022) and Anwit Damale(IMT2020) participated in the chess tournament and won the first and the second prize respectively, it was a momentous success for them on winning a national level chess tournament.
Our team did very well and reached the quarterfinal of the tournament after winning some very tough matches. The team gave an exceptionally good competition to their opponents in the quarter final, but unluckily lost by a small margin. The team comprised of:
Yashovardhan Reddy (IMT2019)

Darshak Jivrajani (IMT2020)

Kritin Potluru (IMT2020)

Sooraj Sathish (IMT2020)

Anuj Arora (IMT2021)

Vishal Shankar (IMT2022)

Nandkishore Menon (IMT2019)
Our team reached the pre-quarterfinal, but lost in a very unfortunate match which ended with a tight margin of 1-0, overall, it was a good learning experience for the team. The team comprised of:
Anmol Bisht (MT2021)

Anwit Damale (IMT2020)

Harsh Shah (IMT2020)

Anurag Singh Naruka (IMT2020)

Jainav Sanghvi (IMT2020)

Ujjwal Agarwal (IMT2020)

Harsh Dhruv (IMT2022)

Kaustubh Manda (IMT2022)

Yash Koushik (IMT2020)
Two students from our college participated in the table tennis event. Both had a valuable experience playing against quality opponents in the national tournament. Unluckily both were knocked in the first round and quarterfinals. The participating students were:
Nilay Kamat (IMT2021)

Siddharth Vikram (IMT2022)
---
February 25
Friendly Volleyball Match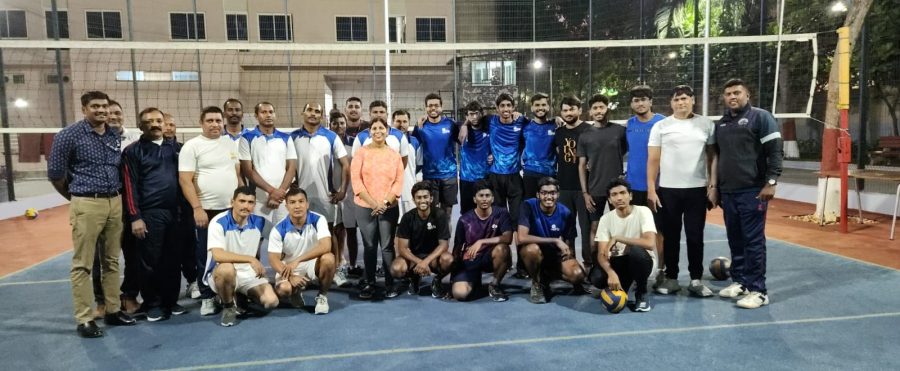 A friendly Volleyball match was arranged at CISF ground, Bangalore on February 25 between IIIT Bangalore and CISF. IIITB won the match by 3 sets to 2. CISF won the first 2 sets, IIITB came back to win the remaining 3 sets, ultimately winning the match.
Players:
Akhil – IMT2021021.

Nikhil – IMT2021501.

Jack – IMT2021515.

Mayank – IMT2021073.

Kushal – IMT2021035.

Lalith – IMT2019509.

Yash Koushik – IMT2020033.

Manan – IMT2020121.

Akhil – IMT2022112.

Adarsha – IMT2022069.
Sets:
The below scores are in form CISF – IIITB.
First set – 25-21.

Second set – 25-23.

Third set – 19-25.

Fourth set – 28-30.

Fifth set – 23-25.