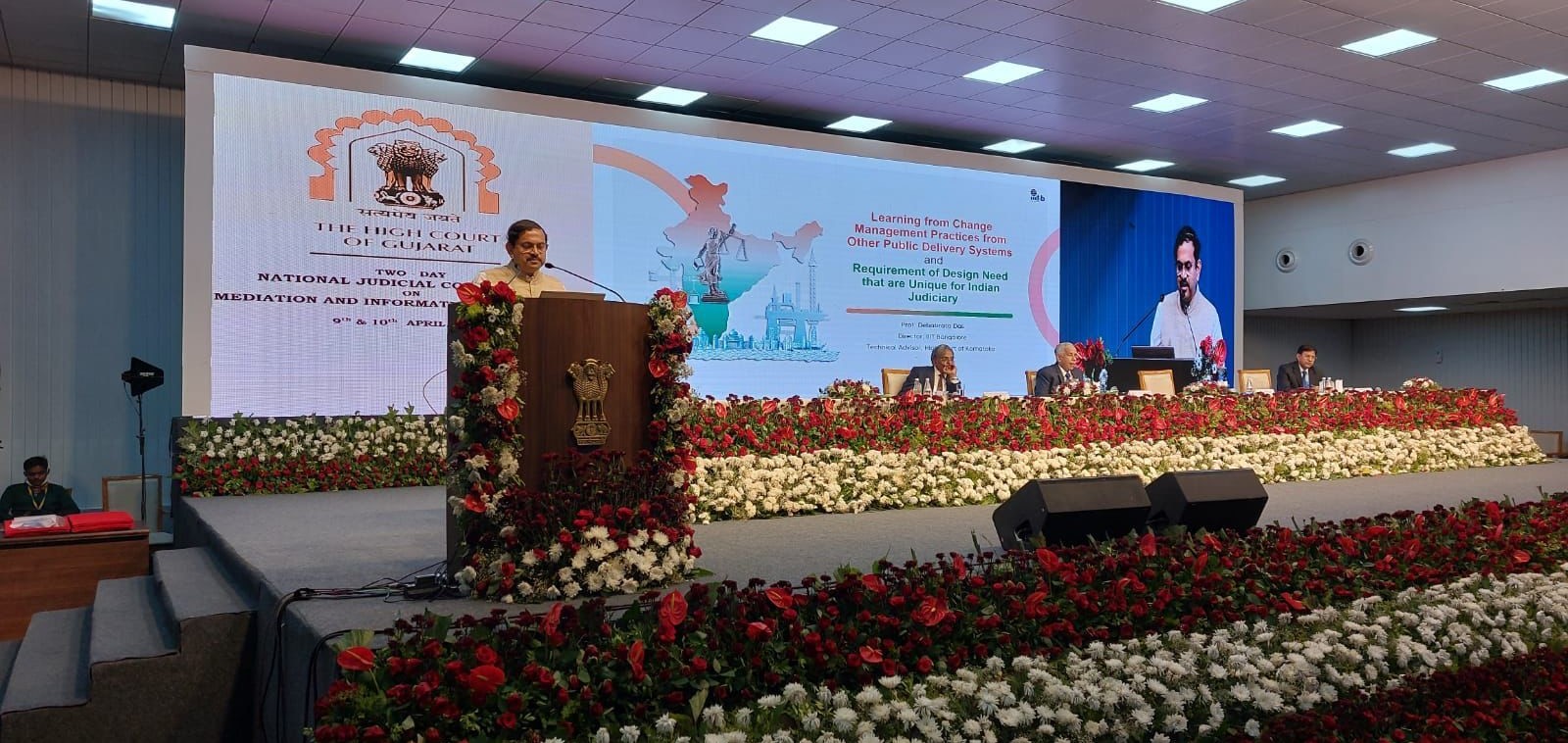 Indian Judiciary, in a fast move for implementation of Information and Communication Technology (ICT) processes and bring about change management by harnessing the potentiality of the to its fullest extent. In this regard two days (April 9 to 10th April 2022) National Judiciary Conference was held at Ekta Nagar (Statue of Unity), Gujrat.  The conference was inaugurated by The President of India, Shri Ram Nath Kovind and Chief Justice of India.  The National Conference was attended by   Supreme Court Judges, High Courts Chief Justices, High Court Judges, and other eminent dignitaries to discuss futuristic Information Technology for Indian Judiciary.
Our Director, Prof. Debabrata Das was invited to speak on "Learning from Change Management Practices from Other Public Delivery Systems and Requirement of Design Need that is Unique for Judiciary", where he emphasized that the Change Management Required by the advent of ICT in digital-governance projects and future technologies to important areas, like Judiciary. Prof. Das presented a "6i Model" change management for possible success in ICT to adopt. The 6i model emphasizes on:
Create an appropriate: Institutional framework

Creating necessary core: IT Infrastructure to enable stakeholders to plan and implement initiatives

Enabling an Internal Business Process Reengineering

Designing appropriate à Incentives for both external and internal stakeholders

Internal Capacity Building

Innovations in the use of technology for delivering better outcomes for the citizens.
Prof. Das also explained how futuristic IT technologies can help to maintain a large application running over a longer time, even though software platforms and developing languages change.  He also spoke on the importance of security, privacy and file management in sensitive areas such as the Judiciary.