June 4
Vaccination Drive
IIIT Bangalore in keeping with its ethos of taking care of its campus health and safety, organized a first COVID-19 Vaccination Drive in collaboration with Manipal Hospitals on June 04, 2021 in the campus. Staff, faculty and supporting staff along with their families were vaccinated.
June 21
International Yoga Day
International Yoga Day is celebrated every year on 21 June to raise awareness worldwide about the benefits of Yoga in daily life. Yoga brings balance between body, soul and mind. It helps us to understand the purpose of life and how to survive in the changing environment.
To keep the spirits high, 7th International Day of Yoga was celebrated virtually as well as physically at IIIT Bangalore. Registrar & Dean Academics along with other staff members joined the physical session in campus & Director designate along with other Faculty & Staff joined the session virtually.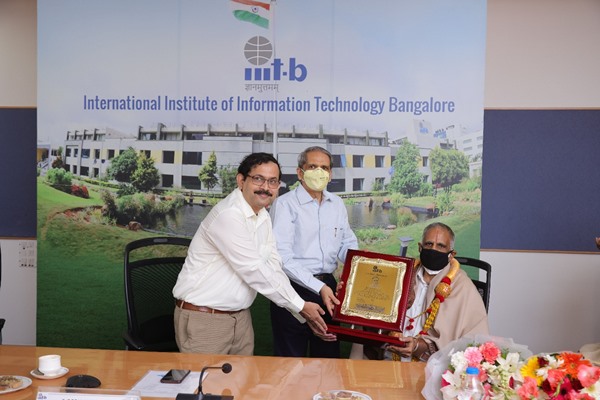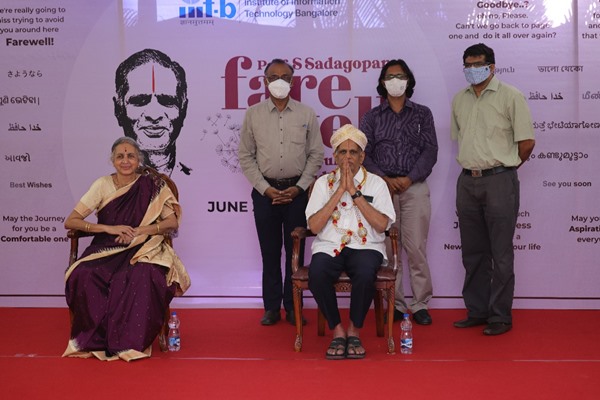 June 29
Bidding Farewell to Prof. Sadagopan
On June 29, 2021 the Governing Body gave a warm farewell to Prof. Sadagopan at the Institute.  The following day on June 30, all the faculty and Senate members convened both on offline and virtual modes to express their gratitude. For them, he was a role model as an outstanding academician, a guide and above all a humble human being.
A separate farewell was held by all the staff members to honor his leadership and guidance. Many of them remembered his kindness, support, knowledge and other positive attributes that Prof. Sadagopan had instilled in them.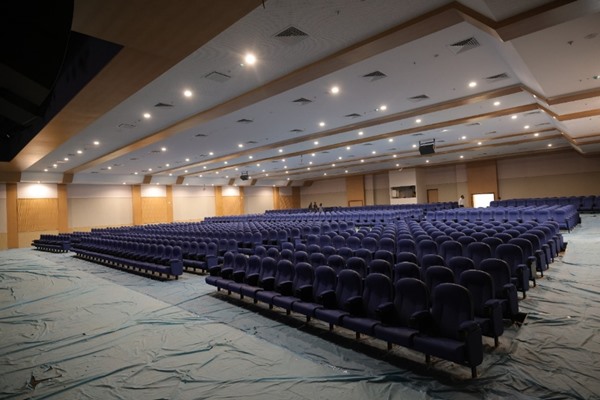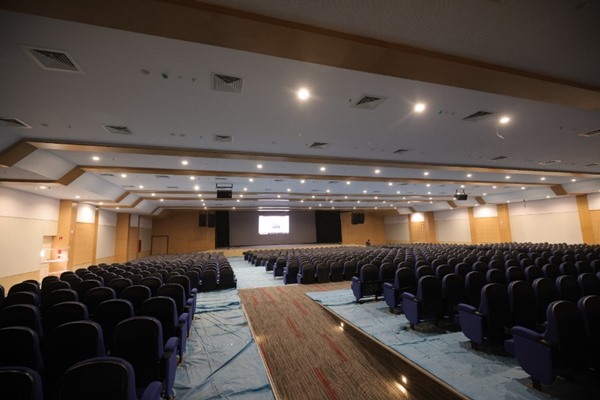 June 29
New Auditorium in Ramanujan Block was Inaugurated
On the morning of June 29, a long cherished dream came true. After months of planning, engineering and hard work, the newly constructed Auditorium, situated on the third floor of Ramanujan Block was inaugurated.
The new auditorium is equipped with the most modern and audio visual facilities and a massive seating capacity of 1055. The sound proof auditorium has auto recording facility. It is fitted with a projector, effective and modern light and sound system and air condition. All the major functions and various competitions can be held in this auditorium which gives a variety of exposure to the students in showcasing their talents and groom their inborn virtues.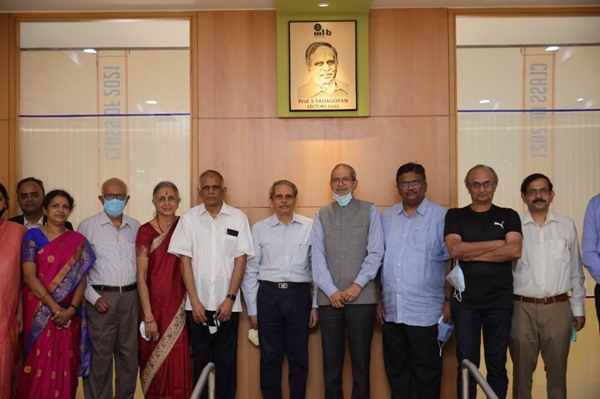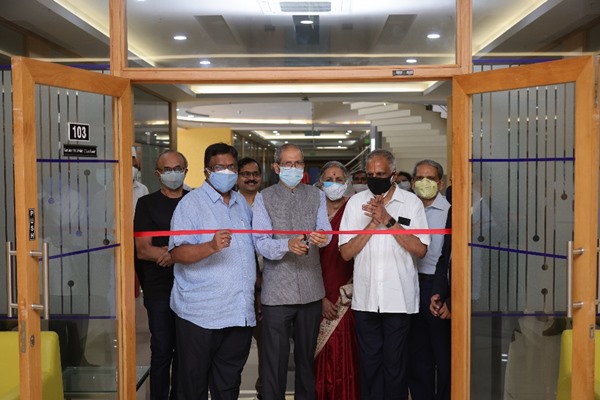 June 29
Prof. Sadagopan Lecture Hall was Inaugurated
A 200 seater main class room R103 was named after Prof. Sadagopan, ex-Director of IIIT Bangalore as tribute and to mark his contributions to the Institute. Prof. Sadagopan Lecture Hall situated in Ramanujan Block was inaugurated on June 29. It has five displays that includes three projectors and two TVs. Four home theatre-based microphones give best sound quality. It also includes lecture capturing cameras for Learning Management System.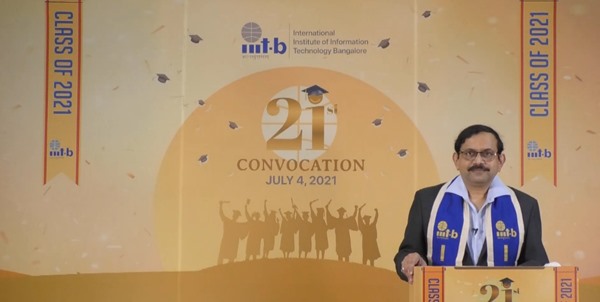 July 5
IIIT Bangalore's 21st Convocation
IIIT Bangalore hosted its 21st annual convocation through an e-ceremony, amidst the ongoing pandemic. Professor Subhasis Chaudhuri, Director, IIT Bombay was the Chief Guest and Mr. Umang Bedi, Co-founder, Dailyhunt was the Guest of Honour. 
Degrees were awarded to 322 graduating students. Convocation consists of 5 PhD degrees, 8 Master of Science by Research degrees, 163 M.Tech degrees, 16 M.Sc. degrees, 102 dual degrees, and 28 students with sponsored M.Tech degrees. As tradition goes, 10 exceptional graduating students in academics and extra-curricular activities were also bestowed with medals and recognitions. In addition, two alumni were awarded, respectively, for outstanding doctoral thesis and entrepreneurial success through IoT driven products.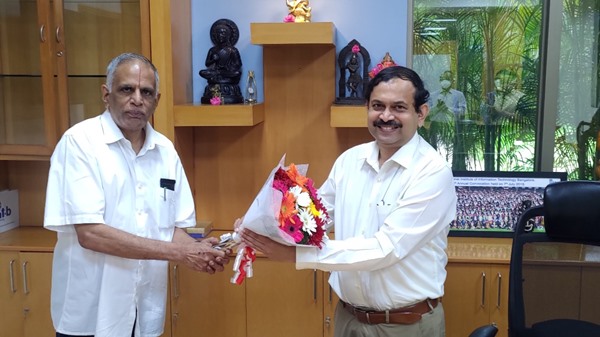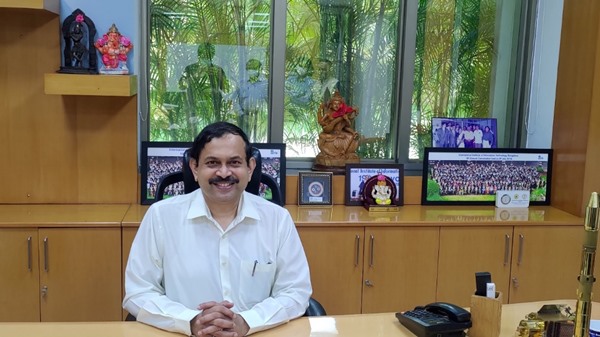 July 5
Prof. Debabrata Das took over as the Director of IIIT Bangalore
As the new Director of IIIT BANGALORE, Prof. Debabrata Das was primed to lead the Institute under Prof. Sadagopan's guidance to facilitate smooth transition of responsibilities.
 Prof. Das joined IIIT Bangalore as an Assistant Professor in 2002 and grew to the role of Professor. With 21 years of professional experience, Prof. Das also acquired administrative experience while working as the Dean of Academics and R&D from 2014 to 2017. In the new role, would work closely with IIIT Bangalore's faculty, Board of Directors and the larger set of stakeholders to further the Institute's teaching and research, facilitate student and faculty exchange, as well as enable delivery of innovations in partnership with India's leading organisations.
July 7 to July 14
IIIT Bangalore hosted ACM India Summer School on IoT and Embedded Systems (For Women Only) on virtual mode. The Workshop is sponsored by Micron Technology.
The week long workshop provided an introduction to all the basic concepts of IoT along with hands-on demonstrations involving software and also IoT applications.
The Speakers in the workshop included:
Prof. Debabrata Das, IIIT Bangalore
Prof. Meenakshi D'Souza, IIIT Bangalore
Prof. Deepak Gangadharan, IIIT-Hyderabad
Prof. Sudip Misra, IIT Kharagpur
Prof. Yogesh Simmhan, IISc
Mr. Sourin Sarkar, Micron Technology
July 12 to July 16
The Summer School on Algorithms organised by IIIT Bangalore was held online from July 12-16. It was the third edition in the series of Summer Schools on Theoretical Foundations of Computer Science. It was aimed to encourage and promote interest in theoretical foundations of computer science among students and researchers. It was organized by Prof. Pradeesha Ashok, Prof. Meenakshi D'Souza, and Prof. Srinivas Vivek from IIIT Bangalore.
https://tfocs.IIIT Bangalore.ac.in