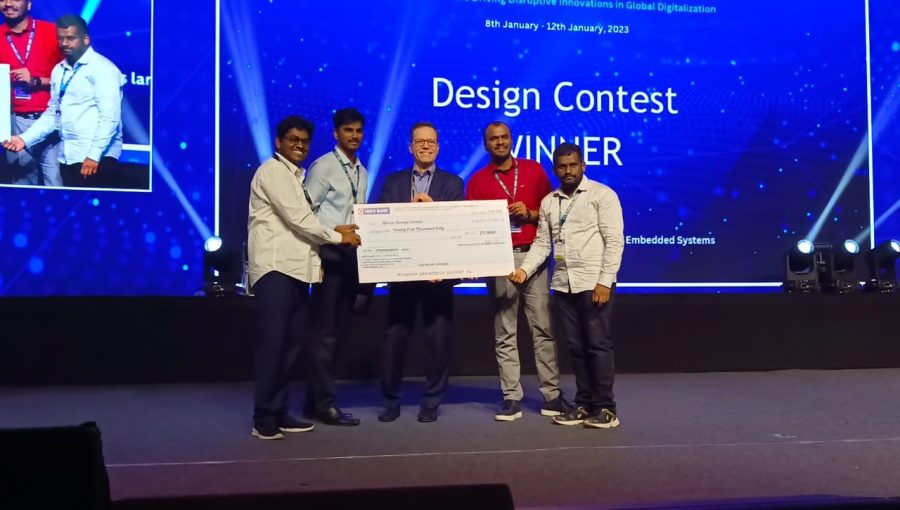 IIIT Bangalore's 1st year M.Tech ECE students, Vinay Rayapati, Gopala Krishna Reddy Sanampudi, Ravi Kiran Reddy and Ajay Kumar with Prof. Nanditha Rao have won the VLSI design contest at VLSI Design Conference 2023, Hyderabad. They bagged the first prize in the contest for implementing their proposal on "brain tumour segmentation" with the Microchip PolarFire SoC FPGA Kit.
The event was one of the largest VLSI-D conferences and witnessed more than 1500 participants. The theme of the Design Contest was "Hardware and Embedded software co-design with hardware acceleration in an SoC FPGA". VLSID 2023 – the first physical conference post-pandemic, was a platform for industry and academia to discuss, deliberate and explore the frontiers of the semiconductor eco-system that could eventually enable disruptive technologies for global digitalization.
The participation was a good industry exposure for the students as the conference was the 2nd Largest VLSI gathering in the world and they were able to interact with eminent industry personalities. The winners a cash prize of Rs. 25,000 and a memento. It was presented to us by Mr.Bruce Meyer, Vice President of FPGA Business Unit, Microchip Technology.