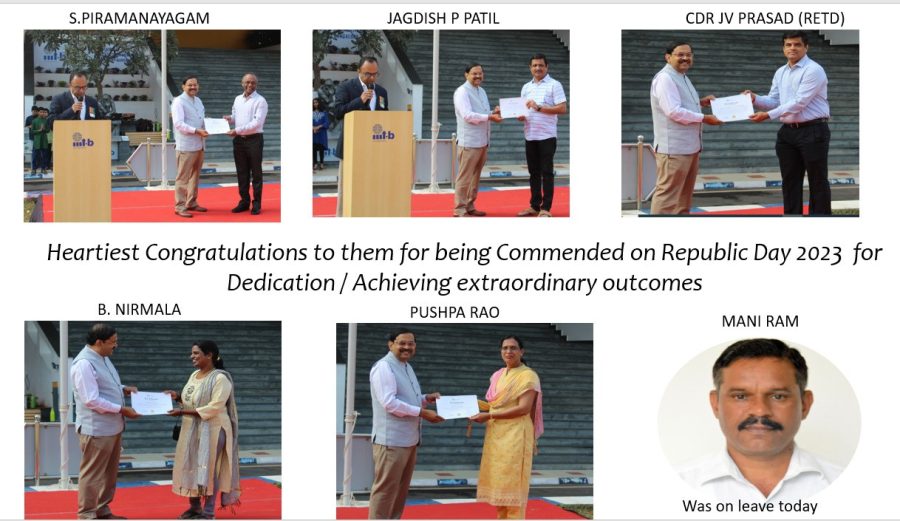 Recognition can be tied to more than just performance. High performers usually take the initiative and focus on improving their own habits and workplace behaviours so that everyone benefits from their actions. IIIT Bangalore on January 26 during the 74th Republic Day celebrations awarded certificates to six employees from the administration, finance, academics and security for maintaining excellence in the discharge of their duties and that includes Mr. Jagadish Pandurangal Patil, Chief Administration Officer, Mr. S Piramanayagam, Chief Finance Officer, Cdr J Venkada Prasad (Retd), Operations Officer (R&D), Ms. Nirmala B, Officer Academics (IT), Ms. G Pushpa, Senior Accountant and Mr. Mani Ram, Security Officer. Our Director, Prof. Debabrata Das, who was the Chief Guest of the Republic Day celebrations presented the certificates to all the awardees.
Mr. Jagadish Patil has been giving his best efforts to enhance IIITB's infrastructure to great standards. He was recognized for his concerted efforts in maintaining a green campus by way of proactive and sustainable energy saving and water conservation initiatives, besides incorporating best practices on campus. Mr. Piramanayagam was awarded for his efforts in financial planning, analyzing the Institute's financial health and smooth functioning of the finance of the institute. Maintenance of activities pertaining to the Research of the institute has its own set of challenges. Cdr Prasad's sustained efforts to streamline the Research Administration by developing and maintaining a meticulous repository of research-related data & information, documentation for securing research funding, ensuring statutory compliances for Government and Industry funded research projects, legal scrutiny of MoUs, liaison with funding agencies, efforts for institute patent filing process, coordination and conduct of Research Advisory Council meetings and conferences were recognised during the occasion.
The enrolment of students is only growing year-on-year at IIITB. Efficient maintenance of students' academic records is an uphill task. Ms. Nirmala, who has been rendering her duties for the last 17 years has been efficiently maintaining the student's academic records, processing transcripts, managing the Institute's LMS, and work related to approvals of regulatory bodies and related academic administration. Ms. Pushpa's efforts in immaculate account keeping, reconciliation, fee receipts management, and record keeping were appreciated through awarding her.
If the entire IIITB community is safe and secure, the credit must go to our security officials, mainly, Mr. Mani Ram who has been playing a key role in maintaining a high degree of alertness to ensure the security and safety of students and physical assets of the Institute. His leadership skills to inculcate a sense of security and orderliness amongst the security were considered while awarding him.