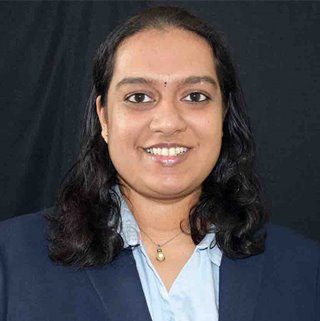 Lakshya Sivaramakrishnan
Alumna, IIIT Bangalore
What can each of us do to forge a gender equal world?
As we are entering the month of March, here's wishing everyone a Happy International Women's Day Month! This time of the month is special because women all over the world come together to celebrate and take pride in who they are! How I wish we all did this all through the year!
To begin with, I think creating a gender equal world begins with each one of us. Are we willing to occasionally put ourselves before others, practice self-care and compassion, pamper ourselves after a week's hard work, own our credibility and continuously have a growth mindset to learn, unlearn and re-learn all round the year? We would have to prioritize and take time out for practicing all of these, and I assure you it will all be worth in the end!
I always believe setting the right expectations to everyone around you is important in any relationship, be it work or home. Are you comfortable to share your ambitions and aspirations with your partner and your family? Would you have them by your side when the chips are down pushing you to strive for the best and aiming for perfection yet know that all that you do may not be perfect, and it's absolutely okay! Does your workplace, manager, professional network know what are your interests, your passions and your strengths? It's up to us to do this by grabbing any opportunity that comes our way without second guessing ourselves, know that it's okay to ask for want you want – be it a promotion, help or resource and to put our soul into most things that we do.
We need role models who have been there and done that. And I think we have no dearth of women around the world who have shown us that sky is the limit. Be it Mithali Raj and Mary Kom in sports or MS Subbalakshmi and Bomaby Jayashree in Music or Sudha Murthy and Melinda Gates in philanthropy or Kiran Mazumdar Shaw and Sheryl Sandberg leading major corporations or Jacinda Ardern and Kamala Harris leading countries in various capacities. These are just a few names but look around you, you can find tons who have been great leaders and from whom we can learn mindful leadership.
For a gender neutral world, we need more allies to support us, push us to shatter the glass ceiling and be there for us when things don't go our way. We need supportive partners, managers and friends to make the world a better place. And yes, we must find every opportunity to lift others as we climb!
Finally, as a part of this year's International Women's Day theme of #ChoosetoChallenge, here's my tagline. I #ChoosetoChallenge the stereotypes that deter us from having a gender equal world. What's yours?