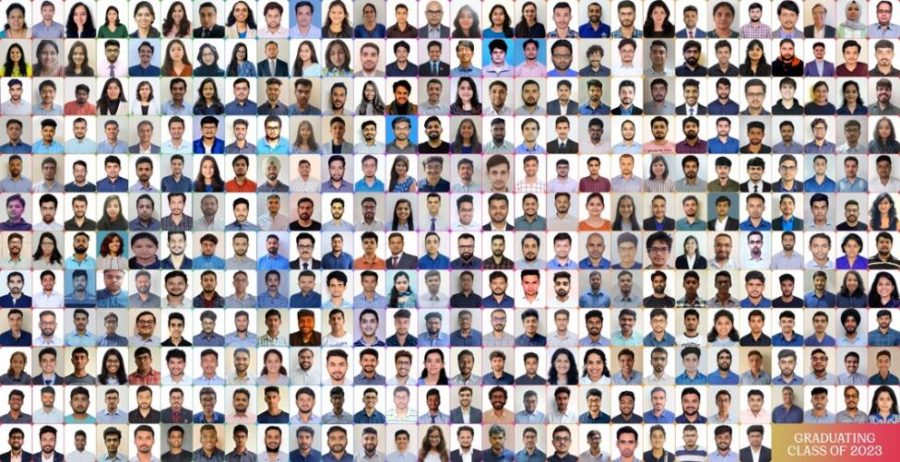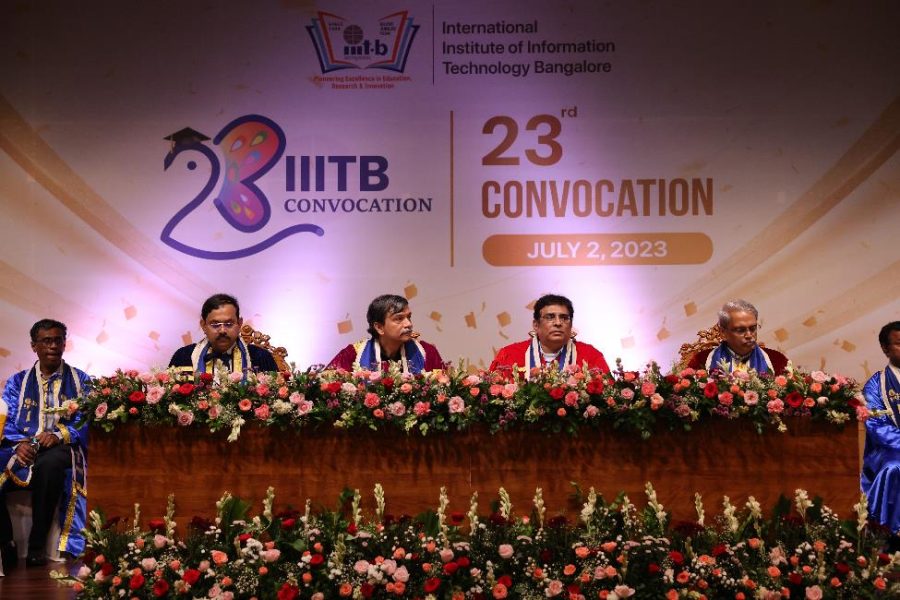 The 23rd annual convocation of the International Institute of Information Technology, Bangalore (IIIT-B) unfolded on July 3, 2023 with grandeur on its lush green campus. The event was graced by esteemed Chief Guest, Prof. Rangan Banerjee, Director of IIT Delhi, and the Guest of Honour, Mr. Balajee Sowrirajan, Corporate VP and MD of Samsung Semiconductor India Research. Presiding over the ceremony was Mr. Kris Gopalakrishnan, Chairman of the IIIT-Bangalore Governing Body.
The convocation ceremony marked a significant moment as 332 students graduated from the institute, each stepping into a new phase of their lives. The graduating class represented a blend of academic programs:
115 graduates from the Integrated Master of Technology program

174 from the Master of Technology program

17 from the Master of Science in Digital Society program

15 from the Master of Science by Research program

11 dedicated PhD scholars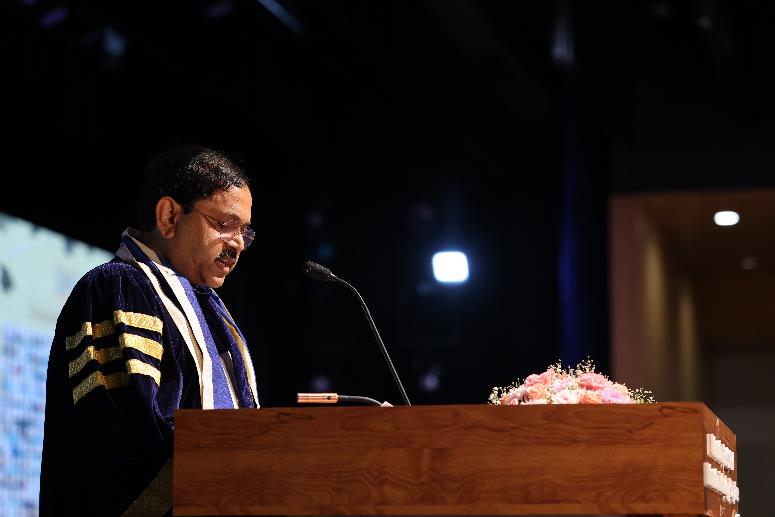 Commending the graduates on their momentous achievement, Prof. Debabrata Das, Director of IIIT-Bangalore, expressed the depth of significance in this Convocation, which coincided with the institution's remarkable Silver Jubilee year. He highlighted that September 18th would mark the 25th anniversary of IIIT-B, symbolizing a quarter-century of excellence in education. With a total of 332 deserving graduates, this year's class stood as the largest in the institution's history, exemplifying the institution's commitment to comprehensive academic offerings.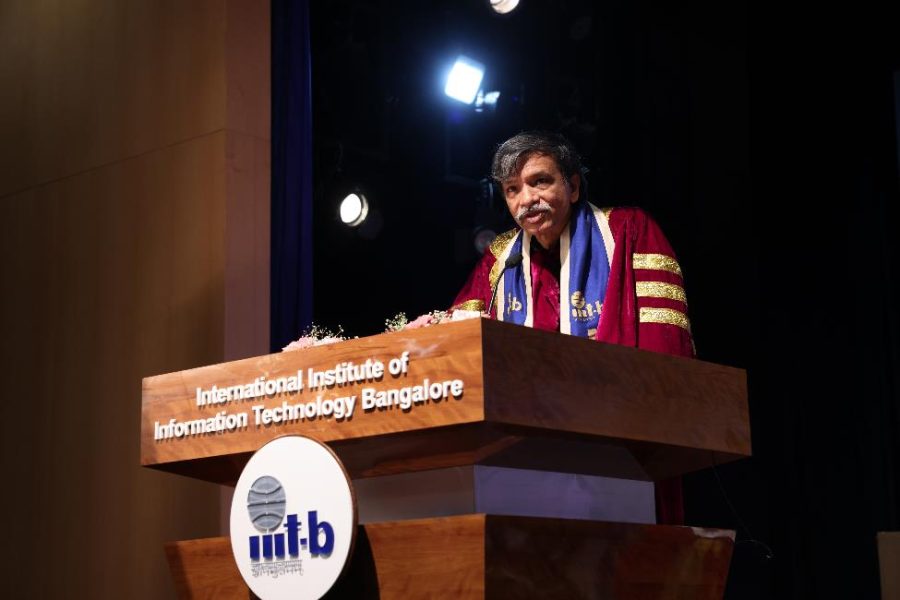 Prof. Rangan Banerjee shared a piece of advice to the graduating students, said, "You are indeed fortunate to find yourselves immersed in domains as transformative as AI, ML, and blockchain. At this juncture, our economy is experiencing a remarkable surge, giving us a newfound confidence. The prowess of our IT sector, coupled with groundbreaking achievements like UPI, CoWIN, and Aadhar, serves as a testament to our innovation on the global stage. In this era of innovation and disruption, it might seem like there's little to be concerned about. However, let us not lose sight of the persistent challenges that continue to afflict humanity – issues of hunger, poverty, healthcare, and security remain unresolved. While we bask in the glory of technological achievements, we must also recognize that we are integral parts of a larger society. Understanding the societal predicaments that prevail is our responsibility. Through thoughtful leadership, we possess the potential to forge a sustainable planet. But this journey necessitates cognizance of the world's dilemmas and a dedication to addressing them. Let us proceed with both enthusiasm and mindfulness, as stewards of progress and champions of societal welfare."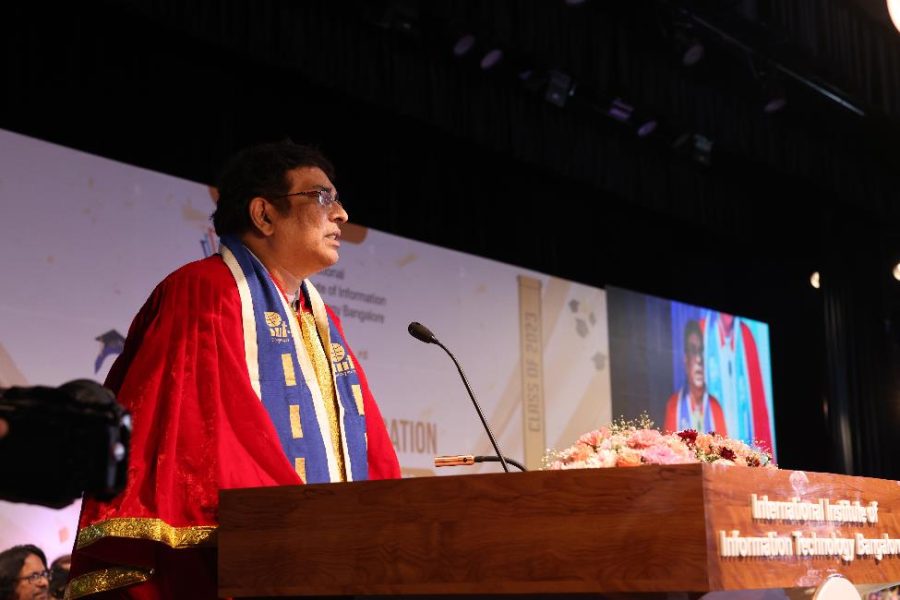 Prof. Balajee Sowrirajan mentioned in his address that remaining inquisitive in the career journey is the key to success and said, "You embody the essence of digital natives, having matured in tandem with the ever-evolving landscape of technology. Embrace the impending technological metamorphosis – AI, ML, big data, and beyond – but infuse ethics seamlessly into your tech pursuits. And amidst the whirlwind of progress, keep your humility intact, remaining firmly rooted in the values that make you who you are. May your journey forward with an unquenchable thirst for knowledge, an indomitable spirit of innovation, and an ever-present sense of humility."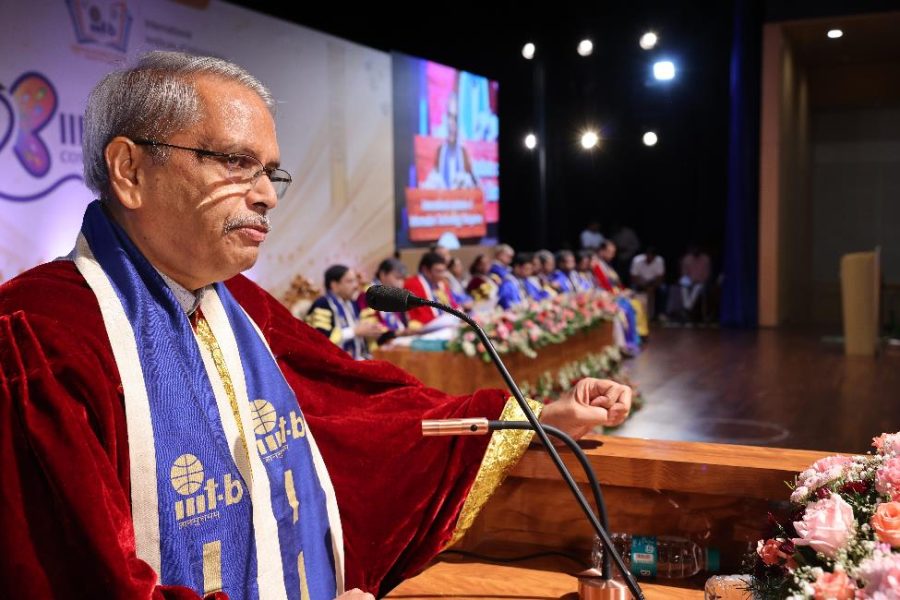 Mr. Kris Gopalakrishnan, said, "As IIIT-B commemorates its 25th anniversary, I extend my heartfelt congratulations to you all. This juncture signifies not just a milestone, but the inception of a fresh chapter – a transition from being students to becoming contributors. As we progress, let us collectively construct a society founded on equity and justice, where the principles of fairness and collaboration underpin our actions. The pursuit of a win-win strategy should be our compass, as we strive to uplift those less fortunate and ensure that no one is left behind."
The ceremony's focal point was the celebration of students' accomplishments, underscored by the bestowal of awards and medals. Noteworthy awardees included Ray Jayprakash Dharmnath, who received the Institute Gold Medal for M. Tech, Nipun Goel, honored with the Institute Gold Medal for iMTech, and Vinayak Jha, recipient of the Institute Gold Medal for M.Sc Digital Society. The Late Sri. N. Rama Rao Medal for Student of the Year was bestowed upon Arpitha Malavalli, recognizing her exceptional contributions.
The convocation served as a tribute to the dedication and diligence of these graduates, showcasing their triumphs and the heights they are poised to reach. Through the diversity of academic pursuits and the excellence of achievements, IIIT-Bangalore continues to uphold its reputation as a beacon of outstanding education and accomplishment.